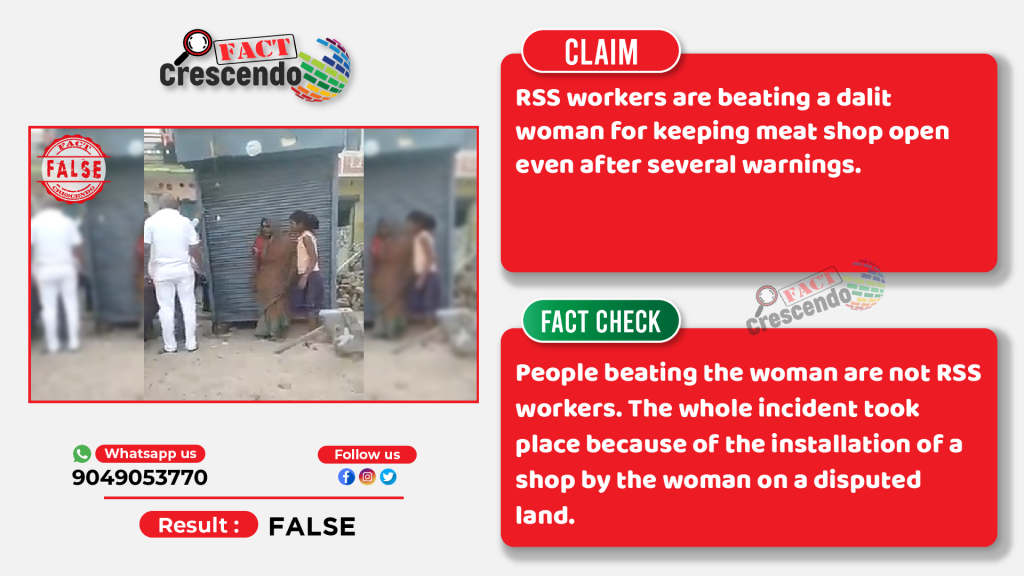 A video of people trying to overturn a small shop is going viral on social media. It was claimed that RSS workers assaulted a Dalit woman for keeping her meat shop open "despite threats from extremist groups."
However, Fact Crescendo found that the people are not RSS workers and this is a case of a land dispute.
WHAT'S THE CLAIM?
The caption along with the claim reads: "RSS gangsters are beating up and stripping a Dalit woman naked in the middle of the road in Pratapgarh, Uttar Pradesh. This incident took place when the woman kept her meat shop open after warnings by extremist groups."
FACT CHECK
ABP Live reported on 30 March 2022 about the video. According to it, this incident took place in the Mandhata area in Pratapgarh, Uttar Pradesh. These people assaulted the woman and her daughter while they tried removing her shop.
Taking a clue from it, Fact Crescendo contacted the Mandhata police station in charge.
"The viral claim is false. It is true that the incident in the video is from Mandhata but the people beating the woman were not RSS workers," he told.
"This incident happened when the woman tried to put her shop on disputed land in front of a neighbor's house blocking their passage. The whole incident became violent when the woman refused to remove her shop. A case has been registered against both parties."
Pratapgarh police released a video and clarified that the incident took place over disputed land in Mandhata between Gupta and Soni families. When the Gupta family tried to install a shop on the disputed land, the Soni family objected to it.
CONCLUSION
Fact Crescendo found the viral claim to be false. The people beating a woman were not RSS workers. The incident took place because of the installation of a shop by the woman on disputed land. Police have registered cases against both groups.

Title:Video Does Not Show RSS Workers Beating A Dalit Woman In UP; Read the Facts
Fact Check By: Siddharth Sahu
Result: False