The video has no relation with the Kashmir Files. The video shows Yogi Adityanath getting emotional during an event honouring the martyrs in 2017.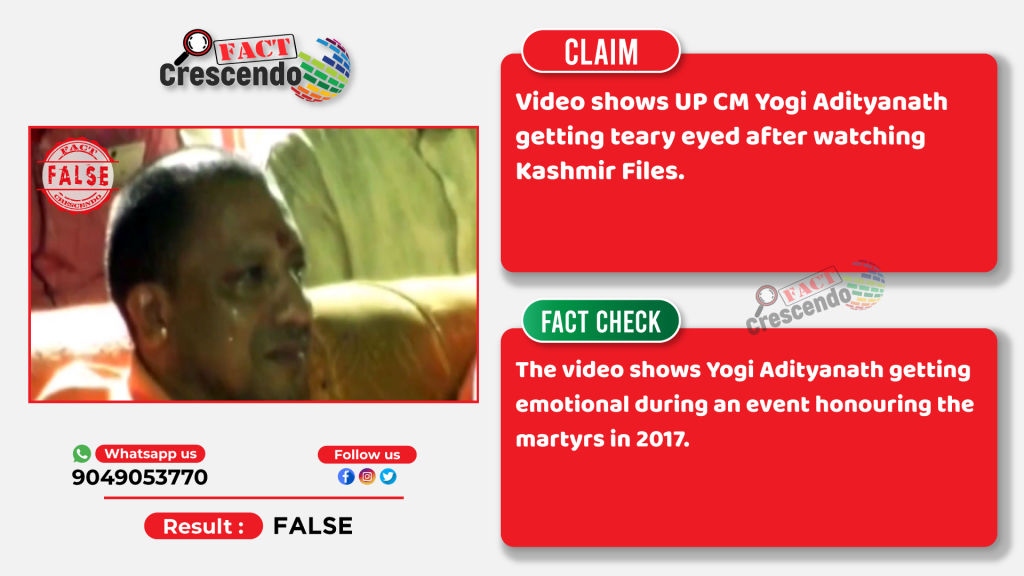 Vivek Agnihotri's film, "The Kashmir Files" is gaining massive limelight in the country. It has become one of the most trending topic of discussion on social media as well as mainstream. The film is based on the exodus of Kashmiri Hindus during the Kashmir insurgency.
Several videos of audiences giving emotional reactions after the film has become common on social media. In the backdrop of this, a video showing Uttar Pradesh's CM Yogi Adityanath getting teary eyes is widely circulating on social media with the claim that he got emotional during the screening of the Kashmir Files.
The caption of the video reads, "#TheKashmiriFiles Yogi Adityanath ji himself watching The Kashmir Files in the theatre. Everyone will be accounted for, Jai Hind!"
Fact Check-
We started our investigation by running a keyword search on Google to find relevant news reports related to the claims made in the post. We could not find any news reports of UP CM attending a screening of The Kashmir Files.
A keyword search on Youtube that led us to the video published by ABP News on October 2017 with the caption that reads, "Jan Man: UP CM Yogi Adityanath breaks into tears during an event for martyrs"
According to a news report by Zee News, this event was held in Gorakhpur during Diwali in the honour of the martyrs. CM Adityanath became emotional during the event while listening to a song from the film Border.
Conclusion-
Fact Crescendo found the claim made along with the viral video on social media to be False. The video does not show Yogi Adityanath crying after watching the Kashmir Files. The video dates back to 2017 showing Yogi Adityanath getting emotional during an event honouring the martyrs.

Title:Did Yogi Adityanath get emotional after watching the Kashmir Files?
Fact Check By: Aavya Ray
Result: False

(If you also have any suspicious messages, posts, photos, videos or news, send them to our WhatsApp Fact line Number (9049053770) for Fact Check. Follow Fact Crescendo on Facebook, Instagram and Twitter to read the latest Fact Check.)