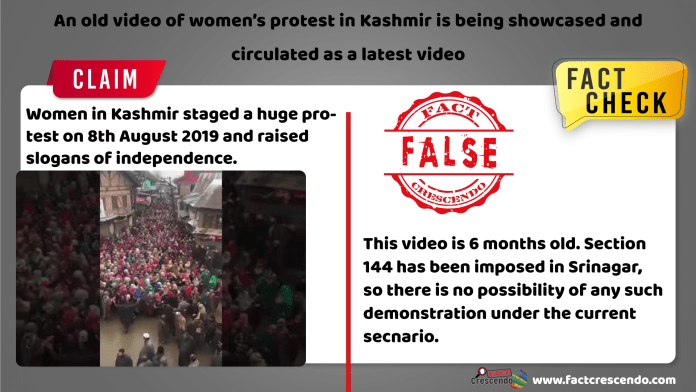 On 7th August 2019, a Facebook user named Fakhir Ali Khan" posted a video and its heading was:
"To liberate their land from India, hundreds of thousands of Kashmiri women protested in the streets of Kashmir yesterday shouting independence slogans". One of the Kashmiris urged to "spread the video extensively to the entire world because Indian media will never show this". This video was made viral extensively after the removal of Article 370 in Jammu & Kashmir. It is being claimed that after 6th August 2019, thousands of Kashmiri women have come out on the streets to protest so that so that they can liberate Kashmir from India. This video is doing the rounds on social media.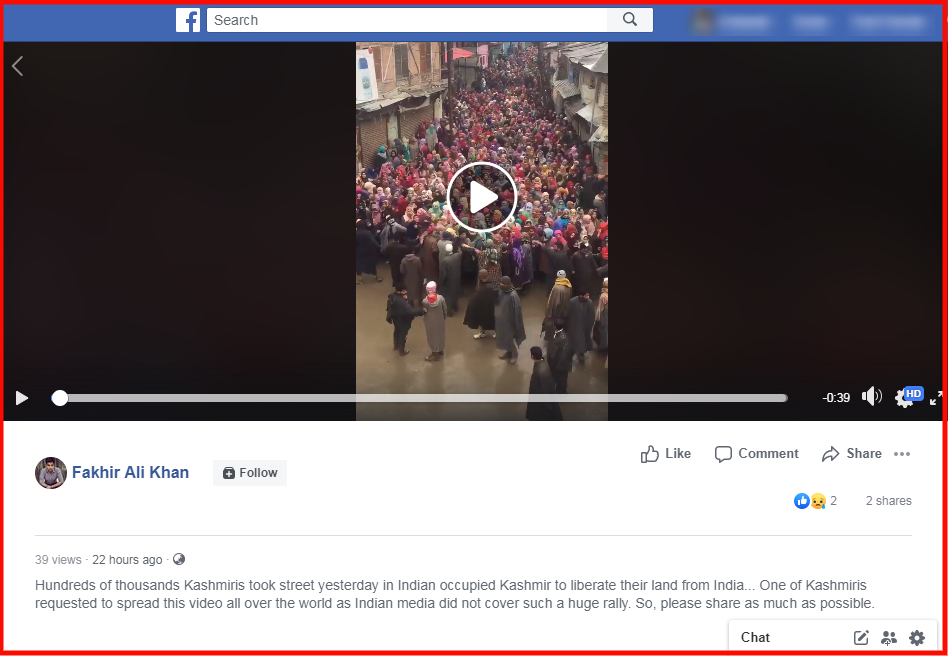 In the starting of our investigation, we broke this video into small key frames using Invid tool. On running a reverse image search, the result revealed a video which was uploaded on 12th December 2018 by PMLN Videos on YouTube. The heading of this video is: My Kashmir: we have a right for our freedom." This made it clear to us that the aforementioned video does not show any recent protests because it is available online since last 6 months; as it was uploaded in December 2018
This video was also broadcasted on 15th December 2018 by Markhor TV and in the title of the video it was mentioned "Kashmiri women shouting freedom slogans"
It should be clear that section 144 of CrPC has been imposed in the valley as a caution. ANI informed through a tweet that section 144 has been implemented in Srinagar since the midnight of 5th August 2019 due to which there is no possibility of any demonstrations being held. Imposing section 144 means issuing an order prohibiting assembling of four or more people in that area.
Conclusion: After checking the facts, we found that the above post is completely wrong. An old video of Kashmir has been shared and it is being wrongly claimed that this is of a recent protest in Kashmir.

Title:An old video of women's protest in Kashmir is being showcased and circulated as a latest video
Fact Check By: Ruchika M
Result: False