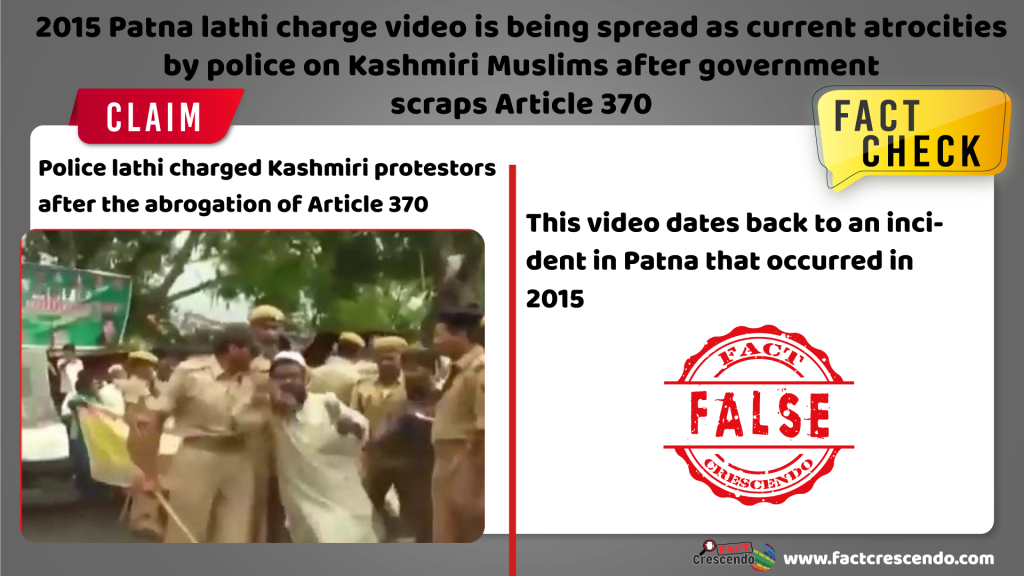 On 7th August 2019, a video was uploaded on Facebook by a Facebook page named National Samachar 24×7. In this video, the police is seen conducting lathi charge on a group of people of a particular community. The headline in the video says, "This video went viral when Article 370 was scrapped. The anti-social elements of Kashmir protested and the Police had to lathi charge." At present, many claims are being made on the social media platforms regarding removal of Article 370 in Kashmir. Due to the current situation in Kashmir, the post claims that muslims of Kashmir are lathi charged by the Police for opposing the scrapping of Article 370.  Is it true? Let us do a Fact check. 
When we reviewed this video closely, we noticed a board on which 'Gardanibagh Police Station' was written at 0:35 seconds.  When we searched on Google, we came to know that Gardanibagh is located in Patna City, Bihar.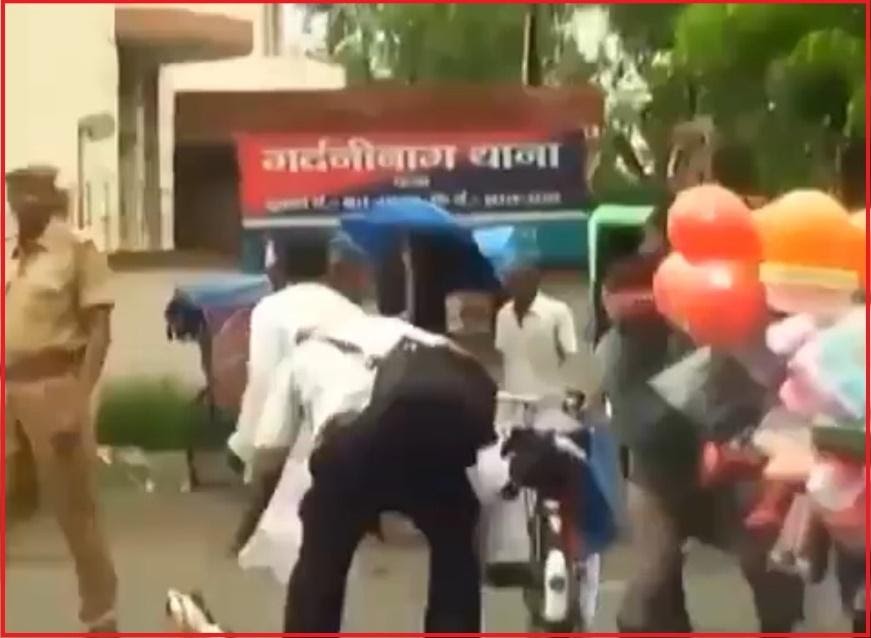 Thereafter, we contacted the SHO of Gardanibagh Police Station in Patna. He said, "Recently no such incident has been reported in Gardanibagh. But way back in 2015, when Vikas Vaibhav Sir was the SSP, then one such incident occurred in which the police had to lathi charge when the teachers protested regarding salary."
Next, we spoke to Vikas Vaibhav, Ex SSP of this area. He is now DIG East Range- Bhagalpur. This is what he had to say:
"The incident shown in this video happened on 27th August 2015 in Gardanibagh, Patna. The teachers of Madrasa and the supporters of AIMMM were protesting for their demands, when these people forcefully started marching towards the residence of the CM. We wanted to stop them, due to which, some protestors started stone pelting on the police force. As a result, the atmosphere became tense and the situation deteriorated. We had no choice but to lathi charge and control the crowd. Recently, no such incident has happened in Patna."
DIG Vikas Vaibhav, IPS East Range- Bhagalpur

We searched for keywords 'lathi charge on Muslims in Gardanibagh' on Google  and found news by TOI published on 27th August 2015. This incident is described in details in this news. Click on the link below to read full news.
We also found a tweet by ANI mentioned on 27th August 2015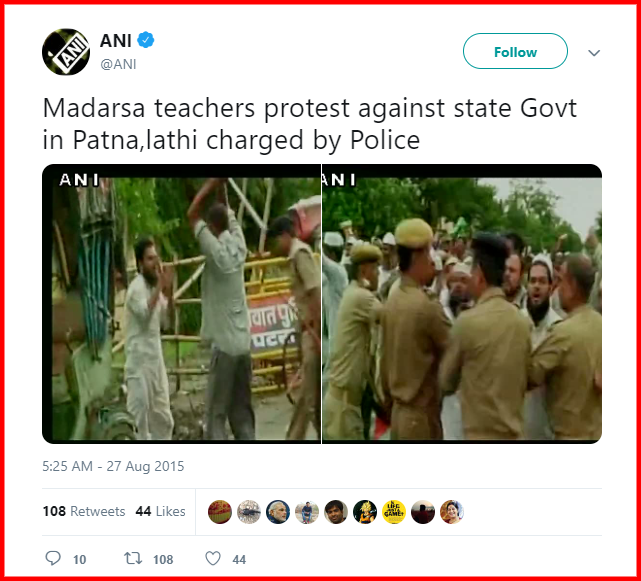 It is clear from the above research that the video shared in the post is of the lathi charge conducted by the police on 27th August 2015 in Gardanibagh, Patna, due to the deterioration of the situation. The video has nothing to do with the current events in Kashmir. The video is spreading with the aim of misleading people with the incorrect information.
Conclusion: The above claim that the video shows Muslims of Kashmir who are being lathi charged by the Police for opposing the scrapping of Article 370 is absolutely wrong and baseless. This video is originally from Patna in the year 2015.

Title:2015 Patna lathi charge video is being spread as current atrocities by police on Kashmiri Muslims after government scraps Article 370
Fact Check By: Ruchika M
Result: False