The video is not from Karnataka but from Ghaziabad, Uttar Pradesh.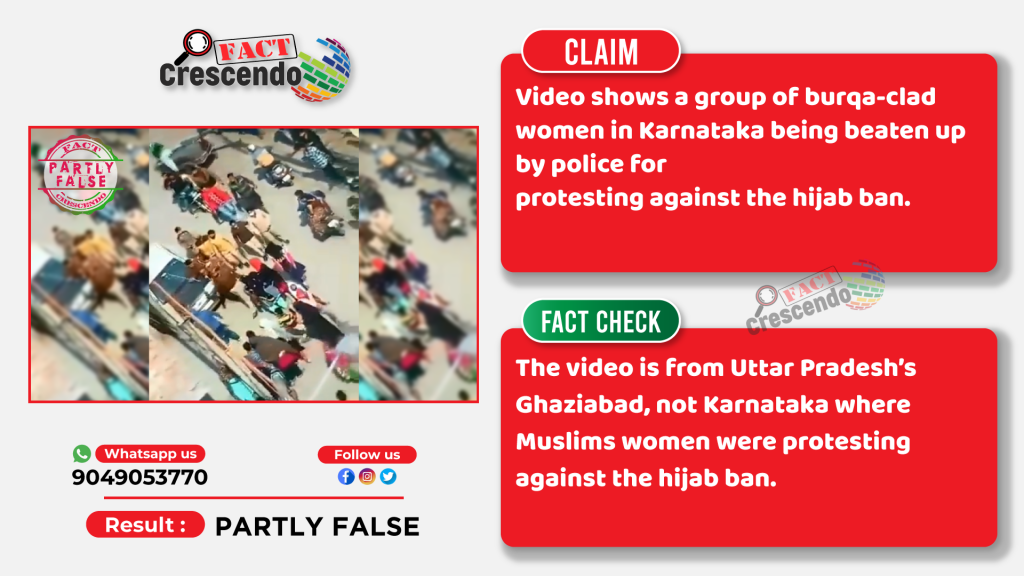 As the Hijab controversy in Karnataka does not seem to fade away, social media continues to witness more misleading and false content related to the issue. In this backdrop, a video showing police hitting Muslim women wearing burqa protesting against the hijab ban in educational institutions is widely circulating on social media.
Social media users claim that this is an incident from Karnataka where Muslim women are being lathi charged by the police for protesting against the hijab ban in schools and colleges.
The caption of the post mentions "#sitmagaron_remember_khuda_bhi_hai. This video is from Karnataka. The media can never show anything right, brothers, but you can show this to all your friends, share this video in every group and with every friend .What is happening in Karnataka today can happen to you tomorrow, please share this video more and more so that these sisters can get justice."
Fact Check-
We started our investigation with the help of keyword search on Google; we found several news reports about the incident seen in the video. According to the Hindustan Times, this video is from Ghaziabad in Uttar Pradesh and it happened on 17 February 2022. The police dispersed around 10-20 women who were protesting against the Karnataka hijab curbs.
According to NDTV's news report, a FIR has been filed by the police against the protesters over the incident that happened on 13 February. In the FIR, the police said they came to know some 15 Muslims women had gathered in Ghaziabad's Sani Bazaar Road without taking permission with anti-government posters. When a police team reached there, the women started shouting slogans.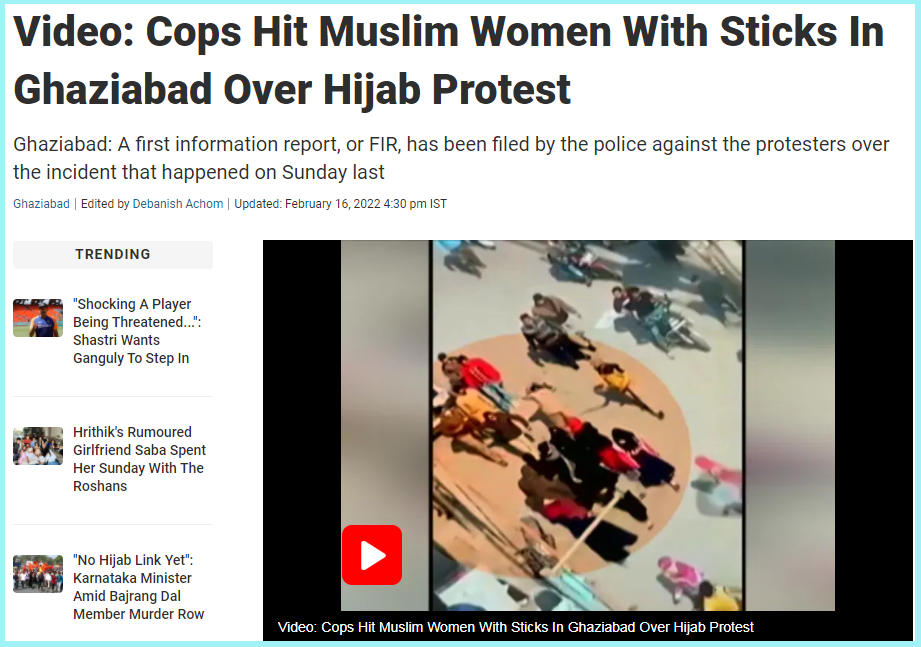 Ghaziabad Police issued a statement, saying the protesters attacked their team first and were holding a protest without permission. Stating that the incident is from Ghaziabad, the tweet mentioned, "On Feb 13, the Inspector-in-charge received information about a demonstration by some people on Shani Bazar road. The team reached the spot and found women protesting on the road. When officials asked the protesters for permission, the women did not show the permission letter. They beat up the personnel present at the spot. A case was registered for protesting without permission, beating up police officers, obstructing police in their duty, hurling abuses etc. During the investigation, a man and a woman were called to the Khoda police station and we served them notice. The police action was taken based on the offences. It has nothing to do with the subject matter of the protest or the reasons behind the protest,"
Conclusion-
Fact Crescendo found the claim made about the viral image on social media to be Partly False. It is true that the video shows police officers beating Muslim women protesting against the hijab ban, but the video is not from Karnataka. The incident originally took place in Ghaziabad, Uttar Pradesh.
(If you also have any suspicious messages, posts, photos, videos or news, send them to our WhatsApp Fact line Number (9049053770) for Fact Check. Follow Fact Crescendo on Facebook, Instagram and Twitter to read the latest Fact Check.)

Title:Video of police lathi charging Muslim women is not from Karnataka
Fact Check By: Aavya Ray
Result: Partly False