The original video has been edited and is being shared misleadingly. In the original video Kejriwal is appealing to voters to vote for AAP and not SAD.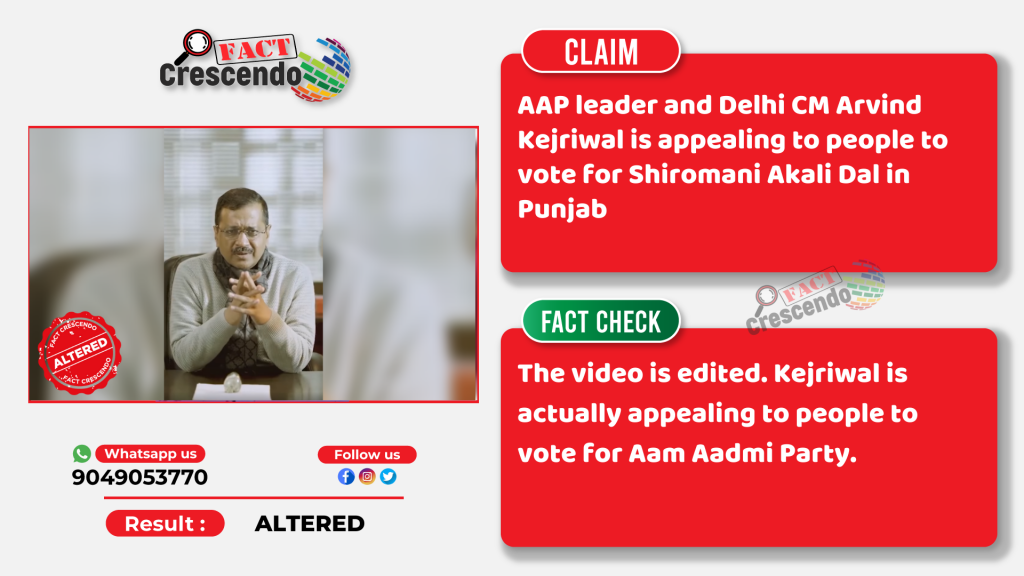 After voting in Punjab started on 20th February, an edited video of Aam Aadmi Party leader and Delhi CM Arvind Kejriwal is widely circulating on social media. In the 39 second video clip Kejriwal appeals to people in Punjabi to vote for rival Shiromani Akali Dal. He further requests the voters to press the scale (SAD's election symbol) button and help Akali Dal form their government in Punjab.
It is unlikely that any leader of any political party would campaign for their rivals. It is almost improbable that the party's biggest leader, as Arvind Kejriwal in this case would campaign for rival party. Thus, we decided to verify the video and find out the truth. Let's see what Kejriwal actually said.
Fact Check-
We started our investigation by running a keyword search on Google that led us to the original version of the viral video. AAP Punjab posted the original video on 8 February stating that this video is Arvind Kejriwal's message to the Akali Dal's voters of Punjab.
In the original video Kejriwal says,
"Sat Sri Akal! Do you support Akali dal? I mean do you vote for Akali Dal? Do not worry! I am not going to ask you to leave the party, I am not even asking you to join the Aam Aadmi party. I am here to make just one request that cast your vote for Jhaadu this time. You will ask, why? Akali Dal has ruled Punjab for 19 years; 19 years are not a short period of time. During this period, they have done enough they could do. Now they are not going to do anything new if you choose them for another five years. In addition, Akali Dal is not forming a government in Punjab this time. Therefore, you should give a chance to a new party this time. Whatever we will do, it will be beneficial for you as well. If we construct new Government schools, your kids are going to study there. We will provide 1000 rupees to each woman, every woman in your family will get these benefits. We will build hospitals; your family will also get the healthcare facilities there. We will eradicate corruption from Punjab; it will be beneficial for the whole Punjab. Just give one chance to the Aam Aadmi party. If we do not work properly, then I will not come to ask for a vote next time. Once, just once, give chance to Aam Aadmi party, make Aam Aadmi party victorious by voting for Jhaadu on 20 February. Thank you!"
The video makes it very clear that Arvind Kejriwal was talking about voting for the AAP and not the Shiromani Akali Dal. The viral video has been created by clipping and joining small parts of the original clip to mislead people.
Below you can see a comparison video between the viral video and the original video. The comparison makes it clear on how the original video has been edited and shared with a false claim.
Conclusion-
Fact Crescendo found the viral video on social media to be False and Altered. The video has been edited by clipping small parts of the original video to mislead people. In the original video Kejriwal is appealing to Akali Dal's voters to vote for Aam Aadmi Party this time and not for their party.
(If you also have any suspicious messages, posts, photos, videos or news, send them to our WhatsApp Fact line Number (9049053770) for Fact Check. Follow Fact Crescendo on Facebook, Instagram and Twitter to read the latest Fact Check.)
Title:Edited Video Goes Viral as Kejriwal Appealing To Vote For Rival Shiromani Akali Dal in Punjab
Fact Check By: Aavya Ray
Result: Altered