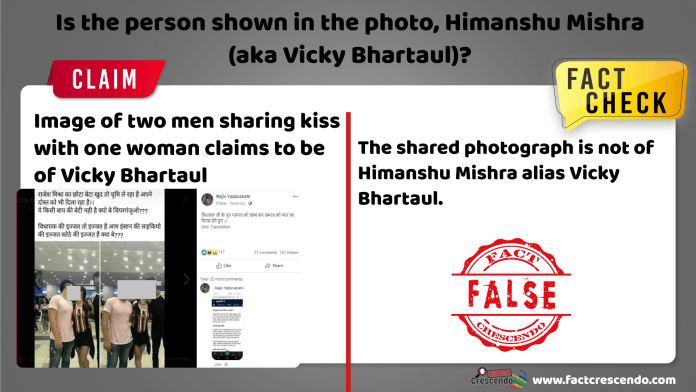 On 14th July 2019, a picture was shared by a user called Rajiv Yaduvanshi on Facebook. In this picture, two boys are seen kissing a girl turn by turn. It is written in the picture that "Rajesh Mishra's younger son is taking a kiss and also giving his friend a chance to kiss the girl. Isn't this girl also someone's daughter? Does only an MLA have respect and a common person does not?" The details of the post are written –MLA's son spreading message of love in the society. In this post, it is being claimed that the person shown in the photo is BJP MP Rajesh Mishra's (alias Pappu Bharatkaul) son Himanshu Mishra (alias Vicky Bhartaul). Is it really so? Let us do a reality check.
Claims on social media:
We started our investigation with Google Reverse image search; you may see the result below.
In this amendment, we found many different website in which the aforementioned picture has been shared. We got this picture that was shared on 6th July 2019 on Twitter handle of a person named 'Chale Homs'. He resides in Mexico.
We saw the same picture shared on social media website called Instazu, which was shared two days ago with a profile called 'Log Kya sochenge'. The title of this post was mentioned in English "I and my best friend love the same girl. We do not fight but compromise. We do this in the name of friendship"
In the backdrop of these pictures, we can see a board named 'Cine Colombia'
When we searched about these multiplexes, then from a shared picture in the above claim, we found a picture of a similar place, which is of 'Cine Colombia Multiplex of Cali, Colombia'
Image Courtesy : AIRBNB
The background and the design of the floor in this picture and the picture shared in the above claim are exactly the same. The amendment proves that pictures shared in the aforementioned claims were clicked in the Brazil's city of Colombia, not in India.
We searched for these words 'son of Rajesh Mishra MLA Bareilly' on Google and found some information from Amarujala magazine. According to this magazine the name of son of BJP MLA Rajesh Mishra is Vicky Bhartaul.
When we searched for 'Vicky Bhartaul' on Google, we came across this news article form 'News 18'
In a news article, 'News 18' published the pictures of Ajitesh Kumar and Vicky Bhartaul
Then we shared the picture in the above post and the pictures that we got in our amendment, we analyzed and found that these photos are of two different persons. You can view this analysis below –
Apart from this, we got another photograph of him, which you can see the below-
With these amendments, we clearly know that the shared picture in the above post is just to disguise readers. This photograph is not of Vicky Bhartaul. So far, it has not been confirmed that who shared this picture first. But it has been established that it was clicked in Brazil's Columbia city.
The result of the inquiry: With this amendment, we come to the conclusion that the claim made in the above post 'regarding the person shown in the photograph is BJP MP Rajesh Mishra's (alias pappu Bhartaul) son Himanshu Mishra (alias Vicky Bhartaul)' is wrong. In the above post, shared photograph is not of Himanshu Mishra alias Vicky Bhartaul. 

Title:Is the person shown in the photo, Himanshu Mishra (aka Vicky Bhartaul)? Here's the truth.
Fact Check By: Ruchika M
Result: False