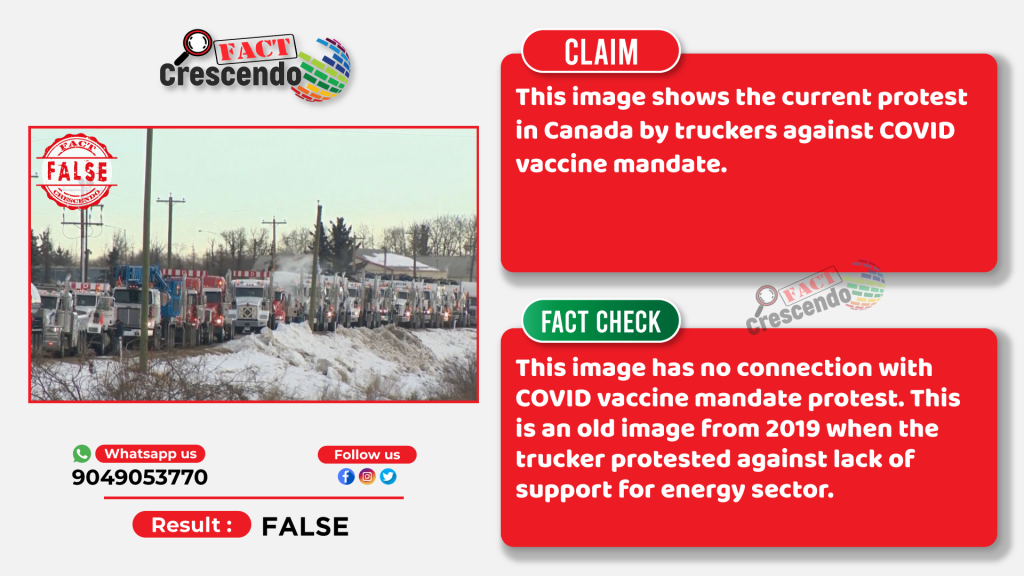 Recently, Canada government decided to make COVID vaccine mandatory. To ensure this, Canadian government has imposed health tax on the unvaccinated. People must be vaccinated to go to restaurants, gyms or even for travelling in planes and trains. Similarly, government has made vaccine mandatory for truckers who are crossing US border.
People in Canada, especially truckers are protesting on streets after Canadian government declared new COVID vaccine mandate and other COVID-19 restrictions. Police had to use pepper spray and stun grenades to disperse the crowd and arrest some of the protestors. However, after investigation, Fact Crescendo found this image from Canada to be old and has no connection with recent truckers protest.
A screenshot is going viral in social media which showed a long queue of trucks halted on the road. The claim with the image says that this is truckers protesting in Canada but mainstream media in Canada is hardly giving it enough coverage. The text on the image reads. "Huge shout out to mainstream media for downplaying the convoy. Huge shout out to the towns and cities that shut their traffic cameras off when the convoy went through. Huge shout out to Justin Trudeau for hiding in his bedroom just before the convoy gets to Ottawa. Huge shout out to Facebook for deleting the original convoy page. Huge shout out to Go Fund Me for trying to tie up the money that's for the truckers and their support. You have shown how important this convoy really is."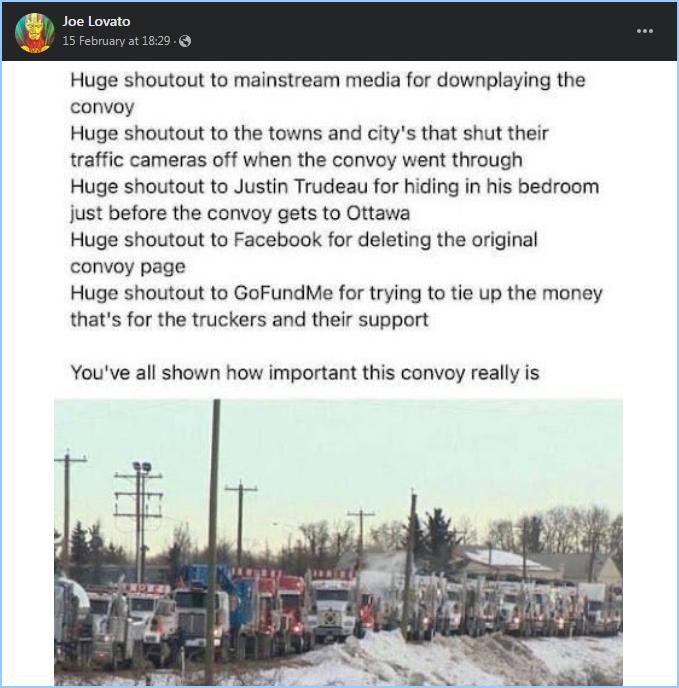 Fact Check-
After running Google reverse image search on the viral image we came across a report by CTV News on 14th February 2019. On facing Ottawa's lack of support for the energy sector, a convoy of 100 trucks drove from Alberta to Parliament Hill to draw attention to the issue. Lead organizer Glen Carritt stated that Federal government needs to listen to the supporters of energy sector, says CTV News.
This same image was also published in CTV News with a caption saying, "A convoy of at least 100 trucks is driving from Alberta to Parliament Hill to draw attention to what it says is Ottawa's lack of support for the energy sector."
A video shared by Toronto Star on 20th February 2019 covering the same incident said, "A pro-pipeline convoy making its way across the country arrived in Ottawa on Tuesday morning. Both proponents and protesters met in front of Parliament Hill as the trucks rolled in, at a rally initiated by Yellow Vests Eastern Ontario."
However, truckers are protesting in Canada against the vaccine mandate. To know more about the ongoing protests, you can read this news part from DW News.
Conclusion–
The image is not associated with the ongoing Truckers protest in Canada against the government's vaccine mandate. The image circulating on social media is from 2019 when the truckers protested for a gas pipeline.

Title:Old and Unrelated Image of truckers protesting in Canada shared as recent protest against Covid Vaccine Mandate.
Fact Check By: Siddharth Sahu
Result: False