Samajwadi Party's spokesperson Nasser Salim confirmed to us that the viral image is Fake.
A poster showing Samajwadi Party's leader Akhilesh Yadav's quote is widely circulating on social media. The poster claims that Akhilesh Yadav has promised to build 2000 mosques when he wins the election, reduce the reservation for Dalits and other backward classes, and give 30 percent of the reservation to Muslims. The poster further claims that the law of love jihad will be abolished.
The text in the poster mentions, "2000 new mosques will be built in western UP and Purvanchal, thousand crore rupees will be given for Babri Masjid in Ayodhya, Ayodhya will be renamed. 30% reservation will be given to Muslims by reducing the reservation of Dalits and backwards. Will, the law of love jihad will be abolished, this is my promise to the Muslims.
The poster is circulating with the claim that this message is circulating on WhatsApp stating that the IT Cell of Samajwadi Party has created this poster.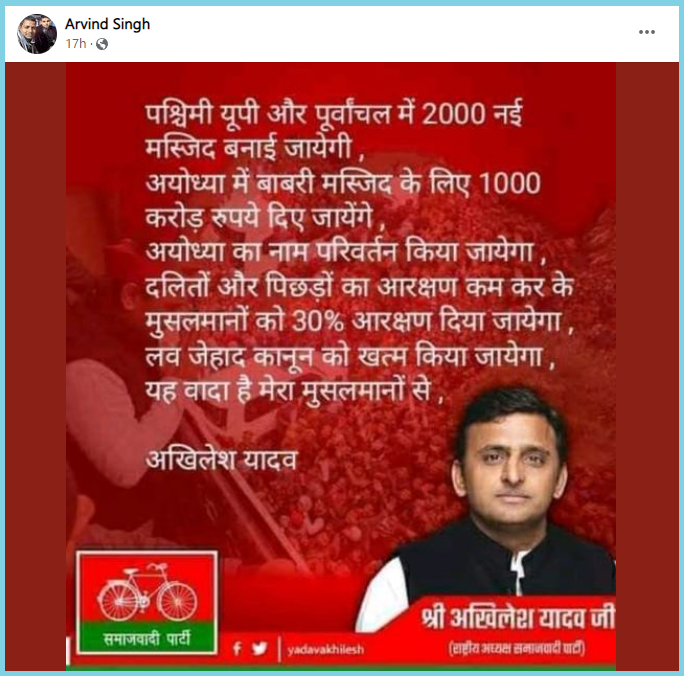 Fact Crescendo has also received this poster for verification on our WhatsApp Fact line number 9049053770.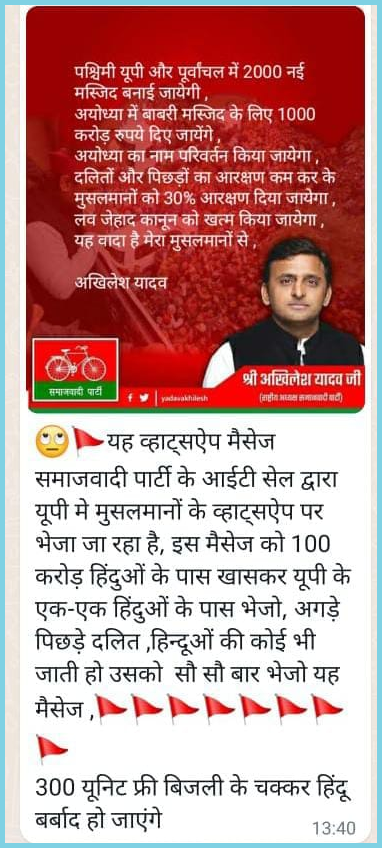 Fact Check-
We started our investigation by running a keyword search on Google to find relevant news reports that corroborates that claims made in the above poster. However, we could not find any relevant reports for the same. If the Samajwadi Party leader had made such big announcements for Muslims, then mainstream media would have reported or even debated this controversial poll promise. However, there were no such reports, debates or discussion.
Next, Fact Crescendo spoke to Samajwadi Party's spokesperson Nasser Salim who confirmed to us that the viral image is Fake. "We have issued a clarification on this viral poster on our page as well," he added.
We found a clarification tweet by the Samajwadi Party Fact Check account on Twitter that clearly clarifies the poster to be Fake. They mentioned, "Rumors are being spread against Samajwadi Party by BJP and its troll army through Facebook/Twitter/WhatsApp by making various fake screenshots are completely wrong. Strictest action will be taken against all those spreading rumors if SP government is formed."
Thus, it is clear that the viral poster in circulation is fake. It is evident that someone has mischievously created the graphics misattributing a controversial statement to SP leader and former UP CM Akhilesh Yadav.
Conclusion-
Fact Crescendo found the claim made along with the viral image on social media to be False. The poster in circulation is a fabricated one. The Samajwadi party has published no such poster, neither any such promises have been made by Akhilesh Yadav.
(If you also have any suspicious messages, posts, photos, videos or news, send them to our WhatsApp Fact line Number (9049053770) for Fact Check. Follow Fact Crescendo on Facebook, Instagram and Twitter to read the latest Fact Check.)

Title:Akhilesh Yadav has not promised to build 2000 mosques in Uttar Pradesh after he comes to power.
Fact Check By: Aavya Ray
Result: False