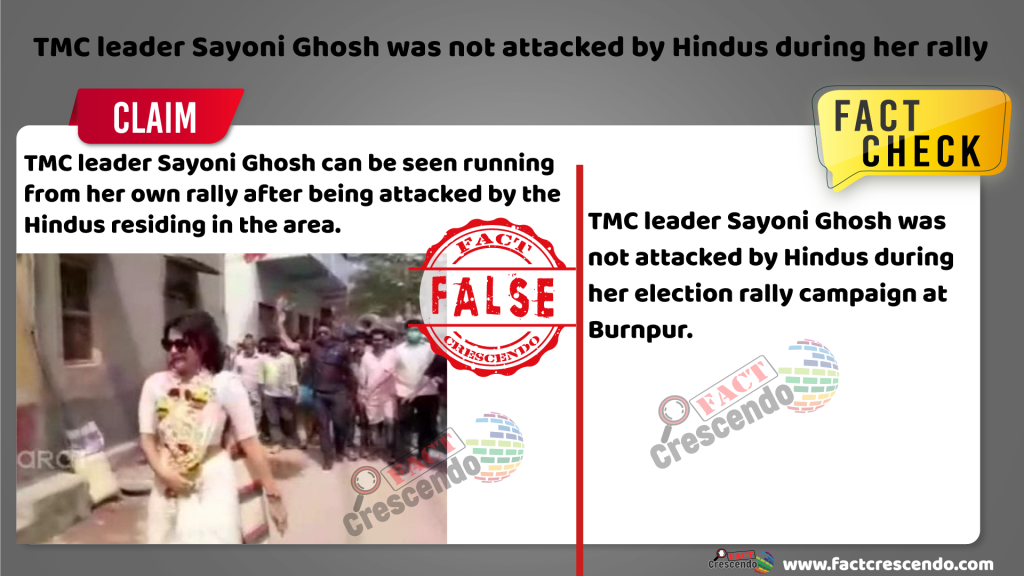 Amidst the ongoing elections in West Bengal, a video is going viral on social media platforms where TMC leader and actress Sayoni Ghosh can be seen running during her election campaign rally. The video claims that a few days ago Sayoni Ghosh published an objectionable photo of a Shiva Linga on social media, due to which angry Hindus drove her away when she was campaigning for the ongoing assembly elections in a Hindu colony. The video is being shared claiming that TMC leader Sayoni Ghosh can be seen running from her own rally after being attacked by the Hindus residing in the area.
The title of the viral post reads, "TMC candidate Sayoni Ghosh, the same Sayoni Ghosh who posted a photo with a condom on the Shivling, now when she went to the Hindu colony to ask for votes, the people ran."
This video is being shared widely on social media platforms.
Fact Check-
We started the investigation by watching the video carefully where we noticed an ETV Bharat logo on the video. Keeping this in mind, we did a keyword search on Google, and we were able to locate the same video aired on 22 March 2021 on the Facebook page of ETV India West Bengal. The title of the video reads, "Sayoni ran away from a rally in Sari."
We found the same video broadcast by ETV India on 23 March this year on their official YouTube channel. The title reads, "Actress-turned-politician Sayoni Ghosh runs away from the crowd during the election rally. ETV India. "
After this, Fact Crescendo contacted content editor Shashwati Mazumdar from ETV India's Bangla desk, she told us that, "The news going viral is wrong and misleading. Social media users claiming that Sayoni Ghosh was driven away by Hindus while she was campaigning is completely wrong. She ran because the crowd had increased around her. It is common for Sayoni Ghosh to run in the rally, there is nothing unusual in it. No such incident of attack took place in the rally held at Burnpur."
We found the same video aired on his official Facebook and YouTube by a news agency called Sanghbad Protidin. After this, we contacted Srimanth Chaudhary, the head of digital media in West Bengal, Sanghbad Protidin, he told us, "The video that is going viral has no relation with any particular community. Sayoni Ghosh ran because in the midst of coronavirus epidemic, she became uncomfortable due to the large crowd of people around her and so she ran away. "
Fact Crescendo next spoke to TMC state general secretary in West Bengal, V. Sivadasan (Dasu), on the same subject and he told us that, "The news that is going viral is misleading, There was no attack carried out on Sayoni Ghosh during her election campaign rally by Hindus or members of any other community. The claims made on social media platforms are completely baseless, Sayoni Ghosh did not run during the rally because Hindus were expressing outrage, she ran to meet the people standing in front. "
Finally, to confirm the above evidence, we contacted Hirapur Police Station's SHO Rahul Dev Mandol who confirmed us, "Sayoni Ghosh's rally was held in Burnpur and there was no such incident of attack. The rally took place without any issues and there was no ruckus during that time. If any such incident had taken place it would surely been reported in the local police station. From this, I can say that the news that is going viral is false."
Sayoni Ghosh had herself uploaded the video of election campaigning in Burnpur on 22 March 2021 on her Facebook account. She can be seen running and meeting people from 2 minute onwards in the video.
Conclusion- Fact Crescendo found the above-mentioned post to be False. The claims made on the viral video are false, TMC leader Sayoni Ghosh was not attacked by Hindus during her election rally campaign at Burnpur.
Title:TMC leader Sayoni Ghosh was not attacked by Hindus during her rally
Fact Check By: Aavya Ray
Result: False