The video does not show a National Geography footage instead it shows a scene from a film named 5 headed shark attack from 2017.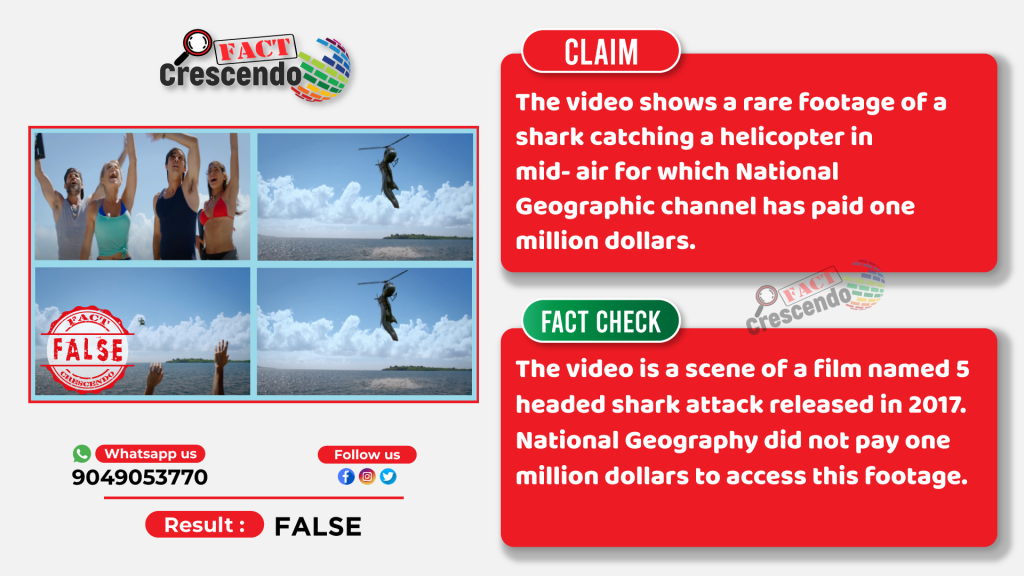 A video shows a group of people stranded on a yacht seeking help from a helicopter approaching towards them when suddenly a monstrous creature jumps out of the water, attacked the chopper, and drowns the chopper.
Social media users are claiming that National Geographic channel has paid one million dollars for the footage of this rare video.
This video has been posted by retired IPS officer Kiran Bedi on Twitter sharing this video as a real incident.
The caption inscribed in this video mentions, "National geographic channel has paid 1 Million Dollar for this rare video. What a video."
Fact Check-
We started our investigation by running a reverse image search on Google with one of the key frames. The results led us to a trailer of a film named five Headed Shark attack. The trailer was posted on YouTube movies official Youtube channel on 5 September 2017.
The description of the video states, "The 5-Headed Shark is all heads and teeth. Shaped like a demented starfish, this monster terrorizes the open ocean before invading the beaches of Puerto Rico, endangering the once peaceful island paradise."
We can see the part of the viral video from 1 minute 5 seconds timestamp in the trailer.
Below you can see the similarities between a screengrab of the viral video and the trailer of the film 5 headed shark attack.

This movie's details are available on IMDB's website .Nico De Leon and Jose Montesinos have directed this movie. Edna B. Rodríguez Curbelo starred in the film and it was released in 2017.
Thus, the video shows a scene from a 2017-movie showing a monstrous creature pulling down a helicopter into the sea falsely shared as a rare million dollar worth footage accessed by National Geography channel

Conclusion-
Fact Crescendo found the claim made along with the video to be False. The video is not a National Geographic footage but a scene of the film 5 headed shark attack released in 2017. National Geography did not pay one million dollars to access this footage.

Title:2017 Movie scene shared as a shark pulling down a chopper.
Fact Check By: Drabanti Ghosh
Result: False