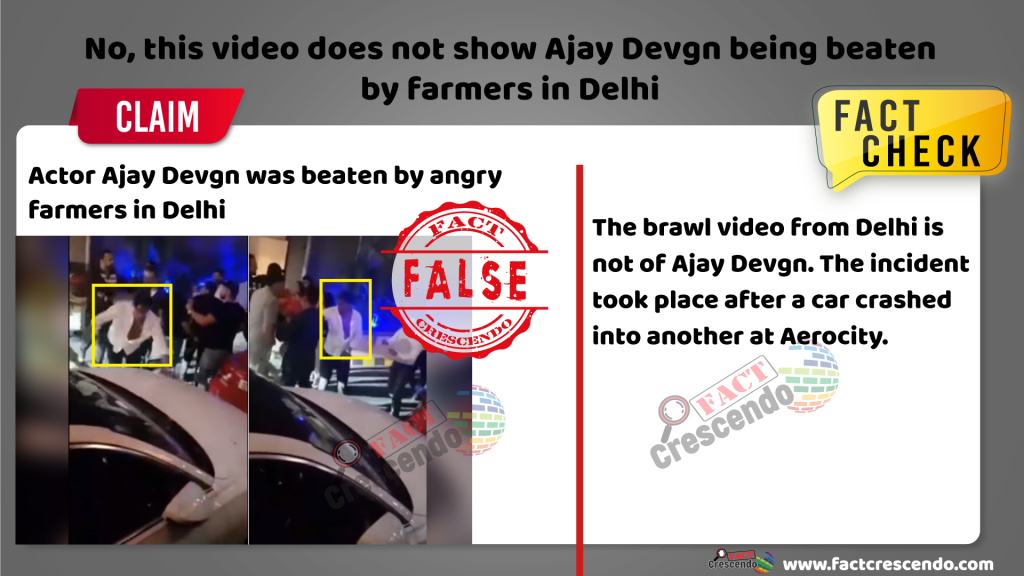 A video of a brawl between two groups made headlines recently. Many users shared this clip claiming that it shows film actor Ajay Devgn being attacked by an angry mob of farmers in Delhi.
Fact Crescendo received many requests about this video on our WhatsApp Factline (9049053770).
We found out that the viral claims are false. This is not the video of Ajay Devgn being attacked by farmers.
WHAT IS THE CLAIM 
A 5-minute video shows a clash between many people abusing and hitting each other. Bouncers try to pacify the situation but the scuffle goes on for a while. The video was caught on camera and it went viral on social media with a claim that it was actor Ajay Devgn who was involved in a fight with angry farmers.
The Hindi text along with the video reads: Ajay Devgn was beaten in Delhi. Ajay brother, now you'll know the real action. You've made a fortune by playing the son of a farmer but when it comes to supporting farmers on real issues, you did not even tweet once. On contrary, you stood with those who were against the farmers. Here is the video of drunkard Ajay being beaten in Delhi.
(Warning – Abusive Language)
Original Post – Facebook | Archive
FACT CHECK
It was true that earlier this month, Ajay Devgn's car was stopped by a person in Mumbai in protest of his tweet regarding ongoing farmer's agitation against the new Farm Bills. Then, was he attacked again in Delhi?
To verify the claims, we searched for the original video. Few Google Keyword searches led us to a news report by India Today.
According to the news, two groups got involved in the clash in Delhi's Aerocity on 27th March. The fight started immediately after a car crashed into another. The reporter does not mention Ajay Devgn anywhere in the news.
NDTV reports that two people arrested in the case were identified as Taranjit Singh (31), a resident of Janakupuri, and Naveen Kumar (29), a resident of Chhawla village.
The incident took place late Friday night when Singh and Kumar were leaving after dinner when one of their vehicles "slightly touched" the other vehicle. They got into a fight and several other men joined them, the police said.

Original news – NDTV
Replying to Times Now's news about the incident, Deputy Commissioner of Police of IGI Airport tweeted that a case under appropriate sections of law has been registered at PS IGI Airport, New Delhi in the above-said incident of Aerocity, Delhi. During the course of the investigation, two main accused persons from each side were arrested and further investigation of the case is still in progress.
Ajay Devgn rubbishes the rumours
After the video went viral ,Ajay Devgn's office issued a statement clarifying that the video being circulated of a man involved in a Delhi brawl is not him. Interestingly, Ajay Devgn has never been to the capital for the past 14 months.
"Post the promotion of Tanhaji – The Unsung Warrior in January 2020, Ajay Devgn has not visited Delhi. So media reports of a brawl involving the superstar outside a Delhi pub are absolutely baseless and untrue. We request news agencies and media picking this up to please note that Mr. Devgn has been in Mumbai the entire time shooting for Maidaan, MayDay, and Gangubai Kathiawadi and he hasn`t set foot in the Capital in 14 months. Request all media to please cross-check before putting out anything," the statement by Ajay Devgn's office read, as per a report in DNA.
CONCLUSION 
Hence, it is clear that the brawl video from Delhi is not of Ajay Devgn. The claims about him being beaten by farmers are false.
Title:No, this video does not show Ajay Devgn being beaten by farmers in Delhi.
Fact Check By: Mayur Deokar
Result: False