Kashmiri Journalist Basit Zargar confirmed to Fact Crescendo that no such incident has taken place in Kashmir. The video is not from Kashmir.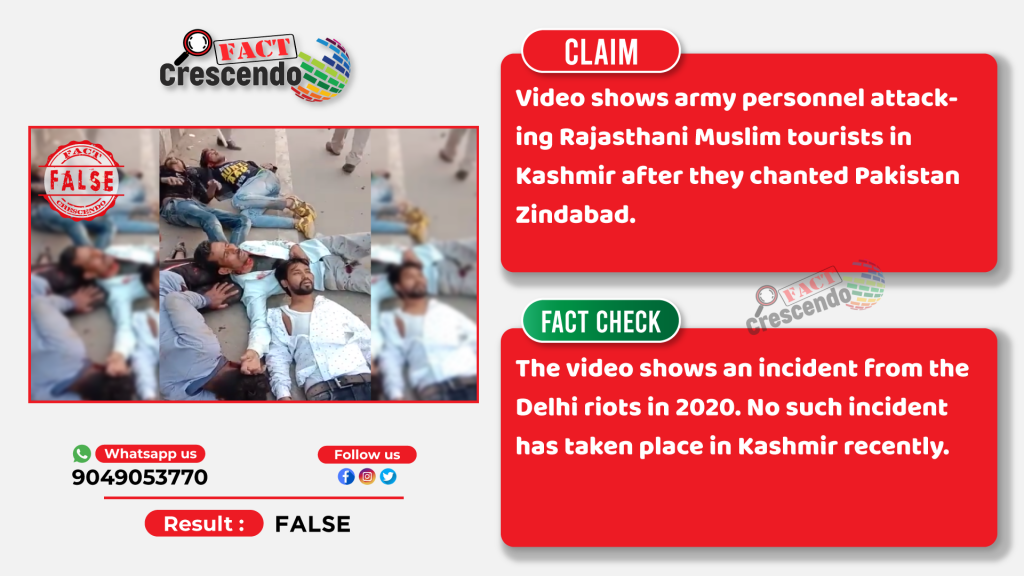 A distressing video showing few men lying on the ground, bleeding profusely and groaning in pain is widely circulating on social media as a group of Muslim boys from Rajasthan who visited Kashmir were beaten by army personnel after they shouted Pakistan Zindabad in the valley.
Users claim that the security personnel beat these Muslim men after they chanted Pakistan Zindabad and then forcefully made them sing the National Anthem.
The caption of the post mentions, "Many Muslim boys from Rajasthan went to Kashmir for a tour. There these people started shouting slogans loudly: "Pakistan Zindabad! We will not allow India to become a Hindu nation! "Ha ha ha. Indian soldiers beat these traitors who shouted slogans in such a way that they spoiled the situation. From future these rascals will think hundred times before shouting such slogans."
Fact Check-
We started our investigation by running a keyword search on YouTube whose results led us to the same video published in a BBC News report aired on 30 March 2020. According to the report, this video was taken during the Delhi riots. In this, you can watch the video going viral from 0.34 minutes to 0.46 minutes. The report by BBC shows Faizan's (who was killed in the riot as seen in the video) brother expressing his grief.
The report also states that religious riots continued in Delhi for three days. During that time, more than 40 people were killed and more than 200 people were injured. These riots took place between the supporters and opponents of the citizenship law.
According to a report published by the Scroll on 28 March 2020, the clip shows five severely injured men, lying on the street, being beaten by police officers as they loudly order them to sing the national anthem. One of the five, Faizan, is slumped to the side, unconscious. He died on February 27, two days after the attack. All five men in the video were residents of North East Delhi's Kardampuri.
According to a report by the Wire, the viral video showed Faizan and four others lying injured on 66 Foota Road in Northeast Delhi as the cops made them sing the national anthem. The police officers allegedly assaulted Faizan.
"He was later taken to the Jyoti Nagar police station in injured condition. He died in a hospital on February 26, a day after he was released from the police station," the report added.
Faizan's mother Kismatun has filed a petition for a court-monitored investigation by a Special Investigation Team into his death. Kisamtun, who is represented by advocates Vrinda Grover and Soutik Banerjee.
In the petition, they alleged that Faizan was "targeted, brutally assaulted" and "injured by the policemen" at Kardampuri. Thereafter, she had claimed that he was "illegally detained" while he was injured at the police station where he was denied timely critical medical care resulting in his death later at a hospital.
The case is still under investigation, as Justice Gupta has now demanded that she be provided with "all answers" in the "status report"
Next, Fact Crescendo contacted Basit Zargar, a photojournalist from Kashmir and tried to know from him whether any such incident had happened there. On this, he told us that, "This video is not from Kashmir. Recently nothing like the episode seen in this video has happened in Kashmir. This claim is false."
Thus, it is clear that the video shows an incident during the Delhi Riots in 2020. It has no relation with security personnel attacking Muslim tourists in Kashmir after the chants of Pakistan Zindabad.
Conclusion-
Fact Crescendo found the claim made along with the video to be False. The video does not show any security personnel attacking Rajasthani Muslim tourists after the chants of Pakistan Zindabad. No such incident took place in Kashmir recently. The video shows an old incident that took place in Delhi during the riots in 2020.
(If you also have any suspicious messages, posts, photos, videos or news, send them to our WhatsApp Fact line Number (9049053770) for Fact Check. Follow Fact Crescendo on Facebook, Instagram and Twitter to read the latest Fact Check.)

Title:Video from Delhi riots in 2020 shared as army torture on Muslim men in Kashmir
Fact Check By: Aavya Ray
Result: False