CGI artist Aleksey Patrev confirmed to us that the viral video is digitally created. American astronaut Michael Collins of Apollo 11 died of cancer at the age of 90 in April 2021.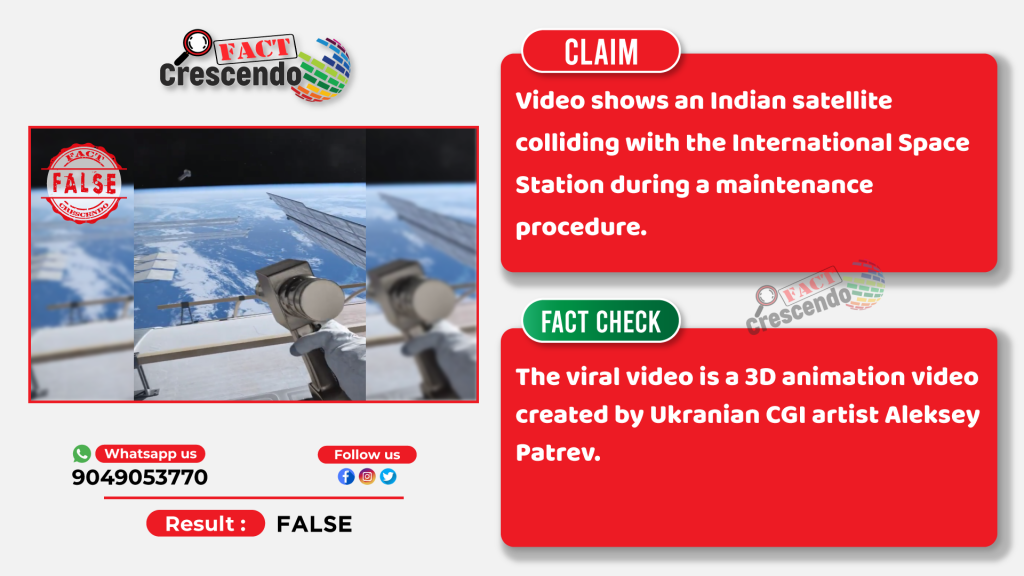 A 59-second video from space is widely circulating on social media claiming to claim an Indian satellite that can be seen colliding with the International Space Station during a maintenance procedure. This led to a great material loss of the satellite and led to the death of an American astronaut Michael Collins.
Fact Crescendo received many fact-check requests about this video on our WhatsApp Fact Line (9049053770).
The caption of the post states, "An Indian satellite collided with the International Space Station during its maintenance, which led to great material losses and the death of American astronaut Michael Collins."
Fact Check-
We started our investigation by breaking the video into small key frames and running a reverse image search for the same on Yandex. The results led us to the video published by an Instagram user named Aleksey on July 2021. Aleksey Patrev is a CGI artist who has mentioned in the video that it is an animation video and has been created digitally.
---
ALSO READ: Video showing Gigantic Moon eclipsing the Sun in the Arctic is Fake
---
According to his Instagram profile he is a CGI Animation artist who works on 3D visualization, interior, exterior and portfolios.
Speaking with Fact Crescendo via Instagram, Aleksey confirmed to us that the video is digitally created. Earlier, a video from his profile went viral claiming to be an original footage of the Arctic region. At that time also he had confirmed to us that he is a CG Artist based in Ukraine who creates such animated videos.
Did an Indian Satellite collide with the ISS?
In March 2019, India had destroyed one of its satellites as part of Mission Shakti, the country's first anti-satellite (ASAT) missile test. However, we could not find any report that said that there any loss of life during the incident. India was the fourth country to have carried out an ASAT test.
According to NASA, the destruction of India's satellite created 400 pieces or orbital debris that could lead to new dangers for astronauts aboard the International Space Station. The Indian satellite was destroyed well below ISS and most satellites in orbit (180 miles or 300 km).
How did astronaut Michael Collins die?
Michael Collins was a part of the team that travelled to the moon along with Neil Armstrong and Buzz Aldrin in Apollo 11 in 1969. He died after suffering from cancer in April 2021 at the age of 90.
Conclusion-
Fact Crescendo found the claim made along with the video to be False. The video does not show a collision between an Indian satellite and the International Space Station. The video is a 3D animation video created by CGI artist Aleksey Patrev.
(If you also have any suspicious messages, posts, photos, videos or news, send them to our WhatsApp Fact line Number (9049053770) for Fact Check. Follow Fact Crescendo on Facebook, Instagram and Twitter to read the latest Fact Check.)

Title:Animated video viral as Indian satellite colliding with International Space Station killing American astronaut Michael Collins
Fact Check By: Aavya Ray
Result: False