The Congress Manifesto launched on 21 January is named Bharti Vidhan and not after AAP or BJP.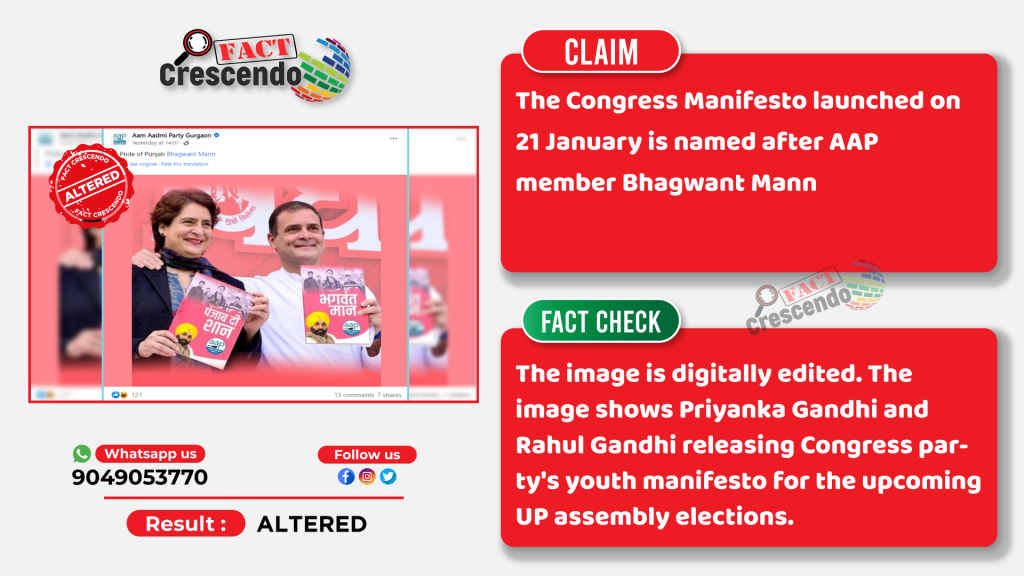 An image of Congress leader Priyanka Gandhi and Rahul Gandhi holding booklets endorsing AAP CM candidate Bhagwant Mann in their hands is widely circulating on social media ahead of the Uttar Pradesh Assembly Elections.
The AAP Gurgaon Facebook page shared this image which shows the Gandhi duo holding a manifesto with 'Bhagwant Mann, pride of Punjab' written in Hindi over it. The caption of the post gives the impression that the Gandhis are promoting AAP for the upcoming elections in Punjab.
The caption of the Facebook post mentions, "Pride of Punjab Bhagwant Mann".


The same image is also circulating on social media showing the Gandhi duo with tilak on their foreheads holding the party manifesto with "Only Yogi will come" written in Hindi over it. Here the users are peddling false narrative of Congress leaders are promoting BJP for the upcoming elections in Uttar Pradesh instead of their own party.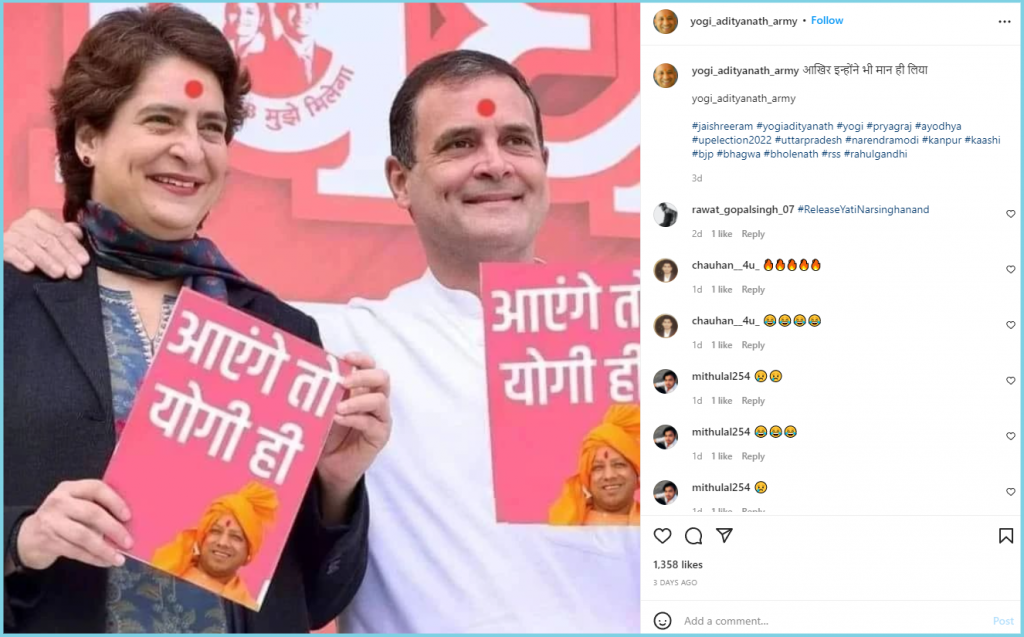 Let us find out the reality of this image.
Fact Check-
We started our investigation by running a Google reverse image search on the viral image; the results led us to the original image published by Rahul Gandhi on his Twitter account on 21 January 2022. Congress leader Rahul Gandhi tweeted the image with a Hindi caption, which translates to 'Things that are done from the heart, responsibly and honestly, have good results. My best wishes to the people of UP and every Congress worker'.
The cover of the manifesto mentions, "Bharti Vidhan".
We found news reports that stated Priyanka and Rahul Gandhi launched their manifesto on 21 January. The manifesto was titled "Bharti Vidhan", which discusses the party's plan to provide employment to Uttar Pradesh's youth.
You can watch a YouTube video showing the Congress leaders laying out their party's vision to provide the youth of the state 20-lakh new job opportunities.
Below you can see an image comparison between the viral image and the original image posted by Rahul Gandhi. It clearly shows that the viral image is morphed.


Conclusion-
Fact Crescendo found the image to be digitally altered. Image of Rahul and Priyanka releasing their poll manifesto was transmogrified to falsely show them promoting AAP's Bhagwant Mann and BJP's Yogi Adityanath.
(If you also have any suspicious messages, posts, photos, videos or news, send them to our WhatsApp Fact line Number (9049053770) for Fact Check. Follow Fact Crescendo on Facebook, Instagram and Twitter to read the latest Fact Check.)
Title:AAP and BJP Handles Share Altered Photo showing Rahul and Priyanka Gandhi endorsing their respective parties
Fact Check By: Aavya Ray
Result: Altered