The image has no relation with the ongoing conflict between Russia and Ukraine. The image is of a 2021 Israeli airstrike in Gaza.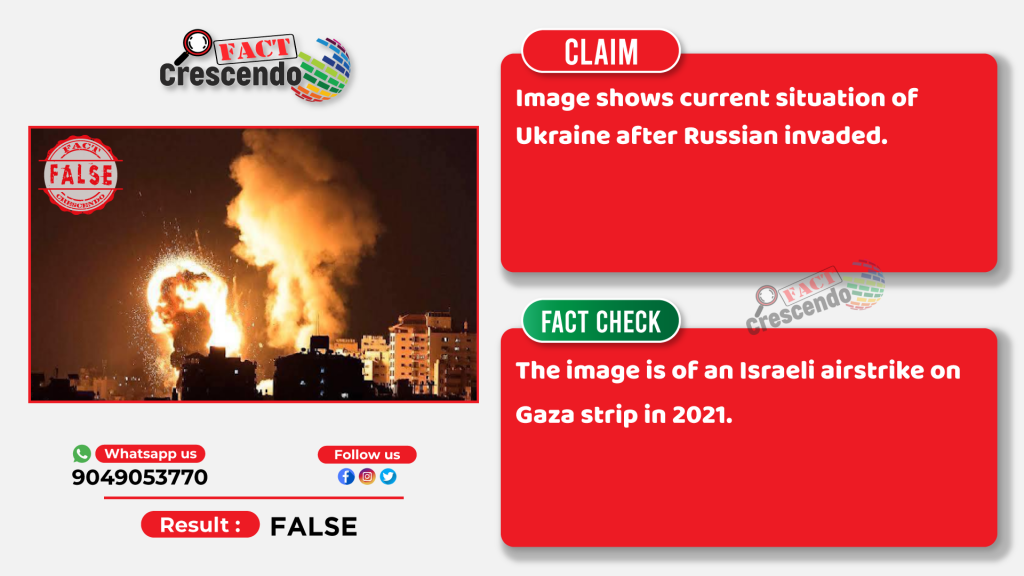 Russia attacked parts of Ukraine today in the warning sending the whole world into frenzy. In a televised speech, Mr Putin announced a "military operation" in Ukraine's eastern Donbas region.
As the world watches anxiously the developments in Ukraine, an image of a huge blast is circulating on social media with the claim that it shows the footage of the current situation in Kyiv, the capital of Ukraine.
The caption of the image reads, "BREAKING: As Russia's Putin announces a 'military operation' in Ukraine, Ukrainian Interior Ministry confirms that its capital Kyiv is under attack from Russian cruise and ballistic missiles. War has begun."
Fact Check-
We started our investigation by running a Google reverse image search whose results led us to the website of Getty Images. According to Getty, this image was taken on 10 May 2021 in the Gaza strip. A photographer named Mahmud Hams captured the image. It states that the image is from Gaza strip.
The caption of the image reads, "TOPSHOT – A picture shows Israeli air strikes in the Gaza Strip, controlled by the Palestinian Islamist movement Hamas, on May 10, 2021. – Israel launched deadly air strikes on Gaza in response to a barrage of rockets fired by the Islamist movement Hamas amid spiralling violence sparked by unrest at Jerusalem's Al-Aqsa Mosque compound. (Photo by MAHMUD HAMS / AFP)"
---
ALSO READ: 18 Year Old Video from Iraq Shared As Clashes between Russian and Ukrainian Army
---
Conclusion-
Fact Crescendo found the viral image on social media to be False. The viral image is not from Ukraine after Russia invaded the country. The image is from 2021 showing Israeli airstrike on the Gaza strip.
(If you also have any suspicious messages, posts, photos, videos or news, send them to our WhatsApp Fact line Number (9049053770) for Fact Check. Follow Fact Crescendo on Facebook, Instagram and Twitter to read the latest Fact Check.)

Title:Image of Israeli Airstrike in 2021 from Gaza goes viral as Russian Airstrike on Ukraine
Fact Check By: Aavya Ray
Result: False