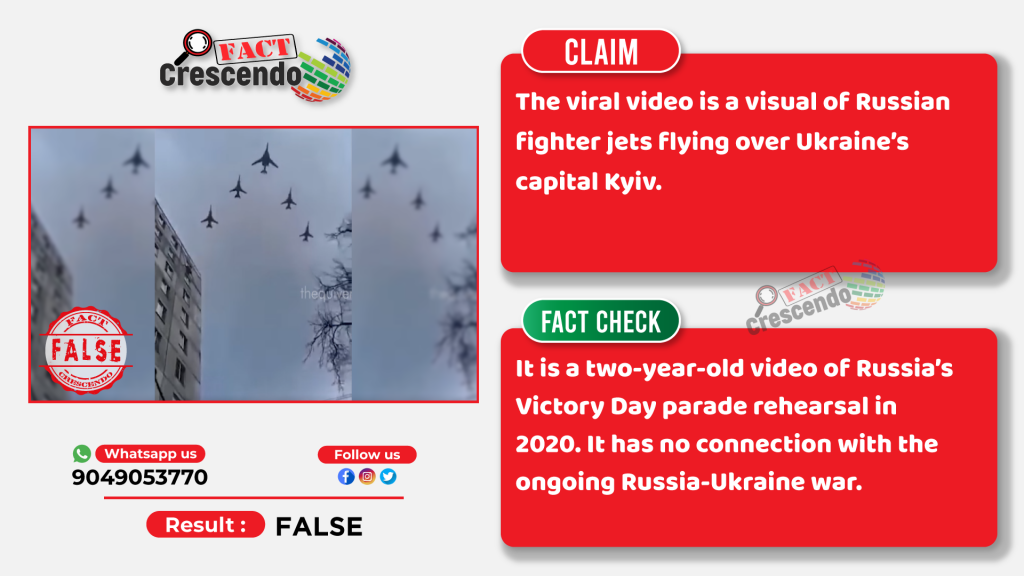 Russian President Vladimir Putin declared military operations in Ukraine. Later, Ukraine had claimed that it had shot down five Russian jets.
Now, a video of flying planes in synchronization is going viral with a claim that it is of Russian fighter jets flying over Ukraine's capital Kyiv.
Fact Crescendo found that the video is old and not related to the ongoing Russia-Ukraine war.
WHAT'S THE CLAIM?
Economic Times and Zee News shared this video claiming it to be from Ukraine during the ongoing war. The same video is also shared on Facebook (Archive).
Original Video – Zee News
FACT CHECK
Yandex reverse image search on keyframes led us to a YouTube Channel where the same video was uploaded two years ago.
It is mentioned in the caption that this is a visual of Ariel Parade Rehearsal on 4 May 2020 in which flights are flying over Tushino city of Russia.
The Moscow Times had also uploaded it on their YouTube channel.
The caption with the video says, "Seventy-four Russian military airplanes and helicopters flew over Moscow today to rehearse for Russia's Victory Day celebration. The main event on May 9 will mark 75 years since the Soviet victory over Nazi forces in World War II."
WHAT IS THE VICTORY DAY PARADE?
Victory Day is celebrated on 9 May in remembrance of the victory of Allied forces in World War 2. On that day, German troops officially surrendered in 1945 after Adolf Hitler shot himself on 30 April.
CONCLUSION
The viral video of fighter jets flying over a city is not from Ukraine. It is a two-year-old video of Russia's Victory Day parade rehearsal in 2020. It has no connection with the ongoing Russia-Ukraine war.
You can read our other fact-checks about the Russia-Ukraine war here.

Title:Old Video of V-day Parade Rehearsal Viral as Russia's Fighter Jets Flying over Kyiv 
Fact Check By: Siddharth Sahu
Result: False