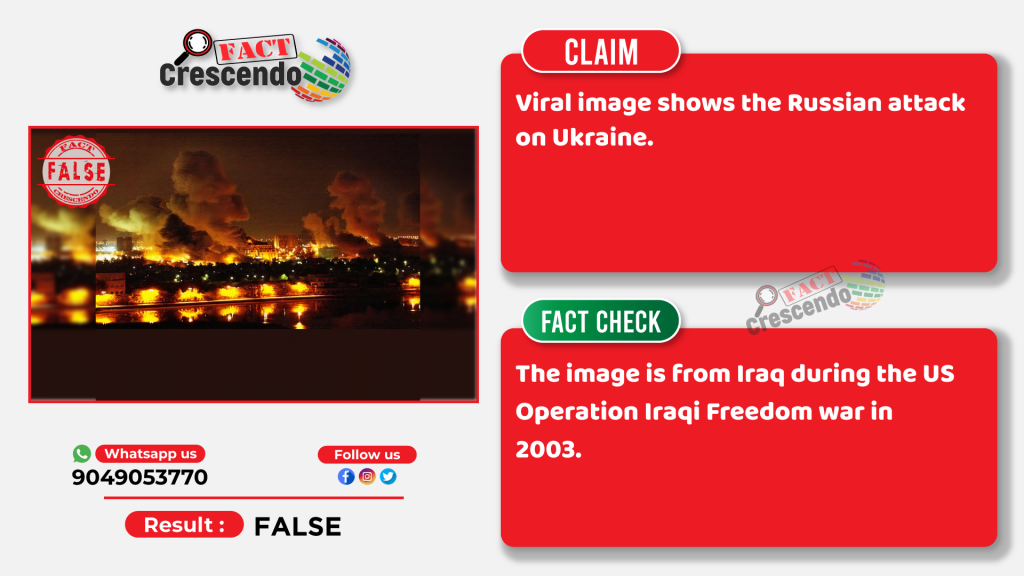 As Russia announced its military operation in Ukraine, videos and images of blasts and attacks populated the social media. Many of such videos and images are old and unrelated to the ongoing situation in Ukraine.
One such image of blast and smoke billowing in the night sky went viral with a claim that it was from Ukraine.
However, Fact Crescendo found that it is a two-decade-old image from Iraq.
WHAT'S THE IMAGE?
The claim with viral image reads: "The United States did not cause this war. Ukraine did not cause this war. NATO did not cause this war. Russia caused this war"
FACT CHECK
First, we ran a Yandex Reverse Image Search. We found the same image uploaded on the Getty Images website.
The caption says that this image is from Baghdad, Iraq where the US army had attacked on 21 March 2003 during Operation Iraqi Freedom.
After this, we ran various keywords in Google. This led us to a YouTube video uploaded in CNN's official account. The caption says that this video was shot on 21 March 2003 showing bombing on Iraq during the night.
CONCLUSION
The viral image has no connection with the ongoing Russia-Ukraine war. The image is from Iraq during the US Operation Iraqi Freedom war in 2003.
You can read our other fact-checks about the Russia-Ukraine war here.

Title:Old Unrelated Image From Iraq Shared As Visual Of Russia Ukraine War
Fact Check By: Siddharth Sahu
Result: False