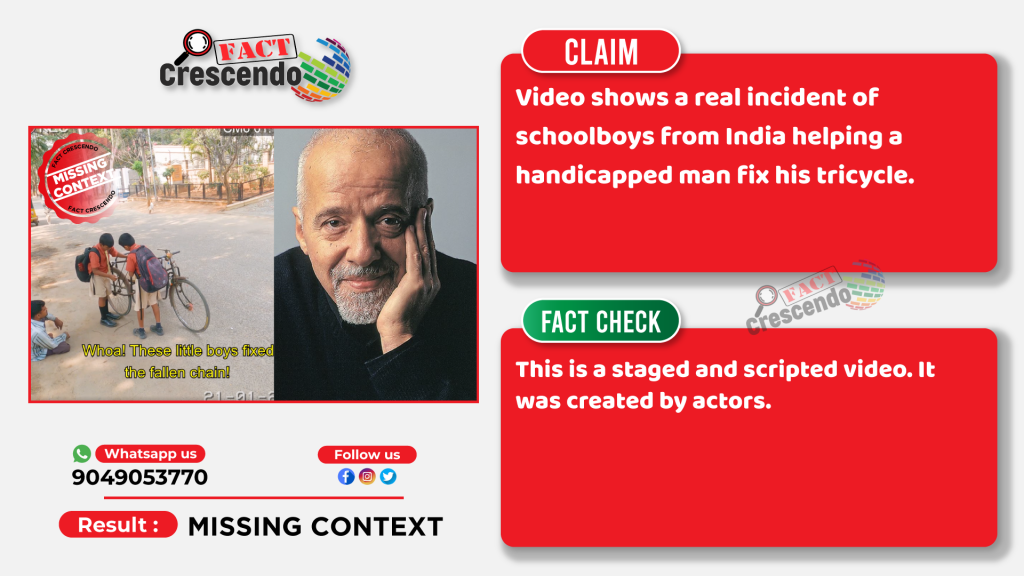 'The Alchemist' writer Paulo Coelho tweeted a video of two schoolboys from India helping a handicapped man to fix slipped chain of his tricycle.
The Brazilian author is known for his spiritual and motivational novels. He shared this video 'to brighten up complicated day' with his followers.
Soon after it, the video went viral on social media. As of writing, Paulo's tweet has garnered 57 thousand likes and 12 thousand retweets, and more than 600 thousand (6 Lakh) views on the video.
But there is more to this video than this. Although inspiring, the video is staged and scripted.
WHAT'S IN THE VIDEO?
A two-minute clip shows a handicapped man sitting on the road with his broken tricycle. People pass by him but no one offers him help. Then two schoolboys walk past him but they come back and ask what the issue is. They help him fix slipped chain of his tricycle. Once done, they also assist him to get on the tricycle. He thanks them and leaves.
Paulo shared this video on 26 February with the caption: Two boys from India to brighten your complicated day.
FACT CHECK
Careful viewing of the video arises many doubts and questions about its authenticity. Also, the effort to make it look like CCTV footage is questionable.
We ran reverse image searches on the keyframes of the clip. It led us to various social media handles where it was shared earlier.
One such Facebook account, Sanjjanaa Galrani, had shared this same video on 15 February.
This video is a longer version of the viral clip. In this original video, it is clearly mentioned in the end that this is a scripted video. This disclaimer is edited out of the clip shared by Paulo Coelho.
The uploader also put a disclaimer in the post caption that – "this page features scripted dramas and parodies as well. These short films are for entertainment & educational purposes only!"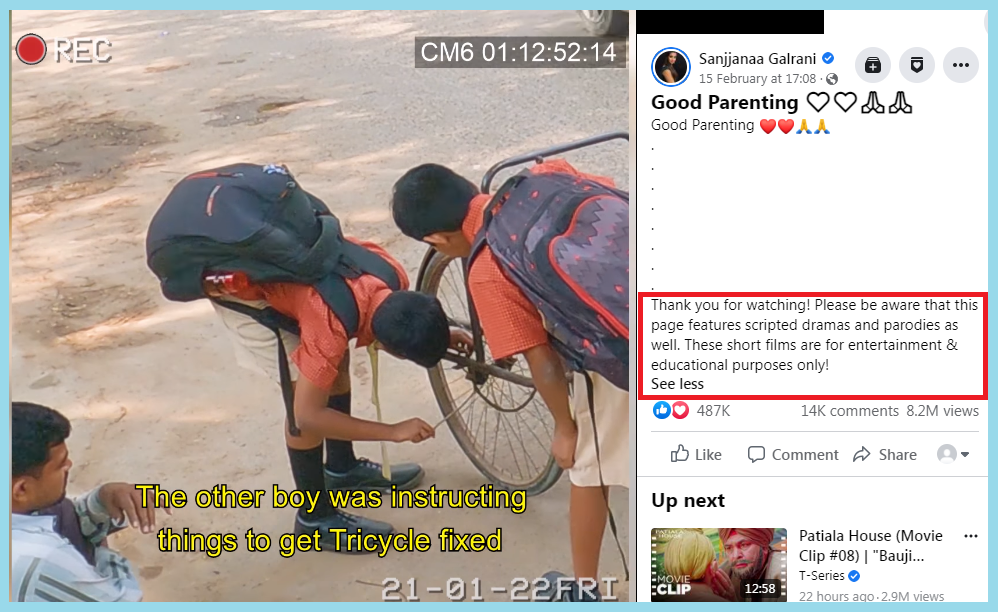 Original Post – Facebook
This same Facebook page is known for making such emotional but scripted videos. For example, there is a "staged" video of a girl feeding a handicapped man on the footpath. There is also a "scripted" video of a lady police officer buying fruits for a hungry poor boy.
Also, this page has uploaded a video of a schoolboy coming to rescue of girl whom men were harassing.
One can notice that the boy is wearing same uniform as in the viral clip of boys helping handicapped man.
You can watch all such videos on this page here.
WHY DO YOU NEED MORE CONTEXT?
Users may wonder that staged or not, Paulo only shared this video to spread a good message of kindness. And he does. There is no doubt about his purpose or intent behind this tweet.
But Fact Crescendo has debunked several such staged and scripted videos which were viral with communal claims.
Many times these fictional videos are shared to spread misinformation and create communal tension.
For example:
1. A "staged" video was shared with a false communal claim that Muslim men duped Hindu girls posing as Hindu boys. (Read Fact-Check)
2. A "scripted" video was shared with a baseless claim that a Muslim boy was captured stealing the bike of a young girl. (Read Fact-Check)
3. A "fictional" video was shared as a real incident of child kidnapping. In India, rumors of child kidnappings have already led to several deaths in mob lynchings. (Read Fact-Check)
4. A "made-up" video from the same Sanjjanaa Galrani page went viral as a real incident of a man being electrocuted while using mobile phone plugged for charging. (Read Fact-Check)
In the name of "social awareness" or "motivational" videos, these scripted videos are solely made to garner views and hits on social media.
Sometimes they are shared out of context and sometimes with outright false and dangerously communal claims. So, users need to know the full context of these videos.
CONCLUSION
Paulo Coelho shared a clipped and staged video as a real incident of schoolboys from India helping a handicapped man fix his tricycle. Although the message of the video is good and positive, users need to be aware of the full context of this scripted video.
If you come across any suspicious content on social media, forward it to our WhatsApp FactLine (9049053770) for a fact-check.
Title:Writer Paulo Coelho Shared Staged Video From India To Inspire Kindness
Fact Check By: Mayur Deokar
Result: Missing Context