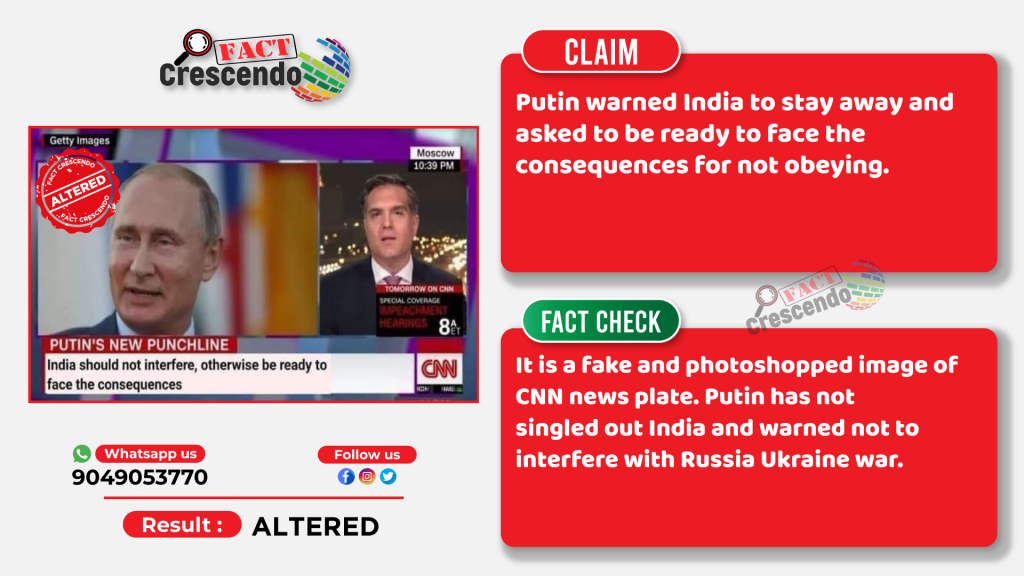 By sharing a screengrab of CNN news plate, social media users are claiming that Russian President Vladimir Putin had warned India to stay away from the ongoing Russia-Ukraine conflict. Otherwise, India will have to face the consequences for not obeying Putin's order.
The text in the viral screengrab reads: "Putin's New Punchline: India should not interfere, otherwise be ready to face the consequences."
Fact Crescendo found out that the viral image of CNN news plate is fake and digitally altered.
WHAT'S THE CLAIM?
Tagging PM Narendra Modi, users are tweeting that "Putin warned India to stay away and asked to be ready to face the consequences for not obeying. Where are 56 inches?"
Orignal Link – Twitter | Archive | Twitter | Archive
FACT CEHCK
Using reverse image search, we came across a CNN news video on their website.
In the original video, CNN's Senior International Correspondent Frederik Pleitgen is reporting about a top Russian official who joked about interfering in the US elections in 2020.
The headline of the report reads: Russian interference in U.S. elections now comedy fodder for Kremlin.
See Video – CNN
Nowhere in this news report is it mentioned that Putin warn India against interfering in the Russia-Ukraine war.
Also, you can see that the text in the video is also different from the viral screengrab.
You can see the comparison below:
WHAT DID PUTIN SAY?
On 24 February, Russian President Vladimir Putin announced a "military operation" in Ukraine. He appeared for a televised address and declared military operation aims to ensure a "demilitarization" of Ukraine.
In the same speech, he warned other countries that any attempt to interfere with the Russian action would lead to dire consequences.
"I would now like to say something very important for those who may be tempted to interfere in these developments from the outside. No matter who tries to stand in our way or all the more so create threats for our country and our people, they must know that Russia will respond immediately, and the consequences will be such as you have never seen in your entire history. No matter how the events unfold, we are ready. All the necessary decisions in this regard have been taken. I hope that my words will be heard," Putin said.
He did not specifically warn India. You can read his full speech here.
CONCLUSION
A fake and photoshopped image of CNN news plate is going viral with a false claim that Putin warn India not to get involved with Ukraine. The original CNN news does not report anything such. It has been digitally edited and manipulated.
If you come across any suspicious content on social media, forward it to our WhatsApp FactLine (9049053770) for a fact-check.
Title:FAKE: Did Putin Warn India To Stay Away From Russia Ukraine War?
Fact Check By: Mayur Deokar
Result: Altered