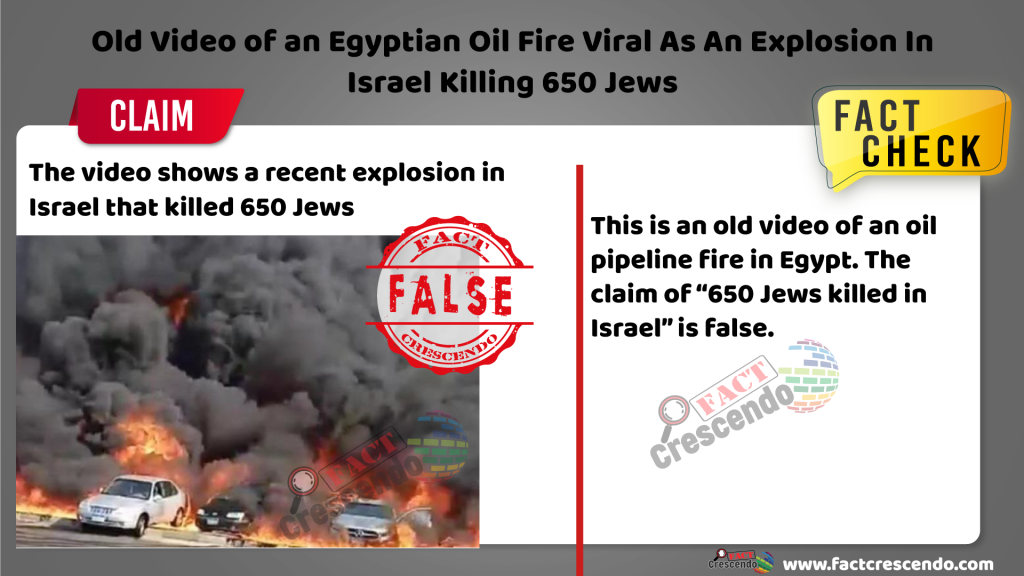 As the Israel-Palestine conflict rages on, social media is flooded with gruesome videos and images claiming to show the current situation in the region.
One such video is doing rounds with a claim that 650 Jews were killed in a big explosion in Israel.
Fact Crescendo received many fact-check requests about this video on our WhatsApp Factline (9049053770).
It was found that the video is neither from Israel nor it is recent.
WHAT'S THE CLAIM?
A viral 29-second video clip shows a chaotic scene of a huge fire eruption and people screaming in panic.
The text along with this video reads:  A big explosion happened in Israel where near about 650 Jewish people killed.
The same video is being widely shared on Facebook garnering millions of views and thousands of shares.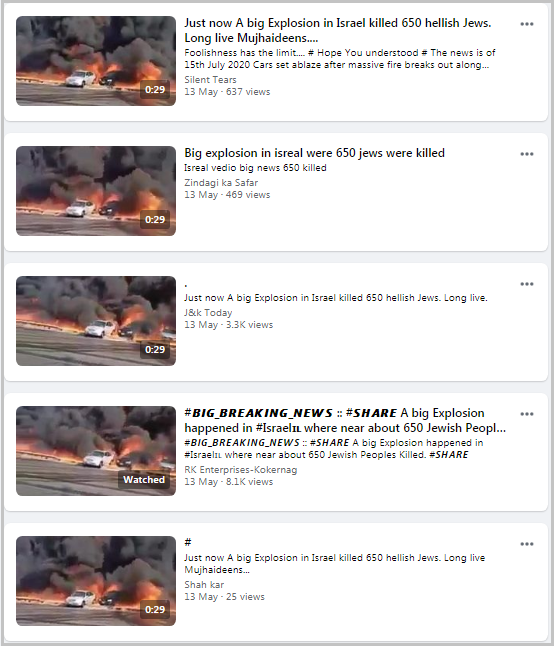 FACT CHECK
We searched for news about the "death of 650 Jews" but could not get any credible report.
Then we looked for the veracity of the video. After a few keyword searches, we came across similar videos uploaded on YouTube.
It became clear that the viral video of the explosion is not from Israel.
According to Telegraph UK, the video is from Egypt. A ruptured crude oil pipeline set off a huge fire on a desert road in Egypt, says the description.
The Sun and VOA News reported on the same video. 
The incident occurred in Cairo on 14 July 2020.
According to Reuters, the fire broke out after an oil leak from the Shuqair-Mostorod pipeline located next to a busy highway in a Cairo suburb. A spark caused by passing cars ignited the crude oil that was leaking from the pipe. 17 people were injured at the time.
CONCLUSION
Hence, an old video in Egypt is being passed off as a recent explosion in Israel. The claim of "650 Jews killed in Israel" is false.
If you come across suspicious posts, please forward them to our WhatsApp Factline (9049053770). We will fact-check them for you.
Title:Old Video of an Egyptian Oil Fire Viral As An Explosion In Israel Killing 650 Jews
Fact Check By: Mayur Deokar
Result: False