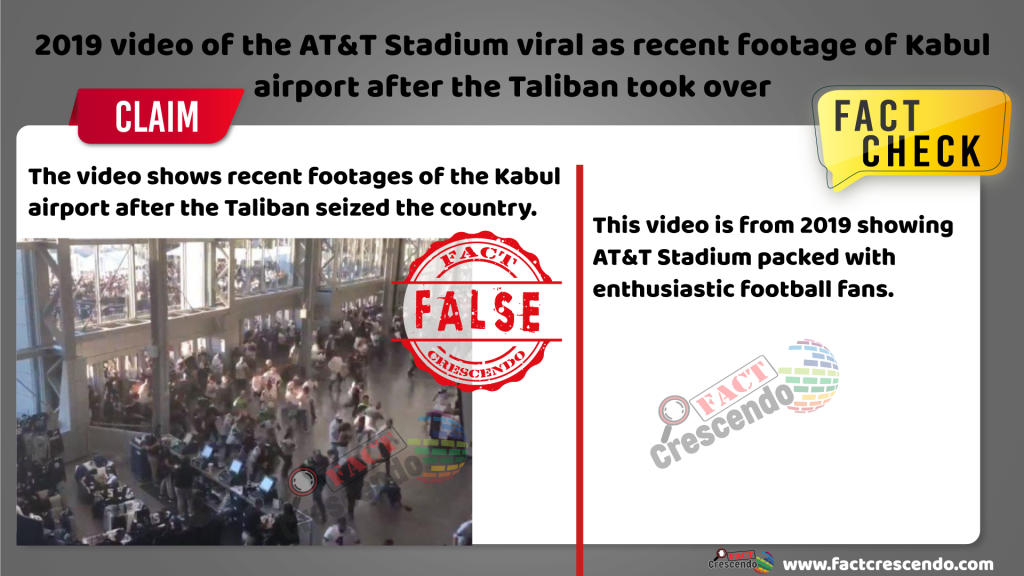 Social media is flooded with misinformation related to the recent take over of Afghanistan by the Taliban forces. In relation to this, a video showing hundreds of people rushing inside a huge hall is circulating on social media claiming to show actual footage from the Kabul airport in Afghanistan. This video is being shared with the context that the citizens of Afghanistan desperately want to flee the country after the Taliban took over.
The caption of the post mentions "Footage from Kabul airport this morning according to online reports."
Archive Link

Fact Check-
We started our investigation by breaking the video into small key frames with the help of the InVid We Verify tool and ran a reverse image search on Google. The results led us to a news report published by 'The Spun' on 5th January 2019. The headline of the report stated "Video of Fans at AT&T Stadium before Cowboys Playoff Game Is Insane." The video shows the AT&T Stadium in Texas, USA. American football team The Dallas Cowboys was playing against the Seattle Seahawks at the NFL Playoffs in AT&T Stadium. The video shows hundreds of supporters entering the stadium.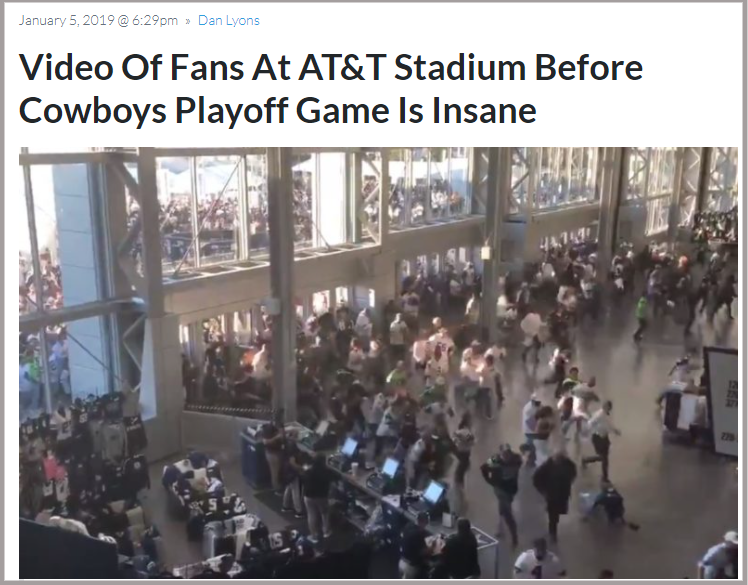 Further through a keyword search we also found that this video was tweeted by the official Twitter account of the Sports Illustrated on 6th January 2019 mentioning that the AT&T stadium looked like a Black Friday sale before the internet existed.
This video was also posted by the verified Twitter handle of Jon Machota, who is a journalist who covers Dallas Cowboys for 'The Athletic' on the 6th August 2019. He mentioned that this video is from AT&T stadium in USA.
Further we also searched for the AT&T in Texas on Google Maps and found the street version of this stadium.
Below you can see the comparison image showing the similarities between the viral video on social media and the street view available on Google Maps. This clearly proves that the viral video in circulation is actually from the AT&T Stadium in USA and not the Kabul Airport in Afghanistan.

You can read more related fact checks through the below links
Conclusion- Fact Crescendo found that the claim made along with the viral video to be False. The viral video on social media does not show the recent footage from the Kabul airport after the Taliban seized the entire country. The video dates back to 2019 showing the AT&T Stadium in USA where football fans can be seen rushing inside.
Title:2019 video of the AT&T Stadium viral as recent footage of Kabul airport after the Taliban took over
Fact Check By: Aavya Ray
Result: False