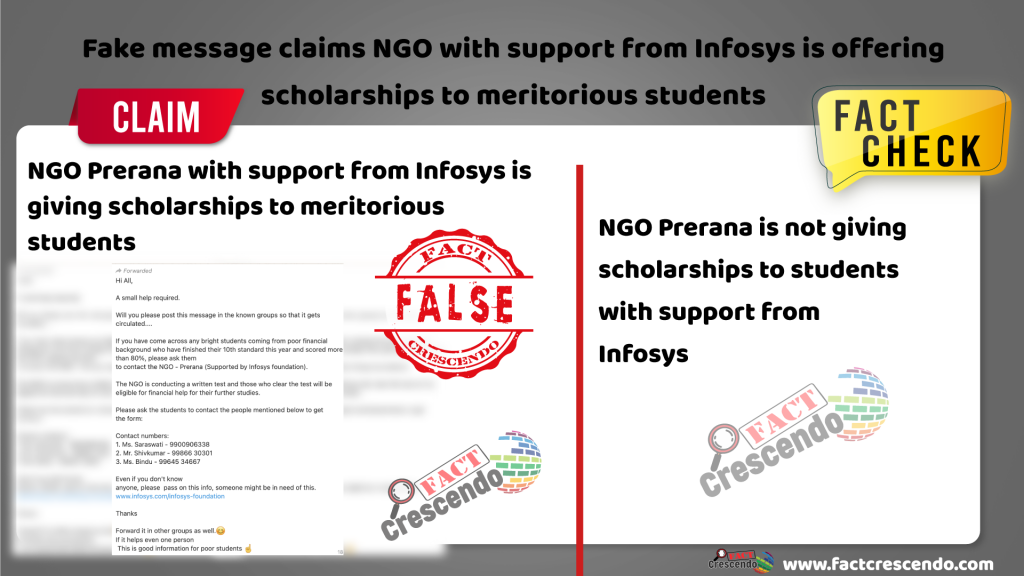 A text message claiming that an NGO, supported by Infosys Foundation is offering financial help to meritorious students from weak financial background is being shared widely on messaging platforms like WhatsApp. The message is:
"Hi All,
A small help required.
Will you please post this message in the known groups so that it gets circulated….
If you have come across any bright students coming from poor financial background who have finished their 10th standard this year and scored more than 80%, please ask them
to contact the NGO – Prerana (Supported by Infosys foundation).
The NGO is conducting a written test and those who clear the test will be eligible for financial help for their further studies.
Please ask the students to contact the people mentioned below to get
the form:
Contact numbers:
1. Ms. Saraswati – 9900906338
2. Mr. Shivkumar – 99866 30301
3. Ms. Bindu – 99645 34667
Even if you don't know
anyone, please pass on this info, someone might be in need of this. www.infosys.com/infosys-foundation
Thanks
Forward it in other groups as well.😊
If it helps even one person
This is good information for poor students ☝️"
Fact Crescendo received multiple requests on its 24×7 Factline number on WhatsApp 904 905 3770 to verify whether the information is true. Archived Link
We found that the information is False. Here's how…
Fact Check Methodology
At first we tried calling up the numbers listed in the message but failed to get through to any of them.
After that we checked the Social Media accounts and Websites of the two entities mentioned in the message- NGO Prerana and Infosys Foundation but didn't find any such recent posts. However, on the Contact Us page of the Infosys Foundation, we saw a highlighted statement which says "There are certain fake messages circulating on social media pertaining to the association of Infosys Foundation with other NGOs. Infosys Foundation does not use social media to get beneficiaries. We also do not solicit donations from the public. Please contact the law enforcement agencies if you are requested to assist in such matters to seek donations."
On searching with relevant keywords, we came across an article published in 2011 on the Times Of India website that says "Prerana, a NGO supported by Infosys Foundation has expressed its intent to help students coming from poor financial background and who have finished their 10 th standard this year securing more than 80 per cent marks. Such students should contact the NGO, which would conduct a written test and those clearing it would be eligible for financial help for their further studies."
We then, reached out to NGO Prerana via email and Mr Sirshendu Bhattacharya responded, on behalf of the organisation, stating "This is Closed. This message is old, about 10 years ago. All the people mentioned have moved on."
Conclusion
The above Fact Check makes it clear that NGO Prerana is not running any such programme with support from Infosys currently. The message is false and should not be forwarded.
Title:Fake message claims NGO with support from Infosys is offering scholarships to meritorious students
Fact Check By: Manjori Borkotoky
Result: False