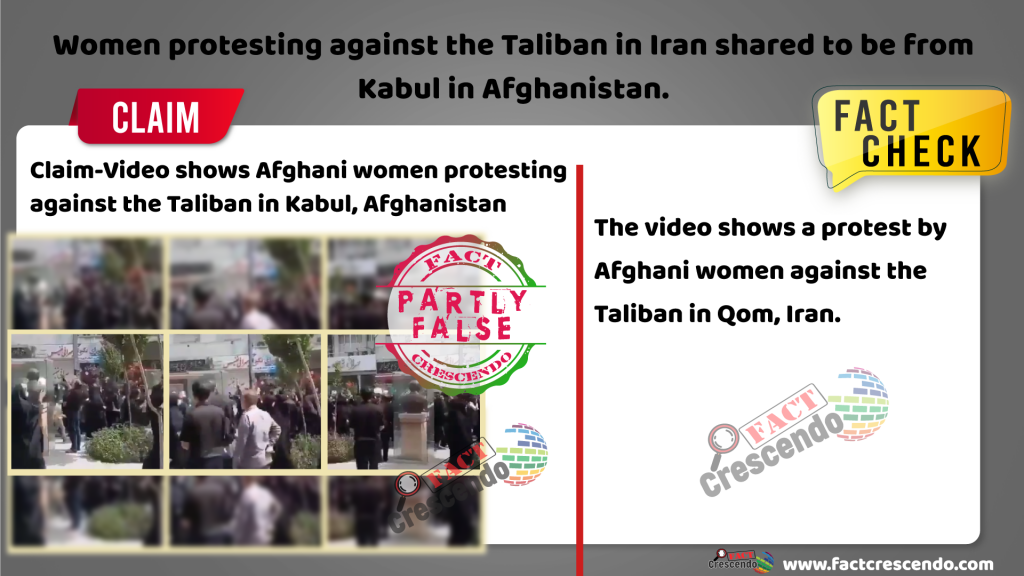 After the Taliban seized over the Capital city of Afghanistan, Kabul, social media is filled with misinformation related to this incident. Several unrelated images and videos are being shared online as footage of the country post the takeover. Amidst this, a video of the first ever protest by few Afghan women against the Taliban went viral on social media. In relation to this incident a video showing a group of protestors is going viral on social media claiming to show Afghani women protesting in Kabul against the Taliban.

The caption of the post mentions that "We all know that without women, social processes would be much more difficult, their courage and determination have always been decisive. Afghan women protest in Kabul before the Taliban. #MujeresAfganas #Afganistan #kabulairport #KabulHasFallen #AfganistanWomen"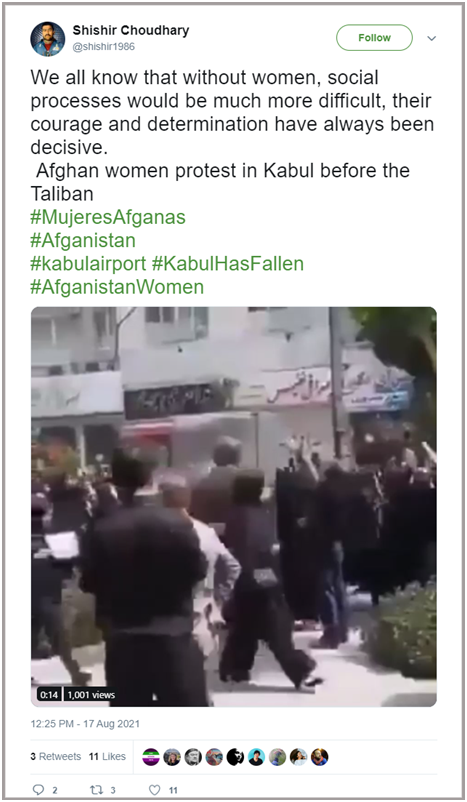 You can read more Fact Checks related to the recent take over of Afghanistan by the Taliban on the below links
Fact Check-
In the beginning of the investigation we ran a keyword search on YouTube to find a similar video's . However we could not find any relevant information related to the video.

Next, we went through the comment section and found a comment by a Twitter account named Qom News. The tweet mentioned that this video is not from Kabul and it shows a demonstration in the Qom city, Iran. It further states that a huge number of Afghan refugees living in Iran were a part of this demonstration.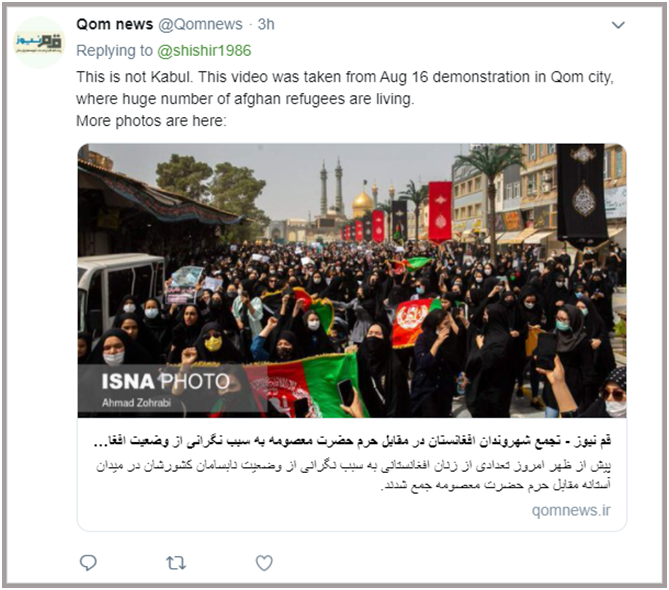 Next, Fact Crescendo contacted Seyedali Pourtabatabaie, the editor of Qom News, a news website based in Qom, Iran. He confirmed to us that the video in question in not from Kabul, Afghanistan but from Qom city in Iran.The video is of a protest by afghani immgrants that was held on the 16th August 2021 in Qom,Iran. He also mentioned that the protest took place in Enghelab Street, whose local name is Chahar Mardan.
He also sent us a tweet made by the Qom news mentioning that "This is not Kabul, video belongs to Demonstration in Qom, Iran in AUG 16. More photos are here:" The tweet also attaches a news report in Persian which when translated states that "According to Qom News, before noon today, a number of Afghan women, while worried about the unhealthy situation in Afghanistan and the uncertain situation in this country, expressed their concern to Hazrat Masoumeh (PBUH) and expressed their concern in Astana Square in front of Qom. At the rally, the friendly and brotherly citizens of Afghanistan, holding their country's flag, expressed their deep concern about what is happening in the country today." The news report also mentions several images of this demonstration.
He also provided us with a video and image of the area where the Afghan women protested against the Taliban which can be seen below. He mentioned to us that the video and image was clicked personally by him.
We compared the images sent by Seyedali Pourtabatabaie and compared them with the viral video where we found several similarities. 
The news report published by Qom News mentioned that the protestors gathered at the shrine Imam Masoumeh. Through keyword search we found several images of the Fatima Masumeh Shrine also known as Hazrat-e Masoumeh on the website of Persia Advisor. Next, we compared one of the images published by the news report of Qom News which shows protestors gathered around the shrine and the original image showing the Fatima Masumeh Shrine.
Conclusion- Fact Crescendo found that the claim made along with the video is False. The viral video on social media does not show Afghani women protesting against the Taliban at Kabul, Afghanistan. The video shows a protest by Afghani refugees and women in Iran against the Taliban in Qom.
Title:Women protesting against the Taliban in Iran shared to be from Kabul in Afghanistan
Fact Check By: Aavya Ray
Result: Partly False