A video of few helicopters being shot down is widely circulating on social media. The users are claiming that this video shows that Ukrainian defenders air systems are firing at Russian Ka-52 helicopters.
However, Fact Crescendo found the claim to be false. The video is actually visual from Arma-3 video game and not a real incident.
WHAT'S THE CLAIM?
The user has written in the caption along with the video that "Ukrainian Defenders Air System firing Russian at 52 Helicopters."
FACT CHECK
Keyword search led us to a video uploaded on YouTube on 18 May 2022. The caption with the video reads, "Today, Ukrainian Defenders Air System Firing Russian Ka-52 helicopters; Arma 3 Milsim." Visuals of the viral video can be seen after 2-minute time.
From the caption of the video it is clear that the viral video is a simulation from a game called Arma3 and not real incident.
It was mentioned in the description that this is not a real video but a game simulation that simulates almost real life footages. Owner is a gamer and loves to create simulation videos like this one.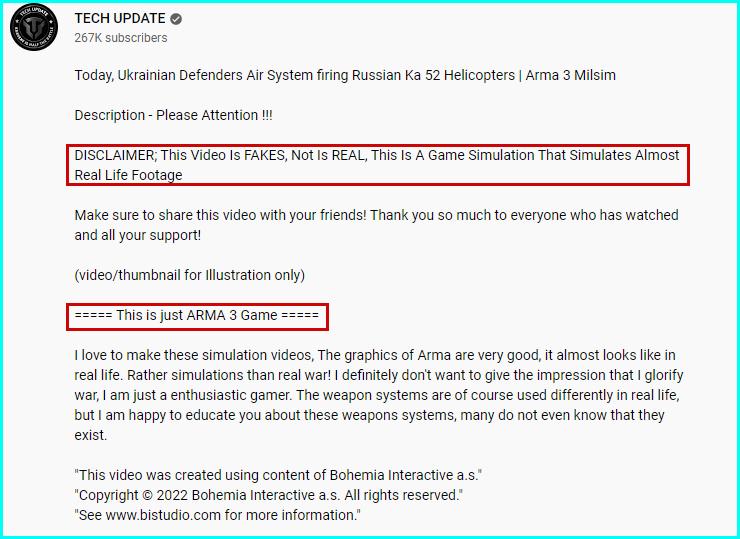 What is Arma 3?
ARMA 3 is an open-world, realism-based, military tactical shooting video game developed and published by Bohemia Interactive, a Czech video game developer based in Prague.
Fact Crescendo had previously debunked several video game visuals that have been shared as real scenario of war between Russia and Ukraine. Those fact checks can be read here, here and here.
Did Ukraine Really Destroyed Ka-52 Helicopter?
On 1 June 2022, Ukraine's media channel Euromaidan Press tweeted, "A mobile fire group of anti-aircraft artillery battalion of 93rd Kholodnyi Yar Mechanized Brigade shot down Ka-52 Alligator helicopter by using portable air defence system."
Conclusion
Fact Crescendo found the claim to be false. The visuals of viral video is actually from a simulation of a game called ARMA-3 and not real incident. This is not a video of Ukrainians destroying Russian helicopter.

Title:Visuals from Arma-3 Video Game Shared as Ukrainians Shooting Down Russian Helicopters
Fact Check By: Siddharth Sahu
Result: False