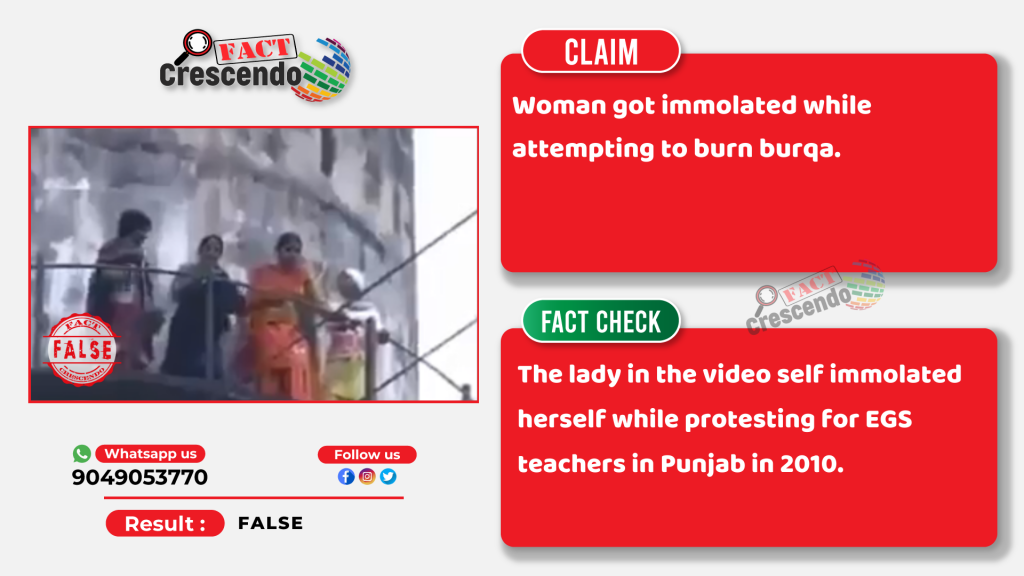 On the backdrop of ongoing Hijab protest in Karnataka, a video of a lady immolating herself on top of water tank is circulating in social media. It was claimed that this incident happened when she was trying to burn burqa.
The claim with the video says, "Going to burn the burqa in India, it burned itself. This is the judgment of Allah, the creator. Islam is the greatest and only chosen religion of the Creator."
The same video with similar claim was posted in Twitter.
Fact Check–
In our investigation first we divided this video into various key frames. We ran Google Image Search on these key frames whose results led us to same video posted by Saleem Ahmad on 19th June 2014. This concludes that the viral video is almost a decade old and has no connection with ongoing hijab row.
To know the exact incident we ran various keywords in Google. A report from NDTV, dated 8th February states that this video is from Kapurthala, Punjab. The name of the victim was Kiranjit Kaur who was a teacher and was protesting with few other teachers by climbing on a water tank to draw the attention of government towards their demand for admission of 370 (EGS) teachers. She set herself on fire and received nearly 90% burn and later on lost her life.
According to Zee News this incident took place when EGS teachers across the state were protesting close to Education Minister Upindrajit Kaur's residence. During the protest Kiranjit Kaur immolated herself and she was admitted in Jalandhar hospital where she took her last breath. Rest of the teachers continued their protest even after the incident.
Conclusion:
Hence, a decade old video has been revived and falsely linked to the ongoing hijab row incident. The lady in the video self immolated herself while protesting for EGS teachers in Punjab in 2010.

Title:Old video shared with claim that woman got immolated while burning burqa
Fact Check By: Siddharth Sahu
Result: False