The video has no relation with the hijab controversy. The video is from Mumbai showing Maratha Morcha demanding reservation in jobs and education for the Maratha community in 2017.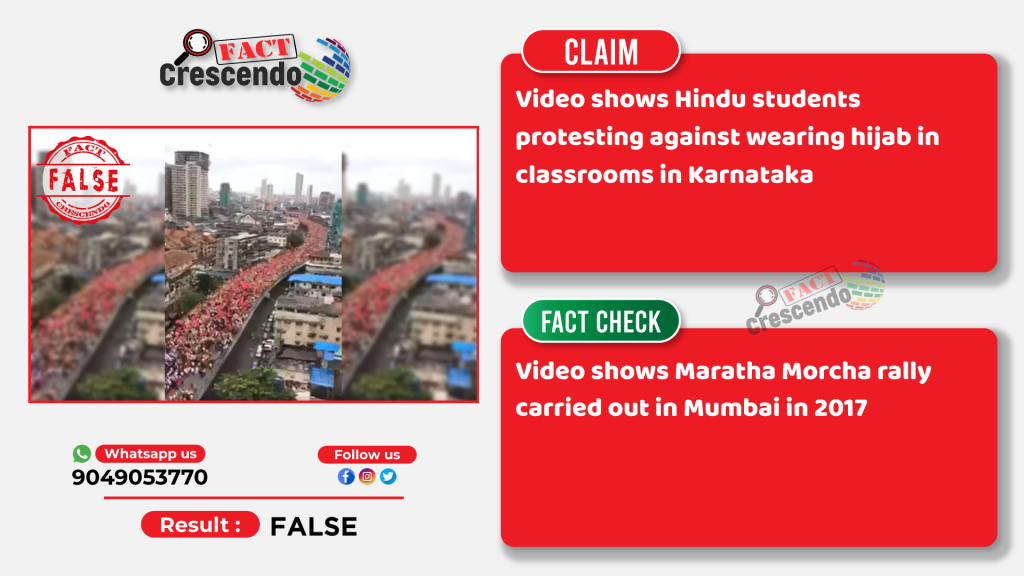 A video showing a huge crowd rallying with saffron flags on a bridge is widely circulating on social media as the hijab controversy rages on in Karnataka. Social media users claim that this video shows a rally by the Hindu students in Karnataka. This video is being shared in the context of the hijab controversy in Karnataka where few Hindu students opposed hijab inside the classrooms by wearing saffron scarves in the schools.
The caption of the post says, "Seeing the children of Karnataka, now it seems that we have brought the boat out of the storm to take care of this country, my children. Now the children have become capable of taking care of the country. Today the Sanatani children of Karnataka have made this song meaningful. The Hindus of the whole country have woke up. Be victorious!"
Facebook Post | Archive Link | Facebook Post
Fact Check-
We started our investigation by breaking the video into small key frame using the InVid We Verify tool. We found that the same video was posted on Facebook by a user in 2017 stating that the video is of a rally in Maharashtra. Another YouTube video posted on August 2017 suggested that the video is from Azad Maidan in Mumbai showing Maratha Andolan at JJ flyover.
The Times of India posted an image of this rally on August 2017 showing Maratha Kranti morcha at JJ flyover in Mumbai.
The Indian Express Online posted Marathi Morcha's video on August 2017. The description stated 'A book binder, a national-level scuba diver, a businessman and a property consultant were among those from Thane who participated in the Maratha morcha. At least 2,000 protesters from Thane joined lakhs of others marching from Byculla to Azad Maidan.'
ABP Live Marathi also posted this video on 2017 stating that it shows Marathi Morcha in Mumbai. The protest march by Maratha community poured on the streets to demand reservation in jobs and education for the Maratha community among other demands. The march started from Jijamata Udyan in Byculla and culminated at Azad Maidan by 5 pm.
Conclusion-
Fact Crescendo found the viral image on social media to be False. The video is not from Karnataka and is unrelated to the hijab controversy. An old video from Mumbai showing agitation by Maratha community for reservations at JJ Flyover in 2017 has been falsely shared as Hindu students rallying in Karnataka.
(If you also have any suspicious messages, posts, photos, videos or news, send them to our WhatsApp Fact line Number (9049053770) for Fact Check. Follow Fact Crescendo on Facebook, Instagram and Twitter to read the latest Fact Check.)

Title:2017 video from Mumbai shared as Hindu students marching against Hijab in Karnataka
Fact Check By: Aavya Ray
Result: False