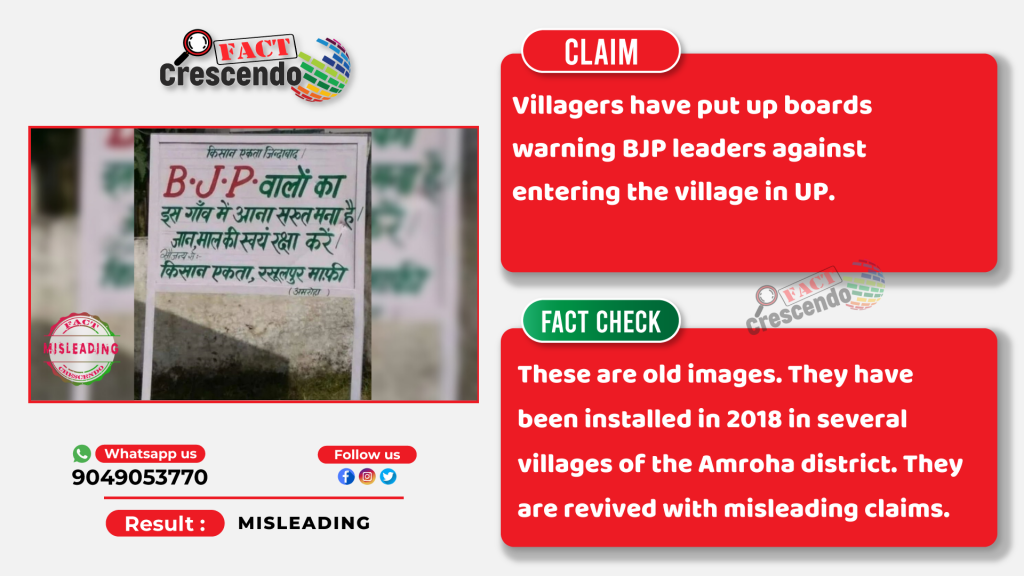 Amidst Uttar Pradesh assembly election 2022, the image of a signboard calling for a boycott on BJP leaders is doing the rounds on social media. Assuming it to be the latest development, people are sharing this image claiming that villagers in UP have banned BJP leaders from entering the village. Viral posts further state that villagers were angry about how the BJP government treated farmers during the Farm Bill protests.
The text in the signboard reads as: "BJP leaders are strictly not allowed entering here. Otherwise, they will be responsible for their safety – Kisan Unity, Rasoolpur Mafi."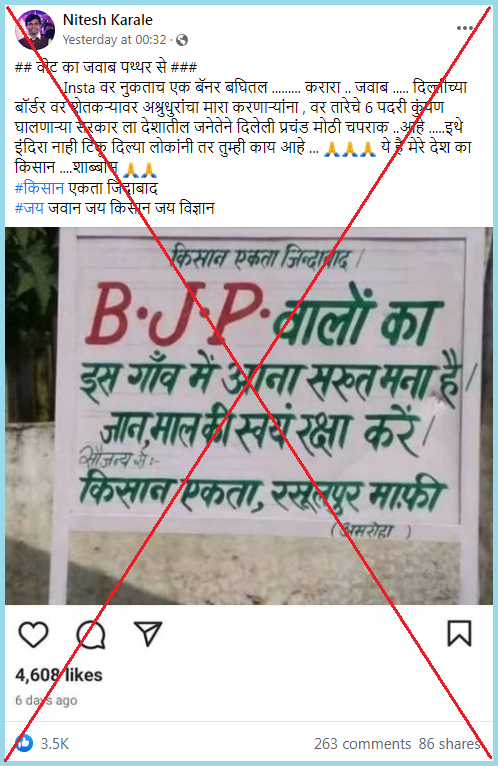 Original Post – Facebook
FACT CHECK
Apparently, the signboard is from Rasoolpur Mafi village in the Amroha district. UP.
Taking the clue from it, we looked for it using keyword search. It led us to various news reports which clearly established the fact that the signboard is at least two and a half years old.
According to the Jagran report, villagers from Rasoolpur Mafi village installed such signboards warning BJP leaders to entering their village on 6 October 2018. It was done in reaction against police brutality on farmers at the Delhi-UP border.
Men and women of the village collected money and installed this signboard near a school on Bijnor road. Soon, the picture of this signboard had gone viral on social media.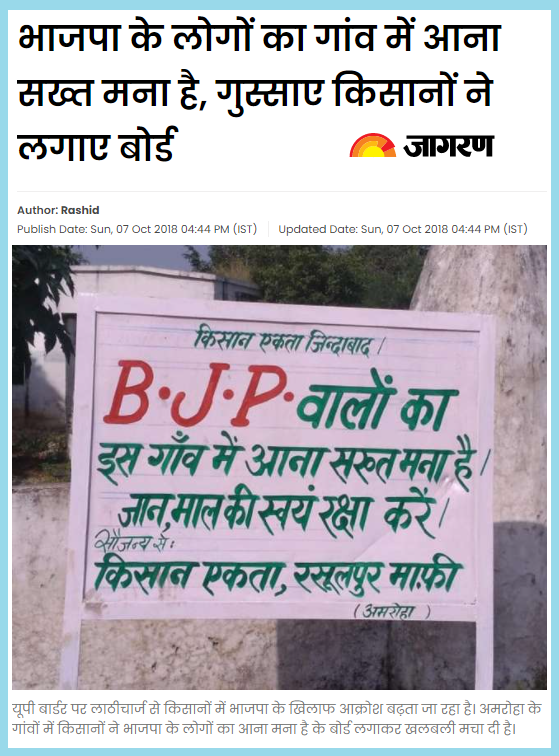 WHAT WAS THE ISSUE?
In 2018, Bhartiya Kisan Union had called for Kisan Kranti Yatra on September 23 from Haridwar. It was supposed end at Kisan Ghat in Delhi on 2 October.
Farmers had planned to march to Delhi from the UP border to reach Kisan Ghat on Gandhi Jayanti. However, the border was sealed and fortified by the Delhi Police, reports Indian Express.
Police lobbed teargas shells and used water cannons and lathicharged protesting farmers as they tried to break through the barricades in Vaishali, Ghaziabad.
After this incident, the board of 'No Entry to BJP Leaders in the Village' was put up in Rasoolpur Mafi village.
Speaking with Fact Crescendo, Bharatiya Kisan Union (BKU) leader and national spokesperson Rakesh Tikait told, "The viral image is old. Currently, there is no such board in Rasoolpur Mafi village."
In 2018, Tikait said to Newsclick, "It is public anger towards Modi government, though I convince them to remove the signboard and not to indulge in such activities. I asked the villagers to instead hang a board welcoming the BJP leaders, and then they should ask what they (the BJP government) have done for farmers so far in four and half years."
Similar signboards have come up in several villages of neighboring Amroha district including Sansarpur, Galib Bada, and Amheda.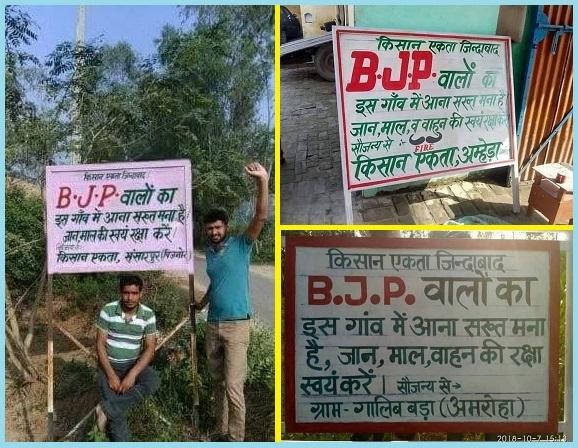 CONCLUSION
An old image of board warning BJP leader against entering the village in UP has revived with misleading claims during ongoing UP assembly polls.
If you come across any suspicious content on social media, do send them on our WhatsApp FactLine (9049053770) for a fact-check.

Title:Old Signboards of Villagers Boycotting BJP Leaders Revived During UP Election 2022
Fact Check By: Mayur Deokar
Result: Misleading