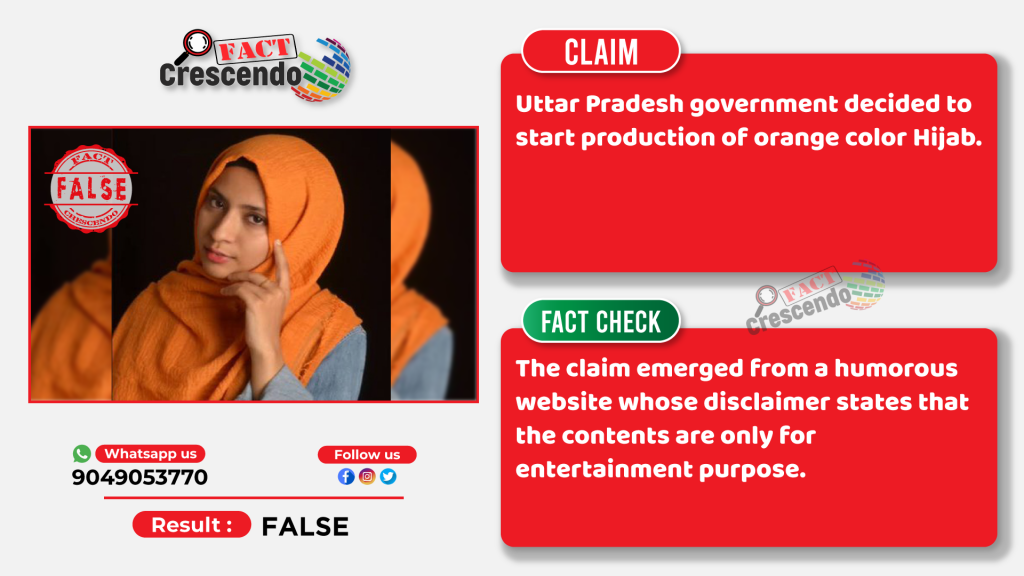 Amidst the ongoing Hijab row that started in Karnataka, surprising news is doing rounds on social media. Users are sharing an article that claims that the UP government has come up with an idea for Orange Hijab.
According to this viral article on the Fauxy website, "UP government has come up with a very innovative solution to end the Hijab controversy. UP government is going to start producing orange hijabs as it solves issues of both sides."
On 14 February the Fauxy tweeted "UP government to start production of Orange Hijabs, says it solves the issue of both sides."
FACT CHECK
First of all, the name of the website – Fauxy – is a giveaway about the nature and style of reporting of them.
Upon reading the full article on their website, our hunch proved right. It is a parody and satire website. (Archive)
The About Us page of the website clearly mentions that Fauxy is an entertainment website which is owned by Prana Online Media Networks LLP.
The content of the website is created by a group of individuals who are well known for producing humorous and entertaining content which keeps going viral online on social media websites.
They have even advised readers "not to confuse the articles of The Fauxy as genuine and true." The content of Fauxy is purely for entertainment purposes.
What's UP government's take on the Hijab row?
UP CM Yogi Adityanath said that government will function according to the Constitution and not the Shariat law. The government works with motto of Sabka Saath, Sabka Vikas and Sabka Vishwas, reports Hindustan Times.
CONCLUSION
Users are sharing a humor website's parody article assuming it to be authentic news. UP government has not taken a decision to produce orange color Hijab. It's a satire claim.
Many psychological studies have shown that when people read just the poorly worded headline, tweets, or Facebook post, our brains are more likely to remember the falsehood.

Title:No, UP Government Is Not Going to Make Orange Color Hijab; It's Satire Article
Fact Check By: Siddharth Sahu
Result: False