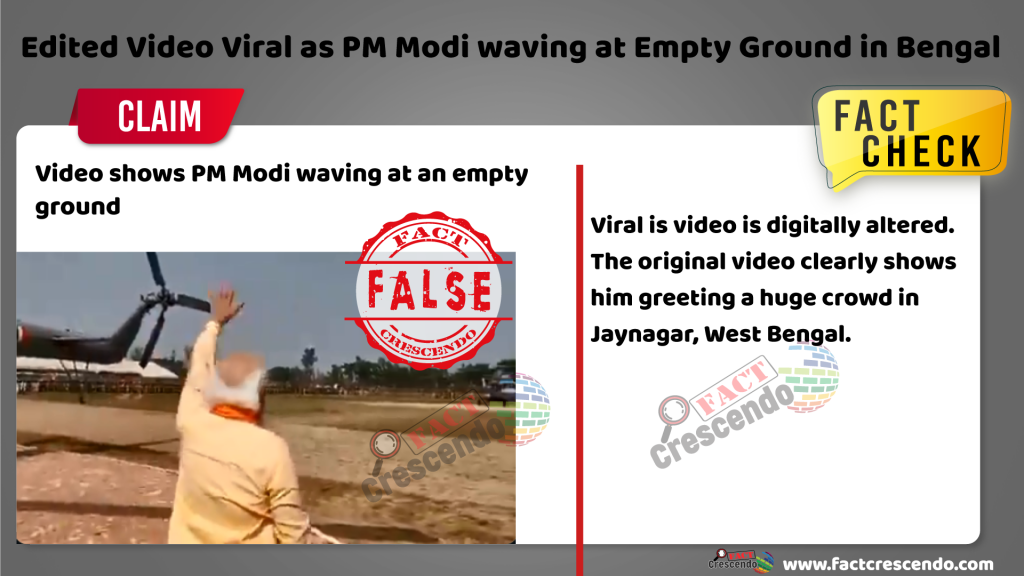 A video of Narendra Modi apparently showing him waving at an empty ground is going viral. The 16-second clip has become the butt of the jokes on social media taking a dig at PM Modi.
Fact Crescendo received many requests about this video on our WhatsApp Factline (9049053770) asking whether did PM really wave even though there was no one to greet him?
We found out that the viral video is edited and digitally altered to mislead users.
WHAT'S THE CLAIM?
Original Video – Facebook । Archive
FACT CHECK
To check the veracity of the viral clip, we have to look for the original video.
BJP digital and social media ecosystem usually share all of the PM Modi's rallies. By looking into it, we found a tweet shared on 1 April by BJP's official Twitter handle, which features the same video as in viral posts.
The video is from PM Modi's election campaign rally in Jaynagar, West Bengal.
In the above video, we can clearly see a huge crowd around the helipad. PM Modi can be seen waving at them as they cheer him up.
The complete video of the rally can be found here.
Let's compare the viral video with the original one.
It is evident from the comparison given below that the viral video is mischievously edited blurring the crowd to make it look like an empty field. Also, a Hindi film song was digitally added to the original video by muting the cheering noise of the public. 
CONCLUSION
The viral video of PM Modi waving at an empty ground is digitally altered. The original video clearly shows him greeting a huge crowd in Jaynagar, West Bengal.
Title:Edited Video Viral as PM Modi waving at Empty Ground in Bengal
Fact Check By: Mayur Deokar
Result: False