The viral video is a scripted drama created for education and awareness purpose.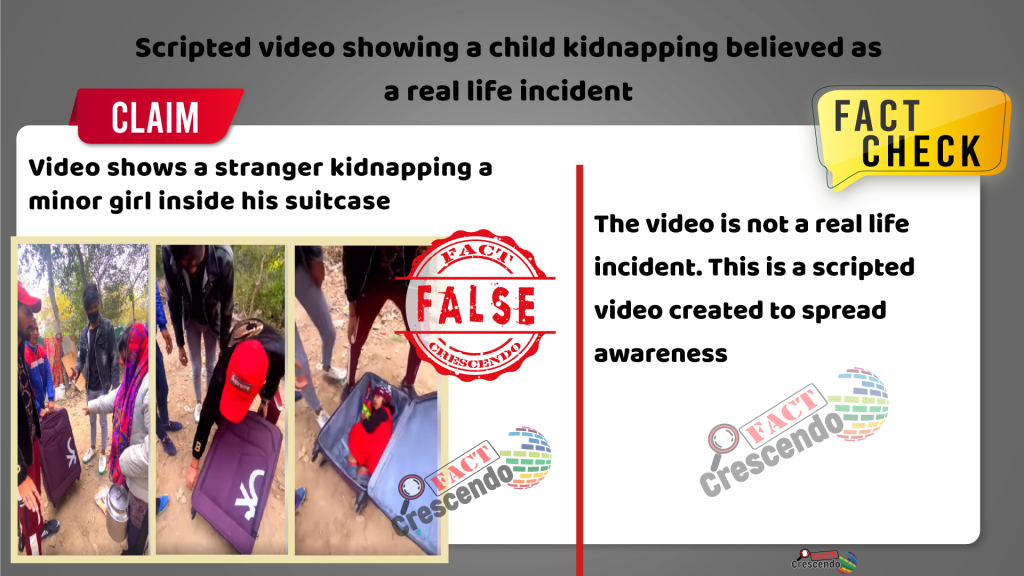 A video showing few villagers questioning an unknown man with suitcase in his hand. After few seconds, we can see the villagers opening the suitcase where they find a minor girl inside. Social media users claim that the video shows a man who kidnapped a minor girl child.
The caption of the video states "In Azamgarh, these days children are disappearing somewhere like this… Everyone must inform his or her children and their family members. If you see any unknown man in your village, please interrogate them and ask them to leave the village immediately."
---
ALSO READ: Another Scripted Video Goes Viral As Man Caught On Camera Trying To Kidnap a Schoolgirl
---
Fact Check-
We started our investigation by breaking the video into small key-frames with the help of Invid We Verify tool and ran a reverse image search on Google for the same. The results led us to the same video posted by a Facebook user named "Raju Bharti" on 27 December 2021. The description of the video states that the video is a fictional work that is scripted. The video was made to spread social awareness.
The description mentions, "This page features fictional videos; All characters appearing in the video are fictitious. The videos made are inspired by true events and are made with a motto to spread social awareness. We anyhow don't mean to defame, disrespect any religion, caste, nationality, sex, gender or any individual in any manner.zukerberg"
We found that Raju Bharti has posted several other prank videos as well as video intended to spread social awareness. We can see the same boy wearing the red cap here, here and here.

---
ALSO READ: Scripted Video showing Group of Boys Taking Advantage of Girls by Spiking Their Food Shared with a Communal Claim
---
Conclusion-
Fact Crescendo found the claim made along with the viral video on social media to be False. The viral video is being shared with misleading claims; the video is not a real incident. The video is a scripted drama shared as a true incident without realizing that the video is just for raising awareness.
(If you also have any suspicious messages, posts, photos, videos or news, send them to our WhatsApp Fact line Number (9049053770) for Fact Check. Follow Fact Crescendo on Facebook, Instagram and Twitter to read the latest Fact Check.)
Title:Scripted video showing a child kidnapping believed as a real life incident
Fact Check By: Aavya Ray
Result: False