The video shows the supporters of the German football team Borussia Mönchengladbach marching on a street in Graz, Austria in 2019. It has no relation with the ongoing anti lockdown protest in Austria.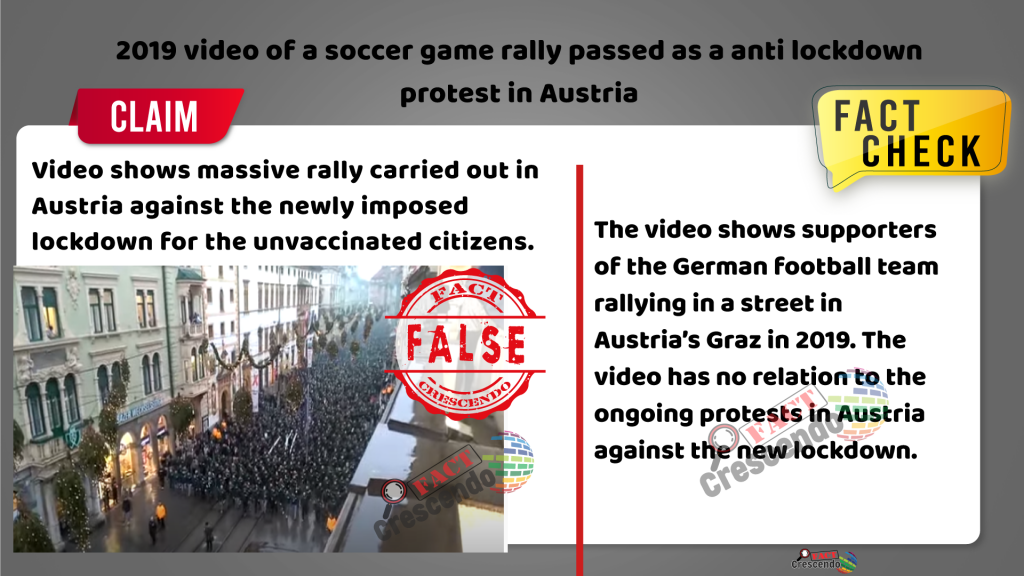 Massive protests broke out in Austria after the country imposed a nationwide lockdown and mandated vaccines for its entire adult population. In this context, a video is going viral on social media claiming it is of the ongoing anti-lockdown protest in Austria. The video shows a massive crowd marching on the street.
The caption of the post mentions, "Austria resisting the new lockdown for the unvaccinated citizens/taxpayers/families/children – Austria's new government is going backwards in history" (sic)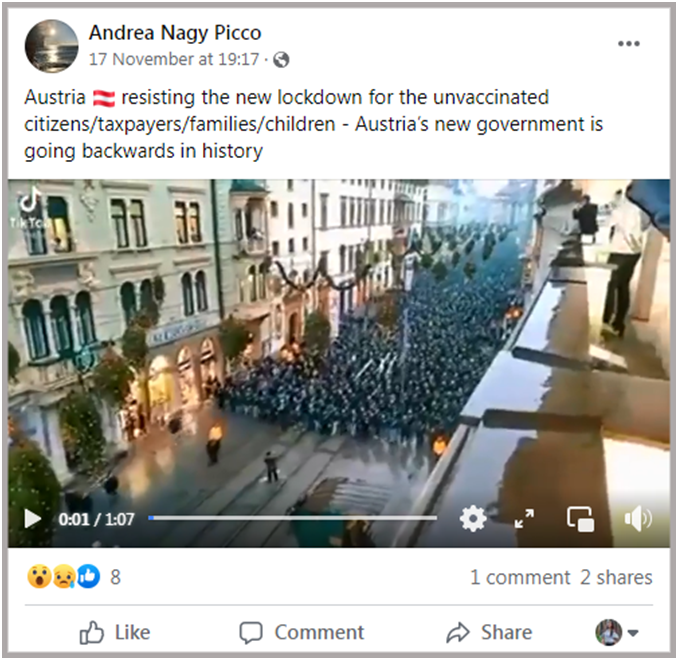 Fact Check
We started our investigation by breaking the video into small key frames by using InVid We Verify tool and ran a Yandex reverse image search on the same. The results led us to the same video posted on YouTube on 29 November 2019. The headline of the video mentions, "Borussia Mönchengladbach: Fan march through Graz". The description of the video states that Over 6,000 fans attended Borussia Mönchengladbach's Europa League game against Wolfsberger AC in the Merkur Arena in Graz. Many of these supporters previously took part in the fan march from the city center to the venue for the game.
According to WHO, Novel Coronavirus (COVID-19) was first identified on 31st December 2019. Thus, the presence of viral video on YouTube since November 2019 clearly indicates that it is not related to any event from Austria after the outbreak of COVID-19 pandemic.
Next, we searched for the location of this rally carried out in Graz, which is a city in Austria. We found the same building as seen in the viral video on Google Street view. One can see the building of "Grazer Wechselseitige Versicherung" in the street view. It is an insurance company with their headquarter in Graz.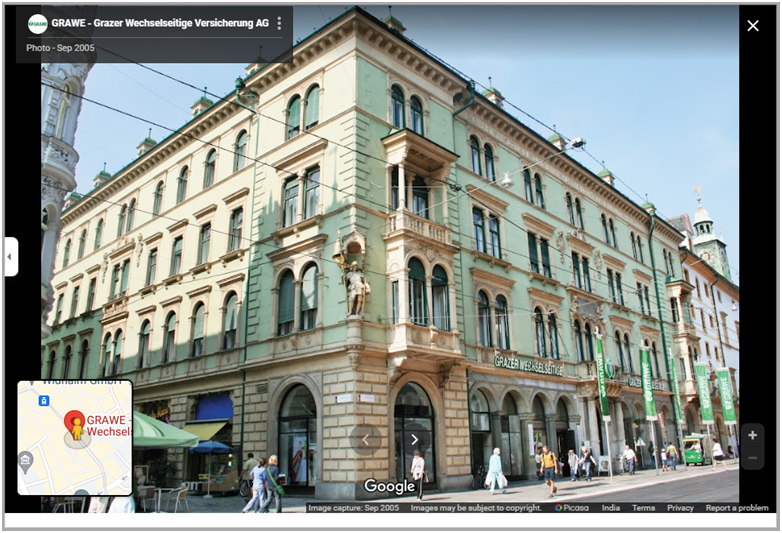 We came across another YouTube video showing the same rally published on 28 November 2021. According to the video, this video was shot on 28 November 2021. The headline of the video mentions, Gldabch-Fans In Graz | Wolfsberger AC – Bor. Mönchengladbach 2019.11.28 | WAC – BMG 0:1"
We can see an overhead street decoration in the above video, which can be corroborated with a Google Street view image from the exact same place in Graz, Austria. You can see the comparison between the screenshot of the Youtube video and the Google Street view image.

Conclusion-
Fact Crescendo found the claim made along with the viral video to be False. The video dates back to November 2019 when the COVID-19 pandemic or lockdown was not announced anywhere in the world. The video does not have any relation with the ongoing protests in Austria after the implementation of the new lockdown.
Title:2-Year-Old Video of March By Borussia Mönchengladbach Fans Shared As Protests in Austria Against Recently Imposed Lockdown…
Fact Check By: Aavya Ray
Result: False