The viral video is a scripted drama created for education and awareness purpose.
A video showing a stranger talking to a schoolgirl and then later attempting to kidnap the girl is widely circulating on social media. Users claim that the video shows how a child is kidnapped while waiting outside her school. The video goes on to show the girl's presence of mind that allowed her to save herself. Many believed this incident to be true and started sharing the video commending the little girl for her bravery.
Fact Crescendo received many fact-check requests about this video on its WhatsApp FactLine (9049053770).
The caption of the video mentions, "Girls should not be allowed to stand outside their school by the school people. The girl was thankfully saved, otherwise, a dead body would be found in the bushes, there is a need to learn from such a video."
The video is widely circulating on Facebook.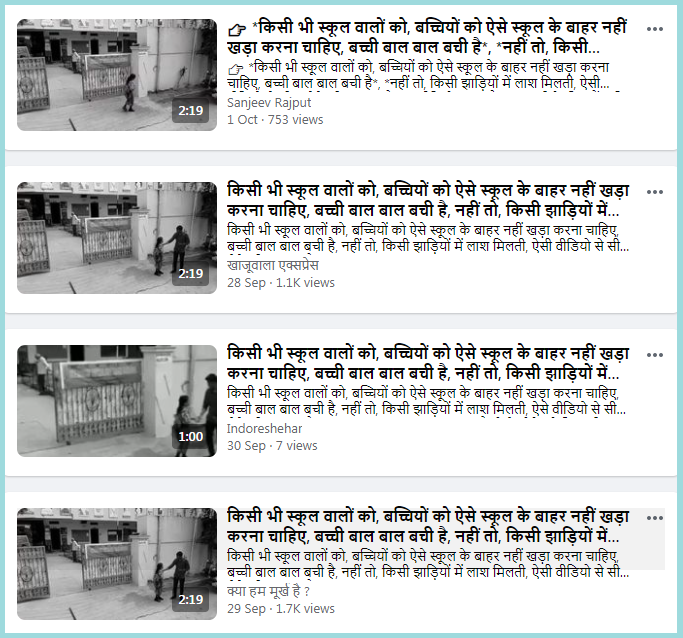 BJP's social media head, Naveen Kumar Jindal had also shared this video with the same claim on his Twitter account.
---
ALSO READ: Scripted Video showing Group of Boys Taking Advantage of Girls by Spiking Their Food Shared with a Communal Claim
---
Fact Check-
We started our investigation by breaking the video into small key frames with the help of InVid We Verify tool and ran a Google reverse image search on the same.
The results led us to the same video posted by a YouTube channel stating that this was made to create awareness and educate the masses.
The description mentions, "This Video Is To Make Aware And Educate, Teach Your Kids To Stay Away From Strangers And Do Not Talk With Them, It Is Very Important To Learn All These Thing,it's Not To Late Before… Children All Over The World Should Learn This…" (sic)
---
ALSO READ: Scripted video created for awareness shared with false communal claims
---
Hamsa Nadini also posted this video on her official Facebook profile, stating that the video is a scripted drama and has been created for educating purpose only. This video was posted in 2020.
The description of the video states, "Thank you for watching! Please be aware that this page features scripted dramas and parodies as well. These short films are for educational purposes only!"
Hamsa Nandini has previously posted several other scripted videos for awareness and educating purpose.
Conclusion-
Fact Crescendo found the viral video on social media to be False. The viral video is being shared with misleading claims; the video is not a real incident. The video is a scripted drama shared as a true incident without realizing that the video is just for raising awareness.
(If you also have any suspicious messages, posts, photos, videos or news, send them to our WhatsApp Fact line Number (9049053770) for Fact Check. Follow Fact Crescendo on Facebook, Instagram and Twitter to read the latest Fact Check.)
Title:Another scripted video Goes Viral as Man caught on camera trying to kidnap a Schoolgirl
Fact Check By: Aavya Ray
Result: False