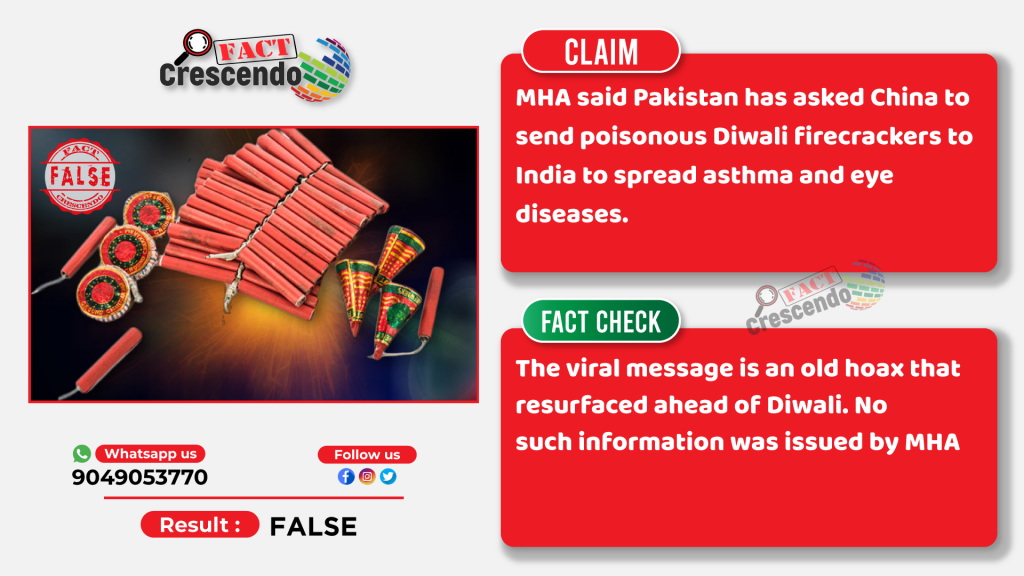 Rumors and nosey neighbors have something in common between them. Both come when you don't want them to and both cause a massive nuisance. Although we cannot help but abide by 'Love Thy Neighbor', we can at least put a 'no entry' sign to rumor mills.
In recent years, the hoax message claiming China is sending special firecrackers & lights to India to cause asthma & eye diseases has become a precursor to Diwali. 2020 is also no exception.
Readers sent this message on our WhatsApp Helpline (9049053770) requesting a fact-check.
WHAT'S THE CLAIM?
The viral message claims that Pakistan has asked China to send poisonous Diwali firecrackers to India to spread asthma and eye diseases. The viral message advising people not to use Chinese products is issued in the name of one 'Vishwajit Mukherjee, a so-called senior investigating officer of the Union Home Ministry.'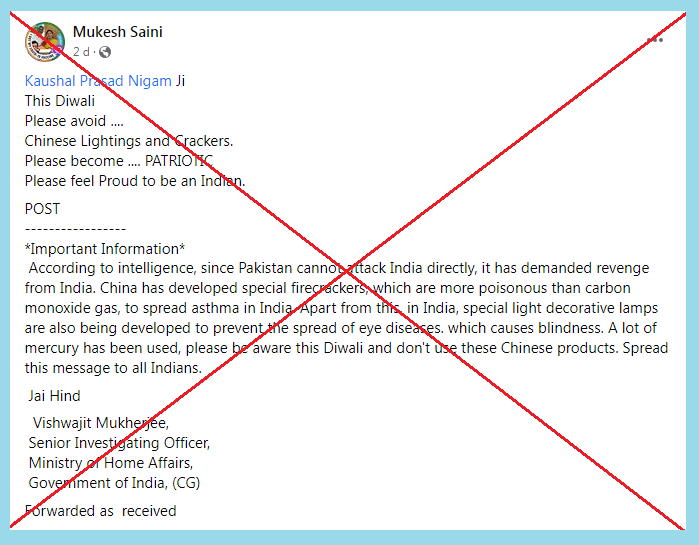 Original Post – Facebook
FACT-CHECK
Although this message has been circulating since 2017, we checked again to make sure whether the Ministry of Home Affairs (MHA) issued such a notice/message this year. 
We did not find any such advisory on the MHA official website. The ministry's social media handles (Facebook, Twitter, and YouTube) have also not shared it recently. 
Also, there is no officer by the name of 'Vishwajit Mukherjee' available in the directory of currently working officials in the Home Ministry. 
All these points raise the doubts about the viral message.
Last year, PIB clarified that the viral message allegedly issued by the Ministry of Home Affairs is fake. No such information was issued by MHA.
PIB has also debunked this baseless message in 2020. You can read their clarification in Hindi.
We must also point out to readers that illegally imported Chinese firecrackers are hazardous to health and the environment. They contain banned chemicals like red lead, copper oxide, and lithium among others.
Due to higher sulfur and potassium chlorate content, the levels of pollution such crackers cause are also higher. The high sulfur content produces toxic oxides of Sulphur which cause eye irritation and respiratory distress, reports Indian Express.
In 2019, the Directorate of Revenue Intelligence (DRI) issued a warning that a huge quantity of hazardous Chinese firecrackers has started reaching India illegally ahead of Diwali.
CONCLUSION
The viral message is an old hoax that resurfaced ahead of Diwali. Home Ministry has not warned against China sending poisonous crackers and lights to India to cause asthma & eye diseases. A false message is going viral in the name of a non-existent MHA officer. 
(If you also come across any such videos and images you think are falsely viral, send them on our WhatsApp Helpline (9049053770) or tag us on Facebook, Twitter, and Instagram.)

Title:Fake MHA Notice Against Pakistan Sponsored Chinese Firecrackers Went Viral – Again!
Fact Check By: Mayur Deokar
Result: False