Gopalganj Police confirmed to Fact Crescendo that the viral claim is False. The incident has no communal or love jihad narrative associated. Both the accused and the victim belong to the Muslim community.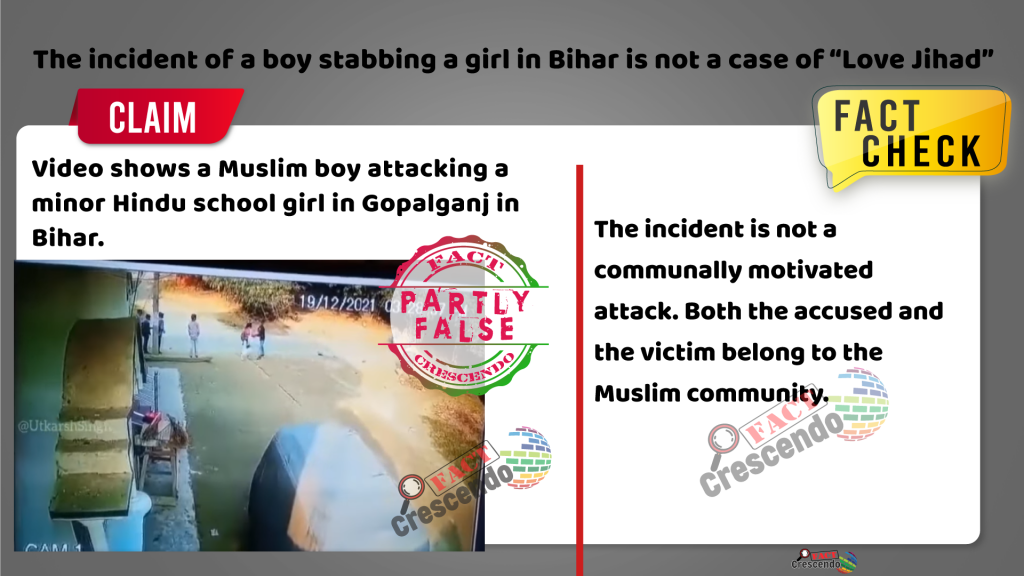 A CCTV of a boy assaulting a girl with a knife in broad day light is widely circulating on social media with the claim that the incident is from Gopalganj in Bihar where a Muslim boy named Gudda Asraf Ali stabbed a minor Hindu girl. This video is being shared with a love jihad narrative on social media.
The caption of the post mentions, "Gopalganj (Bihar): Class VIII schoolgirl attacked after she protested against love jihad "Gudda Asraf Ali" stabbed her with knives in broad daylight. Knife 8 times in 13 seconds."
Fact Check-
We started our investigation by running a keyword search on Google, which led us to a news report published by ABP News on 19 December. According to the report, the incident captured in the CCTV footage is from Pratappur village from Gopalganj in Bihar. A Class VIII student protesting against molestation was stabbed and injured by a boy.
The incident described in the report stated that the accused had misbehaved with the friend of the victim. The victim had complained about this to the school teachers. Then after leaving school, the victim was returning home when the accused stabbed her several times with a knife. The police of Manjhagarh police station has arrested the accused in the said case.
Let us tell you that the victim is currently admitted to the hospital in Gorakhpur and her condition is critical.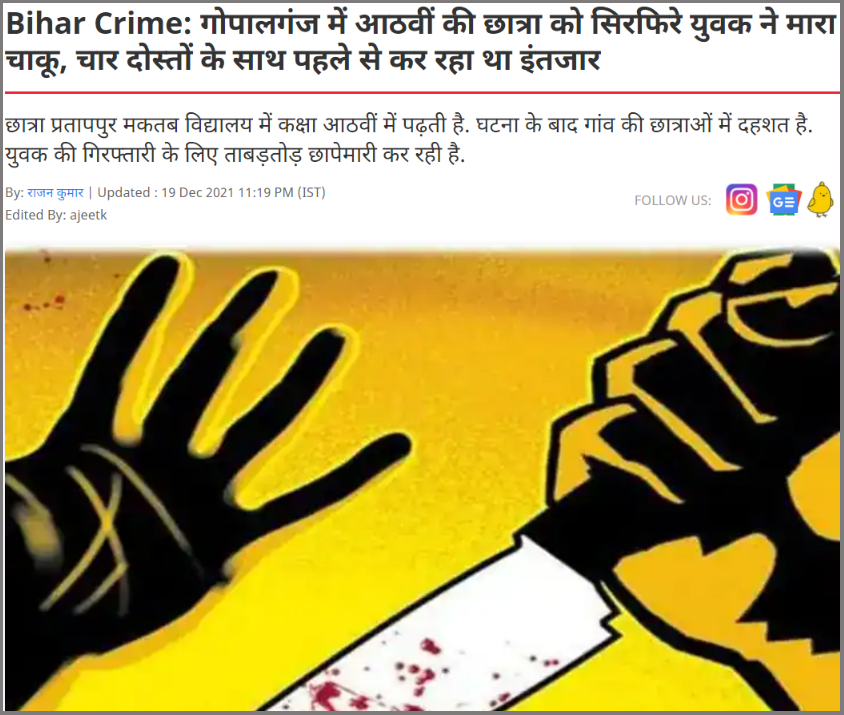 According to the news published by TV-9 Bharatvarsh , when the victim had complained about this man molesting her friend in the school, the victim's friend slapped the accused in front of the school principal. Angered by this, he took out the victim by stabbing her. Further, it is being claimed that he has seriously injured the victim by stabbing her eight times.
We did not find any mention of 'love jihad' in any news related to this matter.
Next, Fact Crescendo contacted Gopalganj Superintendent of Police (SP) Anand Kumar and Manjhagarh police station's SHO. They told us "The viral claim is false. This case has nothing to do with love-jihad. Both the accused and the victim belong to the same community. Both of them are Muslim and their sub-caste is also the same."
SP Anand Kumar also told that the friend of the victim who was being molested is also from the Muslim community.

Conclusion-
Fact Crescendo found the viral image on social media to be Partly False. The incident of a boy attacking a girl over protesting against molestation in Gopalganj is true. However, there is no communal angle or instance of love jihad associated with the incident. Both the accused and the victim belong to the Muslim community. There was no communal motive behind the attack.
(If you also have any suspicious messages, posts, photos, videos or news, send them to our WhatsApp Fact line Number (9049053770) for Fact Check. Follow Fact Crescendo on Facebook, Instagram and Twitter to read the latest Fact Check.)
Title:Incident of a boy stabbing a girl in Bihar Shared With fake narrative of "Love Jihad"
Fact Check By: Aavya Ray
Result: Partly False