The image is morphed and the original image shows Yorkshire cricketer Hedley Verity in circa 1940.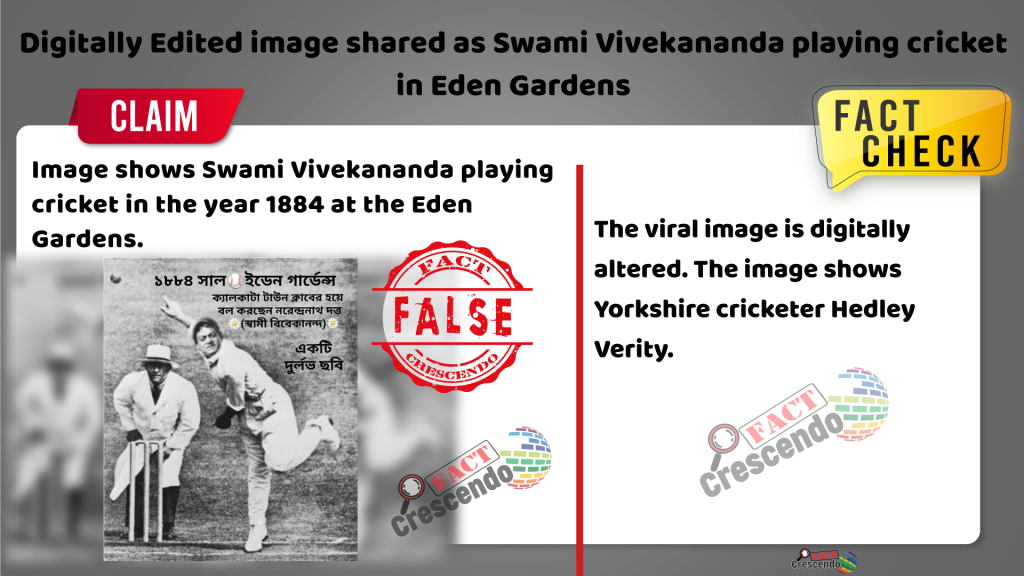 Swami Vivekananda's birthday is celebrated as the National Youth day in India. He was a Hindu monk and a Philosopher who was an ardent disciple of Indian mystic Ramakrishna. He is fondly remembered for his historic speech at the World Religion Conference in Chicago, U.S.A. in 1893. He was the first philosopher who explained Hinduism to the Western World from an Indian perspective.
An image is being shared on social media claiming it is the image of Swami Vivekananda bowling in a cricket match. Netizens claim that Narendranath Datta aka Swami Vivekananda can be seen participating in a match hosted between Calcutta Cricket Club and Town club. The posts even claimed that Swami Vivekananda took seven wickets in the match showing exemplary bowling skills. However, later on he did not pursue cricket.
The text inside the image in Bengali mentions that the image was taken in 1884 at the Eden Gardens when Swami Vivekananda was bowling there.
The caption of the post mentions, "It was sometime in the mid 1880s. Eden Gardens was around 20 years old and hosting a match between Calcutta Cricket Club (CCC), the then occupants of the ground, and Town Club. Representing the latter, one Narendranath Datta took seven wickets. He did not pursue cricket, but went on to become a global figure known by another name: Swami Vivekananda."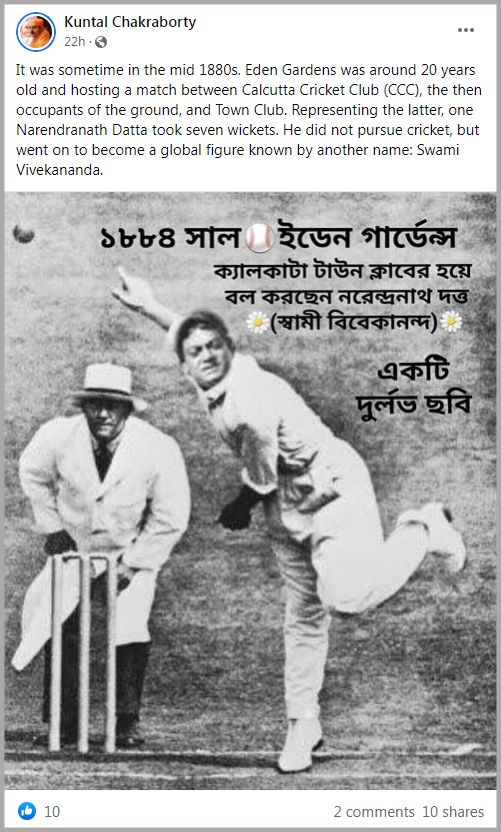 Fact Check-
We started our investigation by running a Google reverse image search on the image, whose results led us to the original image published on a stock image website named Getty Images. According to the description of the image, the cricketer seen in the image is not Swami Vivekananda. The image shows Yorkshire cricketer Hedley Verity in 1940. The image has been credited to a stringer working for Hulton Archive.
The caption of the image mentions "Yorkshire cricketer Hedley Verity (1905 – 1943) in action, circa 1940. (Photo by Hulton Archive/Getty Images)"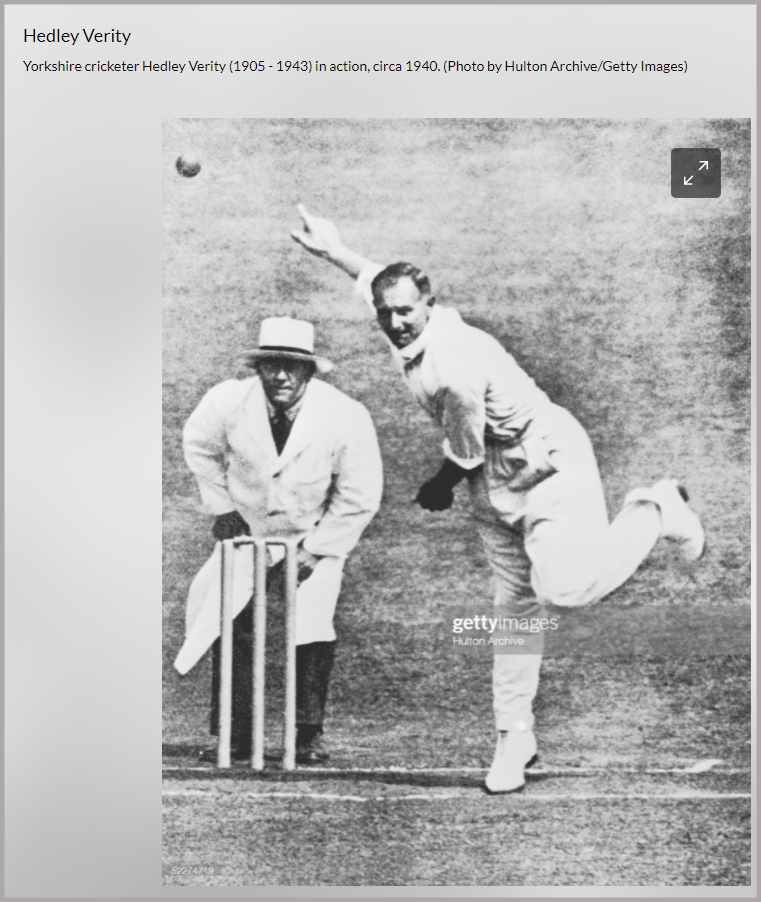 Below you can see a comparison image between the original image and the viral image circulating on social media, which clearly shows that the viral image is digitally edited. The original image shows cricketer Hedley Verity.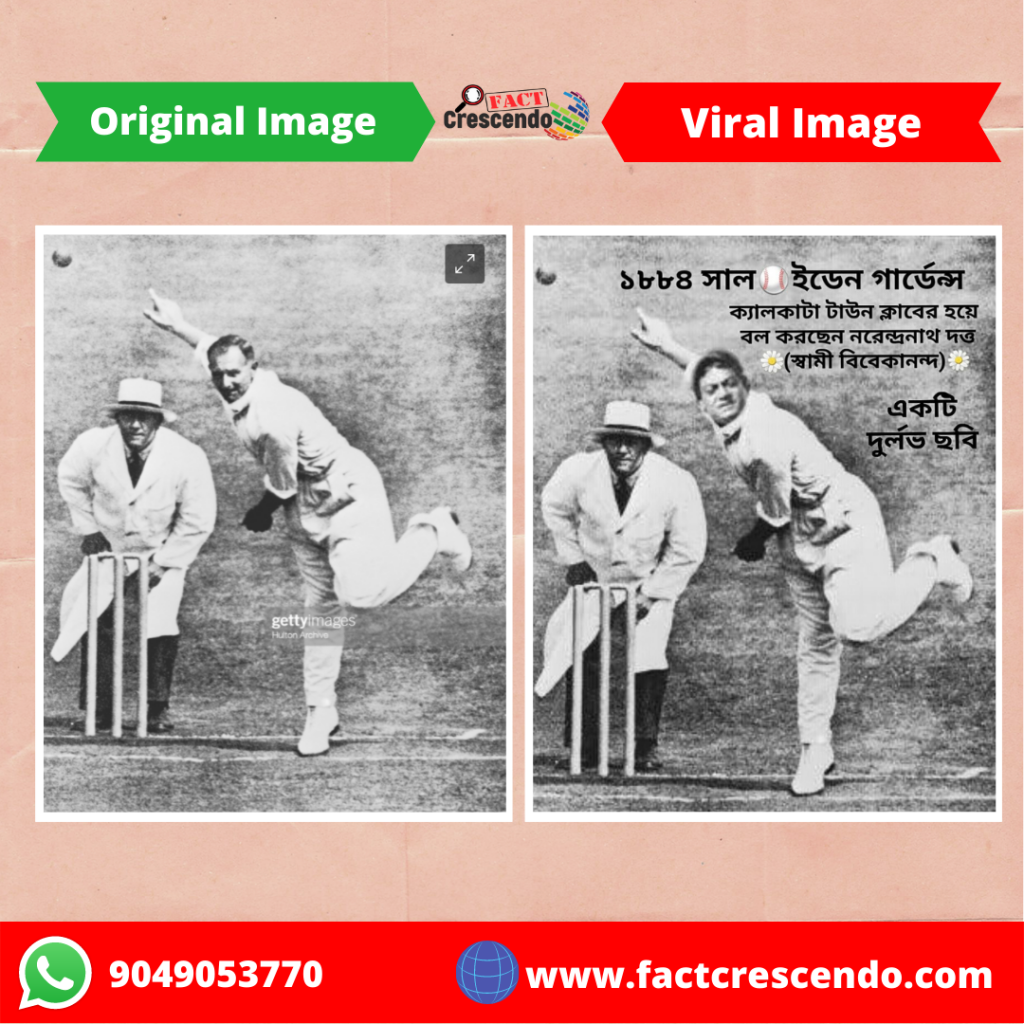 According to The New Indian Express, "while not much more is known about the multifaceted monk's dalliance with bat and ball, it is documented that he was a member of Town Club and an ardent participant in physical activities. He played football and encouraged friends to exercise."
Conclusion-
Fact Crescendo found that the viral image is digitally altered to spread false information. The viral image does not show Swami Vivekananda playing cricket in the 1880s. The image-showing cricketer Hedley Verity is digitally edited to mislead people.
Title:Digitally Edited image shared as Swami Vivekananda playing cricket in Eden Gardens
Fact Check By: Aavya Ray
Result: False