Images shows a monk who died in 2017 whose body was exhumed months after his death for Buddhist rituals.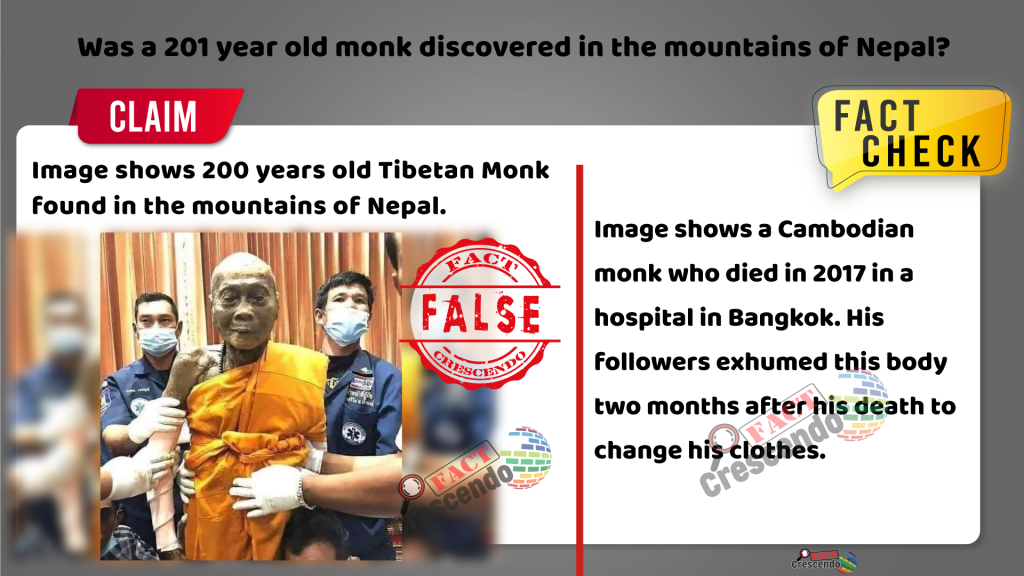 An image showing two police officers carrying remains of an old Buddhist monk is widely circulating on social media. Social media users claim that the image is of a Tibetan monk discovered in the mountains of Nepal whose estimated age was 201. People first discovered him in a mountain cave and thought that he was a mummy but later on scientists clarified that he is a living and breathing human being. Netizens claim this monk is the oldest person alive in the world.
Fact Crescendo's readers requested for a fact check on this photo by sending the photo to our WhatsApp Factline number (9049053770) .
The caption of the post mentions, "A Tibetan monk has been found in the mountains of #wonderful Nepal. Who is believed to be the oldest person in the world at the age of 201 years. He is in a state of deep samadhi or meditation known as "takatate". When he was first discovered in a mountain cave, people thought he was a mummy. However, after investigating the scientists, it was found that she is not a mummy but a living human!"
The image is also circulating with a Hindi caption which mentions that, "#अद्भुत नेपाल के पहाड़ों में एक तिब्बती भिक्षु मिले है। जिन्हें 201 साल की उम्र का दुनिया का सबसे बुजुर्ग व्यक्ति माना जा रहा है। वह गहरी समाधि या ध्यान की स्थिति में है जिसे "ताकाटेट" कहा जाता है।  जब उन्हें पहली बार एक पहाड़ी गुफा में खोजा गया तो लोगों को लगा कि वह एक ममी हैं। हालाँकि वैज्ञानिकों को जाँच करने पर पता चला कि वह ममी नहीं बल्कि एक जीवित इंसान है!" (sic)
Fact Check-
We started our investigation by running a reverse image search on Google, whose results led us to new reports published in 2018. The report reveals that the image shows a monk who died in 2017.
According to the Daily Mirror , his name was Luang Phor Pian. He passed away on 16 November 2017 at the age of 92 years succumbing to an illness in a hospital in Bangkok. He was originally from Cambodia, but spent the majority of his life serving as a well-known Buddhist guru in the central Thai province of Lopburi, where his body was returned after he died. His followers exhumed this body two months after his death to change his clothes.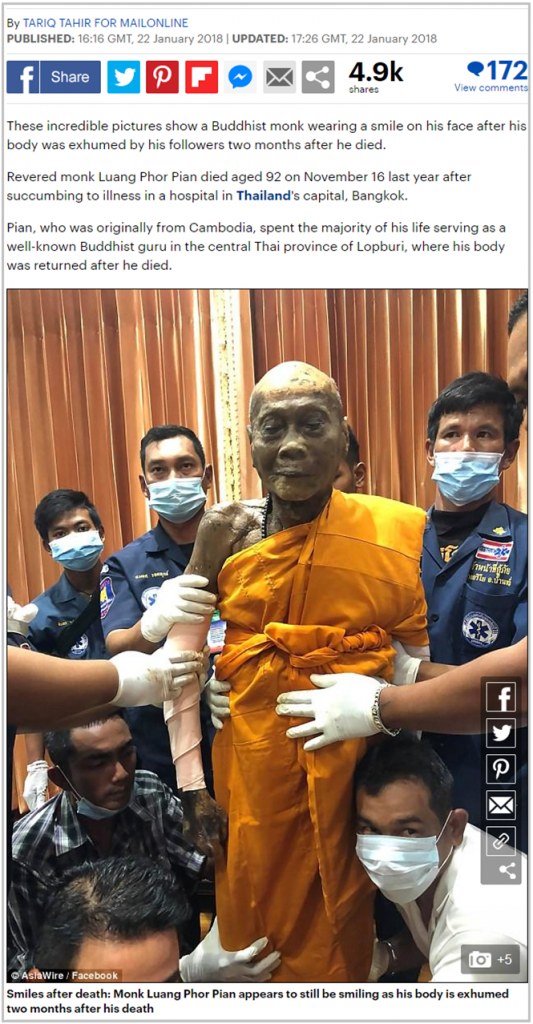 Pian spent his entire career in Thailand. He was a famous Buddhist Guru in Lopburi area. He died at a hospital in Bangkok. He was buried in the temple where he was serving as a Guru. His body was taken out to change their clothes as per custom. Everyone was surprised to see a smile on his face at the time, according to the Metro UK website .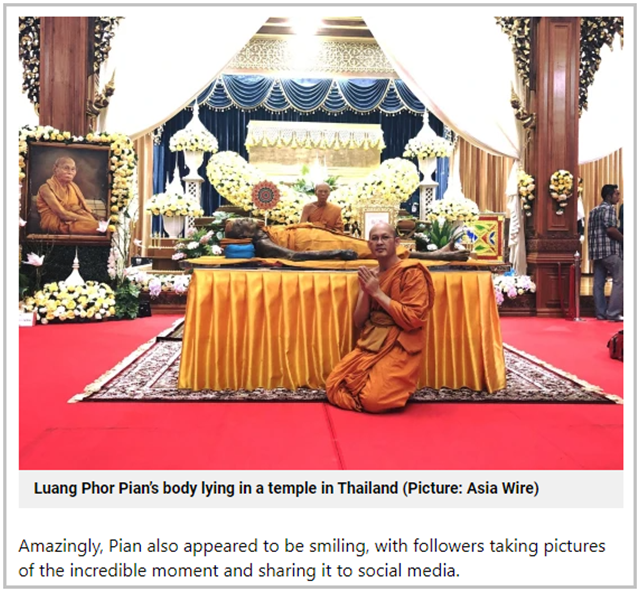 However, we also found that a mummy claimed to be 200 years old was indeed discovered in Mongolia. According to the Independent UK, the 201-year-old body of a Buddhist monk was discovered in Mongolia in 2015. Buddhists claim that the monk may have been in a rare spiritual state known as "tukdam". It is to be noted that the viral image in circulation has not relation with this 200-year-old monk.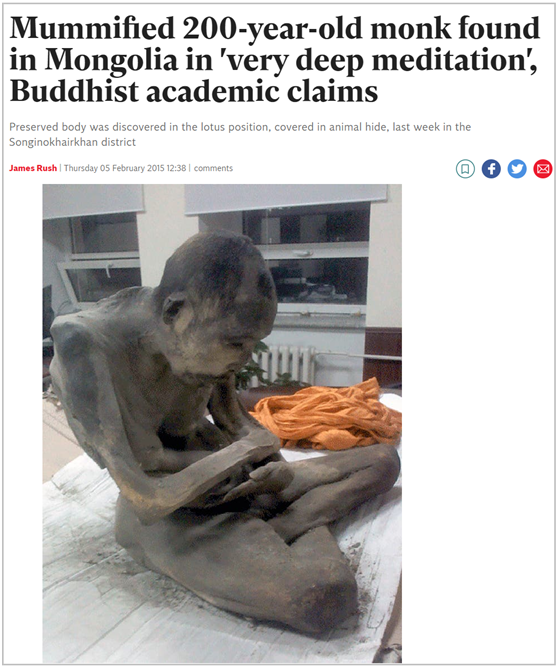 Conclusion-
Fact Crescendo found the viral claim made along with the image to be False. The image originally shows a monk who died in 2017 in a hospital in Bangkok. His followers exhumed this body two months after his death to change his clothes.
(If you also have any suspicious messages, posts, photos, videos or news, send them to our WhatsApp Factline Number (9049053770) for Fact Check. Follow Fact Crescendo on Facebook , Instagram and Twitter to read the latest Fact Check.)
Title:Was a 201-year-old monk discovered in the mountains of Nepal? Know the truth…
Fact Check By: Aavya Ray
Result: False