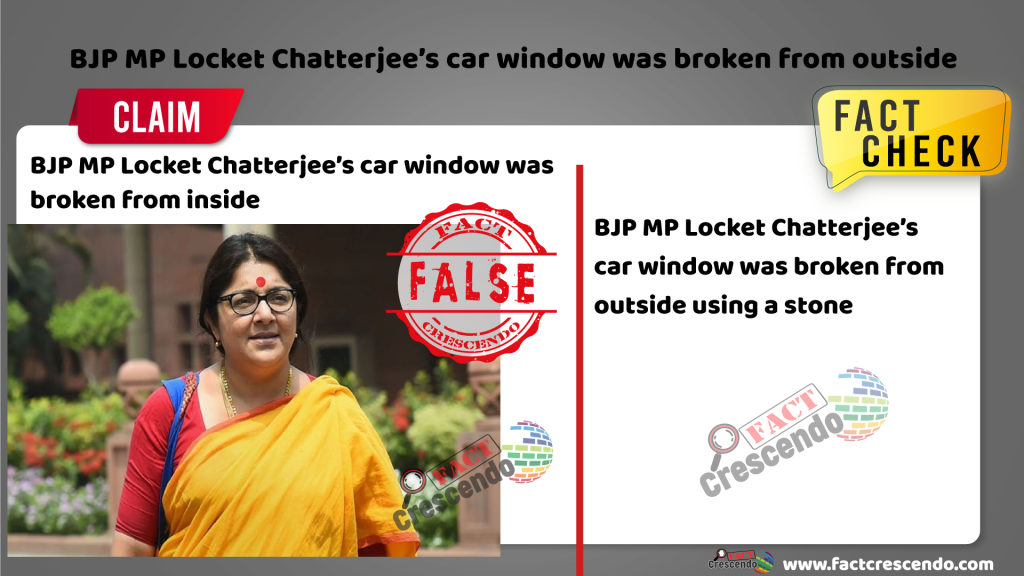 Amidst the ongoing West Bengal Assembly elections, a video clip showing BJP's MP Locket Chatterjee's car being attacked allegedly by a mob of angry locals near a polling booth is doing rounds on social media claiming that the window of her car was broken by someone seated inside the car. The incident of Locket Chatterjee's car being attacked was widely reported by several media organisations. According to the news reports the incident happened in West Bengal's Hooghly district on 10th April 2021, where voting in the fourth phase of assembly elections is currently on.
After the video went viral social media users started pointing out that the window of the car was broken from the inside by someone sitting inside the car and the entire incident was staged.
This video was also shared by All India Trinamool Congress claiming that the car glass was broken from inside the car.
Archive Link

Fact Check-
We started our investigation by carefully observing the video and found that a stone had hit the glass window of BJP MP Locket Chatterjee's car which led to the window glass breaking. On observing the clip we can clearly spotted the stone coming in which hits the car from outside breaking the window. We broke down the video into small frames where the stone can be clearly seen.
Below you can see a slow-motion version of the viral video where we can see the stone coming in from a distance towards the glass and breaking it.
Additionally, a clip tweeted by CNN News18 journalist Payal Metha, at the 31 seconds timestamp we can also spot the stone coming in, on slowing down the clip and pausing. The video is clearer than the viral video and the stone is clearly visible.
Conclusion- Fact Crescendo found the above-mentioned post to be False. The viral video claiming that Locket Chatterjee's car window was broken from inside is false. The window was broken by a stone thrown from the outside. 
Title:BJP MP Locket Chatterjee's car window was broken from outside
Fact Check By: Aavya Ray
Result: False