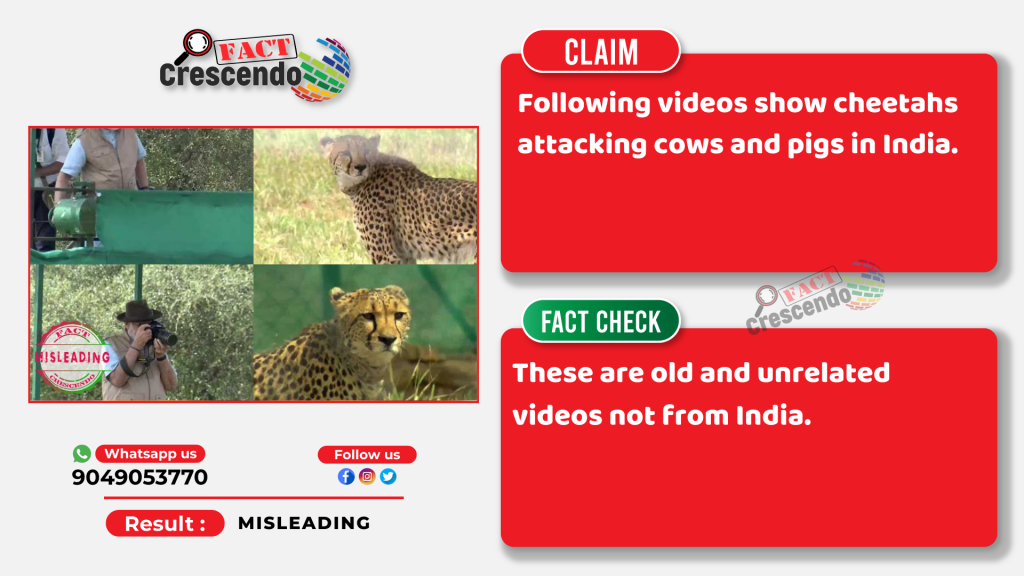 We all know Cheetah is the world's fastest land animal. But do you know what's faster than this wild cat of the jungle?
You guessed it right! Memes and Misinformation run faster than Cheetahs.
Launching the world's first Cheetah Rehabilitation Project, the Indian government brought 8 Cheetahs from Namibia to India. They arrived on a special flight at Gwalior.
The news media welcomed them with such extravagant fanfare that was not seen even for Olympic medal winners. It also unleashed the creativity of the netizens who wasted no time in sharing memes and jokes about the nation's new guests.
Amidst all the festivity and jubilancy, misleading and old videos and images were also shared with a tinge of political digs.
Here's the compilation and additional context of such videos.
You ask why?
Well, although, memes and jokes are only shared in jest and humor, they could also inadvertently spread misinformation. Satire coupled with misinformation can perpetuate misperceptions. So, one should also know the additional information.
1 . Cheetah did not kill a pig
A clip apparently showing a cheetah killing a pig is being widely shared with political innuendo.
Alluding to a communal tone users wrote: Modi's cheetah chose a pig as his first kill.
MORE CONTEXT: This is an old video. It has nothing to do with the recently rehabilitated cheetah at Kuno National Park.
In fact, it is not a cheetah but a leopard. The video is available on the internet since 2019. In the full video, you can see a hyena coming to the rescue of this wild pig.
---
2. Meowing Cheetah is from the US
SP leader Akhilesh Yadav couldn't hold himself from taking a potshot at the ruling party BJP over project Cheetah.
He shared a short clip of a Cheetah meowing in captivity. He quipped, "Everyone was waiting for the roar…but it turned out to be from the cat family."
MORE CONTEXT: This is not a video of cheetahs brought recently from Namibia. This video was shot at The Wildcat Sanctuary in Minnesota, US.
Last year in April, two 11-year-old cheetah brothers, Kitu and Lavani, were retired to The Wildcat Sanctuary as a part of the Survival Species Plan (SSP).
You can see the original video on the sanctuary's YouTube channel.
---
3. Cheetah did not kill a cow
A video showing a leopard killing a cow has been shared in the name of the recently arrived cheetahs.
Users shared the video criticizing PM Narendra Modi for bringing such predators to kill sacred cows.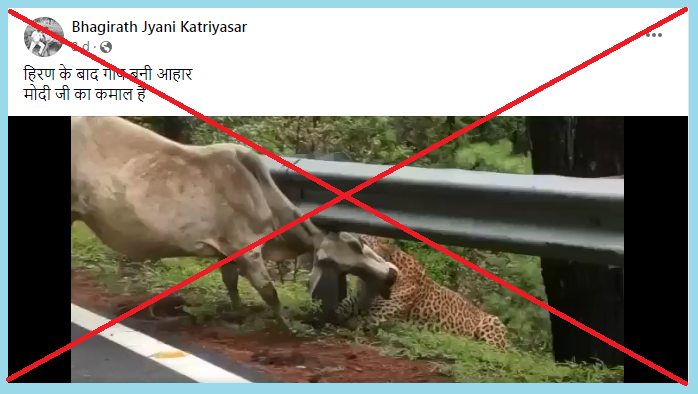 MORE CONTEXT: This video does not even show the cheetah. It was a leopard who attacked a cow near Ranikhet in Uttarakhand.
You can see the video uploaded on the Times of India website on 16 August 2022 reporting that the leopard's strong jaw held the cow's neck till the bovine gave up. Leopard attacks have increased in the hill state in the past few years.
---
4. Modi did not click with the lens cap on
A group of eight Cheetahs arrived from Namibia on the occasion of PM Modi's birthday on 17 September. Modi was also present when they released the animals in Kuno National Park in Madhya Pradesh.
PM Modi was spotted clicking pictures of these newly arrived wild cats. On the backdrop of this, images of PM Modi taking photos without removing the lens cover went viral. Political parties and leaders shared the image mocking Modi for his optics.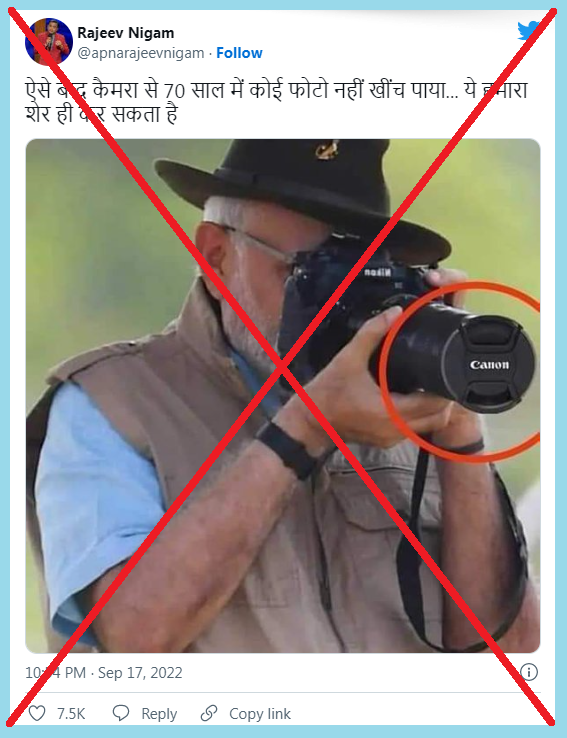 MORE CONTEXT: This is an edited image. Fact Crescendo did a fact-check on it and found the original image PM Modi was clicking photographs of the cheetahs without the lens cap.
---
(If you also come across any such videos and images you think are falsely viral, send them on our WhatsApp Helpline (9049053770) or tag us on Facebook, Twitter, and Instagram.)

Title:Misinformation Runs Faster Than Cheetah; Round Up of Misleading Claims About Project Cheetah
Fact Check By: Mayur Deokar
Result: Misleading