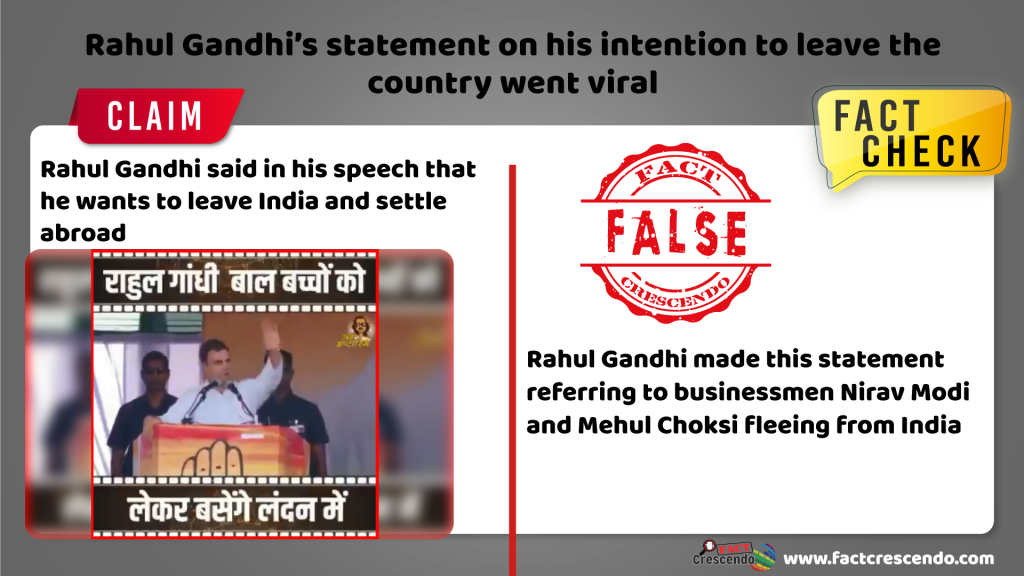 On 13th October 2019, a Facebook user named "Ravindra Kumar" posted a video, captioned, "This is the reality of the Gandhi family! They think the public is their father's property, and are threatening that they will move to London and their children will study in America! Send them to London today! Best will be to send them to their real home in Pakistan! They are already full of treason! "
In the 11-second edited clip, Rahul Gandhi says, "I will go to London if nothing happens, my children will go to America and study. I have nothing to do with India, I have thousands of crores of rupees, I will go away anytime." Circulating this video on social media, it is claimed that Rahul Gandhi is going to go to London and he mentioned this himself. Looking at this video, it seems that he suggested that he wants to leave India and settle abroad.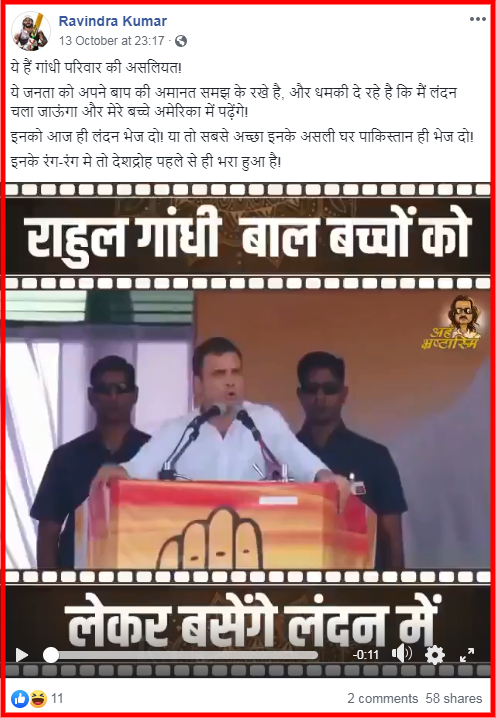 We started our investigation by searching for keywords "Rahul Gandhi's Speech London". As a result of which we found a video published by the Indian National Congress. We found that this clip is viral on social media is part of Rahul Gandhi's full speech on October 13, 2019 in Latur, Maharashtra, where he was referring to the declared fugitive businessmen Mehul Choksi and Nirav Modi. This duo is under investigation by Indian authorities for their alleged involvement in the 14,000 crore fraud in Punjab National Bank.
In this video, at 15:30, Rahul Gandhi says, "Nirav Modi, Mehul Choksi sleep well, without any fear". Continuing the statement he says, "they think I will go to London and my children will go and study in America. I have nothing to do with India, I have thousands of crores of rupees, and I will go anytime."
At 15:30 minutes in this context, he said, "I am a friend of Narendra Modi, I have thousands of crores of rupees, I will go any time. This is the truth of India."
Conclusion: We found the above post wrong after checking the facts. A clipped video of Rahul Gandhi is shared misleading people on social media, which claims that Rahul Gandhi is trying to settle down in abroad by leaving India. However, Gandhi was not talking about himself. He was referring to the fugitive businessmen Nirav Modi and Mehul Choksi.