Social media is filled misleading videos and images related to COVID-19. This pandemic virus has claimed about 72,614 lives as per the situation report published by the WHO on 7th April 2020. USA is one of the major countries to have recorded thousands of people infected with the Novel Coronavirus. According to the WHO Situation Report on 7th April 2020, USA has 333811 positive patients and about 9559 people have lost their lives to this virus. Amidst, a viral video on social media which claims that American citizens have placed a nude statue of President Trump in the New York City because he failed to handle the Coronavirus situation in USA.
The posts state "Trumps nude statue is made in New York city because of anger by Americans. Trump failed to handle corona virus in USA. Masses are very angry."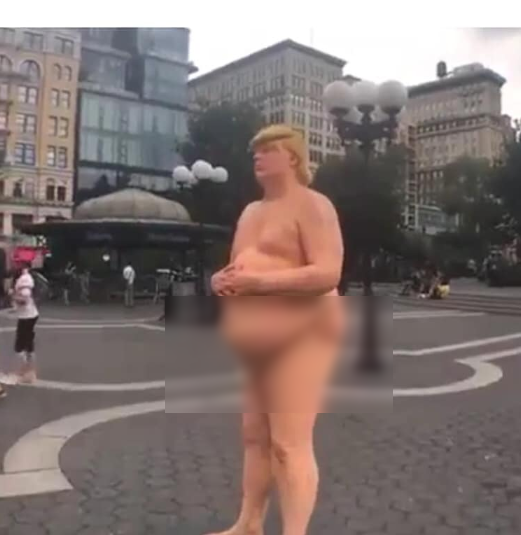 Fact Check-
We started our investigation by running a simple keyword search on YouTube which resulted in a video uploaded on 19th August 2016 by Tech Insider's official YouTube channel. The headline of the video reads "Naked Donald Trump statues are popping up" According to the report, an activist by the name "Ginger" placed five naked statue of Donald Trump. This project was called "The Emperor has no balls".
The New York Daily News also reported a similar video where the statue is being removed from Times Square. The video was uploaded on 18 August 2016 with the headline "Naked Donald Trump statue removed from Union Square." The description of the video reads as "A naked Donald Trump statue popped up at Union Square and was quickly removed by city workers."
Below you can watch an interview with NBC News on 19 August 2016 with the headline mentioned that "Creator Of Naked Donald Trump Statues Was Once A Trump Supporter".
Conclusion- Fact Crescendo found the above mentioned post to be False. The viral video on social media is not related to Coronavirus. The naked statue of President Trump was not placed in New York city by angry citizens because he could not handle the COVID-10 situation. The video is almost 4 years old and is unrelated to the current Novel Coronavirus situation.

Title:Angry citizens did not place a naked statue of Trump in New York city due to his inability to contain COVID-19 situation.
Fact Check By: Aavya Ray
Result: False