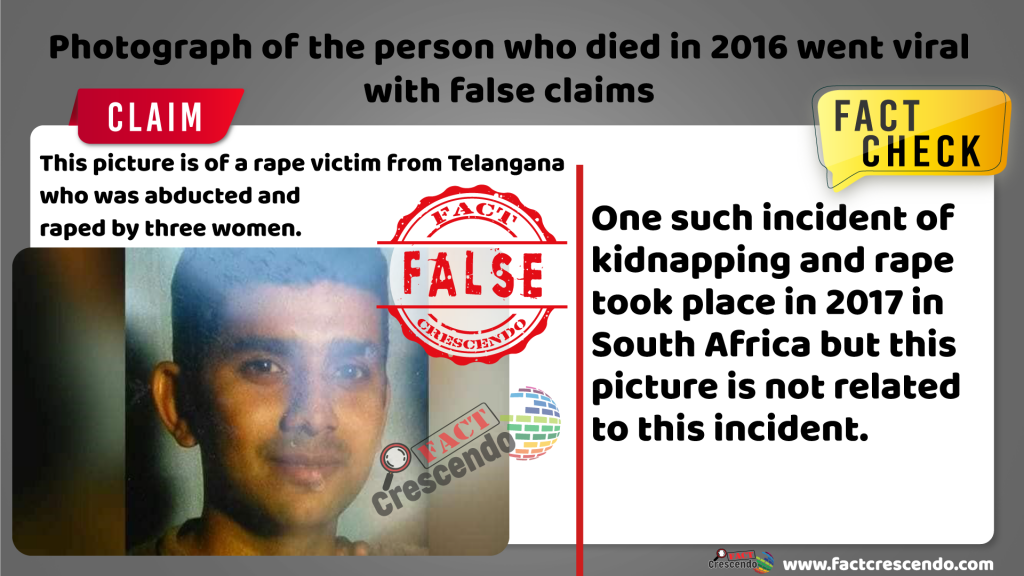 A post is being widely shared with a picture on Facebook claiming that the incident is from Telangana, where the young man seen in the picture was abducted and raped by three women. Fact Crescendo tried to verify the veracity of this claim.
We started the investigation by conducting a Google Reverse Image Search by taking a screenshot of this aforementioned picture. As a result, we found News published by NDTV (NDTV Hyperlink in Hindi doc is not opening) on 6th March 2016. The title of this News reads: This photograph is of an accused from an incident that took place in Thane, Mumbai. The accused, Hasnain Warekar, killed 14 members of his family in Thane, Mumbai on the morning of 28th February 2016 and later killed himself. He had taken heavy loans from his relatives, and had possibly sexually abused one of the sisters who was mentally challenged. 
In 2016 this News was also published by Hindustan Times.
With reference to this News, on 28th February 2016, ANI wrote through its tweeter handle in a tweet that "Photo is of a person who committed suicide after killing 14 members of his family in Kasarwadavli area of Thane (Maharashtra)."
This news was also published by The Sun and India Today in 2017
Conclusion: On the basis of our investigation, we found the above post wrong. A photograph of the person who died in 2016 is being portrayed and spread as a victim who was kidnapped and raped by three women in Telangana. The kidnapping and rape incident originally took place in South Africa in 2017 and the above photograph is also not related to this incident.

Title:Photograph of the person who died in 2016 went viral with false claims
Fact Check By: Ruchika M
Result: False