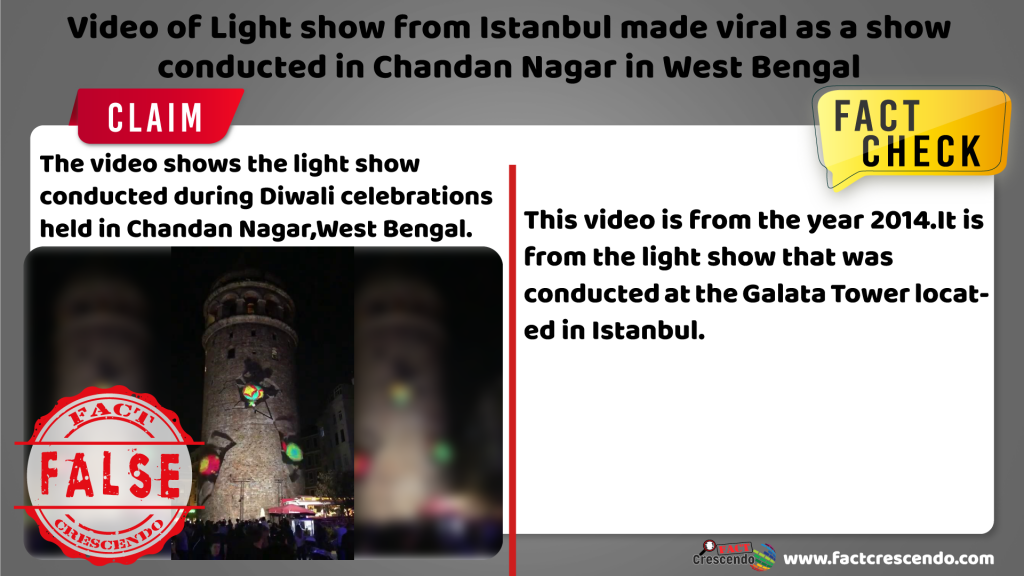 On 31st October 2019, a Facebook user named "Siliguri 24×7 News" posted a video that reads, "Lighting this Diwali in Chandan Nagar, West Bengal". In the video we can see an amazing light show presented on the walls of a tower. The light show gives a 3D effect to the walls of the tower. Chandan Nagar is known for its decorative light shows since long. Colorful panels of lights giving objects the impression of being in motion. Sharing this video on social media, it is being claimed that this video shows the Diwali light show held in Chandan Nagar, West Bengal in 2019.
We started the investigation by conducting a Google reverse image search using InVid tool. As a result, we found a link to a website called Geekologie. According to this website, this is a video from the Galata Tower in Istanbul, Turkey, in which 3-D projection mapped to celebrate the Genclik Festivali is shown. It was uploaded on 11th July 2017 on this website.
Apart from this, a longer version of this video is available on YouTube dated 2nd May 2017. The title of this video reads "7-D Show at Galata Tower".
Pictures of Galata Tower are also available on Trip Advisor website. After this, we searched for Galata Tower, Istanbul Turkey on Google Map; the result of which you can see below. We noticed that it is the same tower which is shown in the viral video.
Similar light shows are often held at Galata Tower, and videos of many such light shows are available on YouTube which make it clear that the video is of the Galata Tower in Turkey and not from the light show in Chandan Nagar, West Bengal.
Conclusion: We have found the above post wrong after checking the facts. The light show shown in the video is from the 3D projection show at the Galata Tower in Istanbul. This video from the year 2017 and is from Istanbul, which is being falsely portrayed as Chandan Nagar in West Bengal.

Title:Video of Light show from Istanbul made viral as a show conducted in Chandan Nagar in West Bengal
Fact Check By: Ruchika M
Result: False