The image is digitally edited. The text has been added to the image; originally, the gate of Kejriwal's house was only defaced with red paint.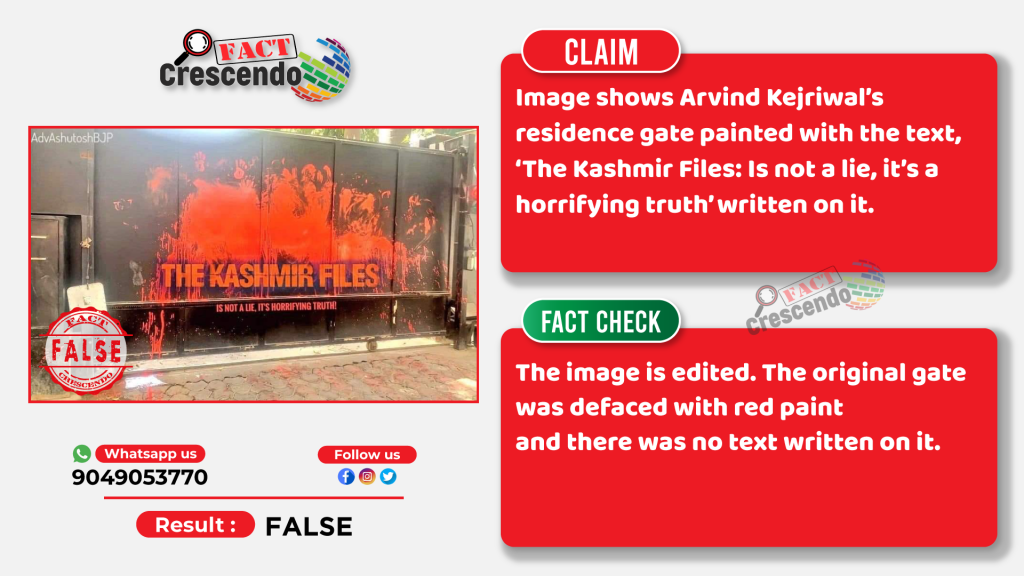 The Delhi Police arrested eight people for the vandalism of Delhi Chief Minister Arvind Kejriwal's residence.
After this incident, an image showing red paint smeared on the gate of Delhi Chief Minister Arvind Kejriwal's residence with a text that reads, 'The Kashmir Files, Is Not A Lie It's Horrifying Truth' is widely circulating on social media.
Users claim that this is the reaction of people on Arvind Kejriwal's insult of The Kashmir Files.
The director of Kashmir Files, Vivek Agnihotri shared this image on Twitter.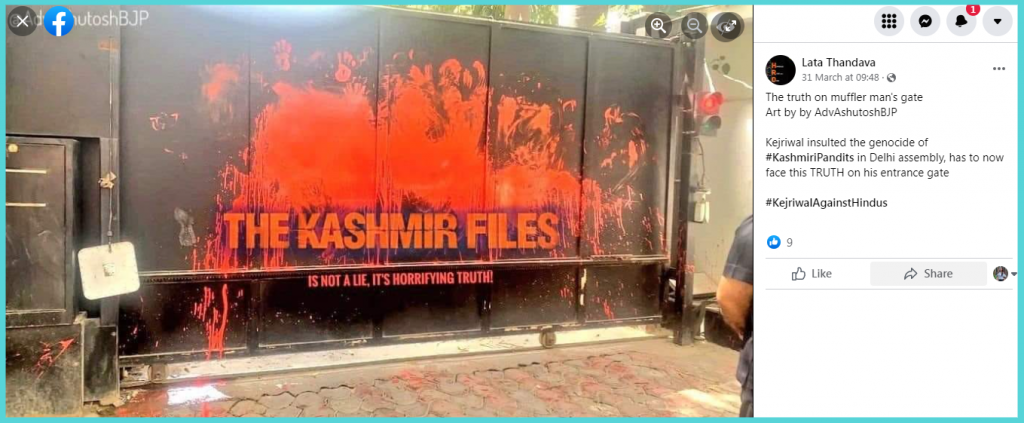 Fact Check-
We started our investigation by running a reverse image search and keyword search on Google, the results led us to a reply on Twitter by a Legal Advisor of BJP-Maharashtra Palghar District named Ashutosh J Dubey who thanked Vivek Agnihotri for appreciating his artwork.
We found that AAP Rajya Sabha's MP Raghav Chadha has posted the original image. He wrote, "The attack on Honourable Chief Minister Arvind Kejriwal ji's residence by BJP goons is highly condemnable. In the presence of police, these goons broke barricades, broke CCTV cameras. In the fury of Punjab's defeat, the BJP got down to such poor politics."
The image clearly indicates that the viral image is digitally edited. There is no text or the name of the film "The Kashmir Files" written on the gate outside Delhi CM Kejriwal's gate.
Below you can see a comparison image between the viral image on social media and the original image.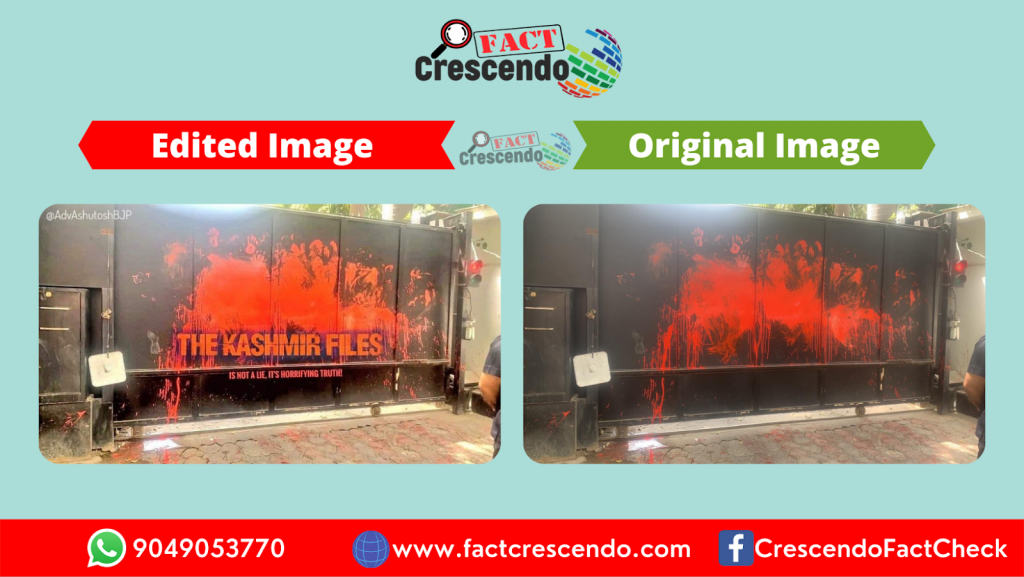 We also found a video of the incident where the pro BJP (BYJM) supporters according to Aam Aadmi Party (AAP) Tweet can be seen defacing CM Kejriwal's gate with red paint. However, it is clearly visible that no text has been written on the gate.
Conclusion-
We found the claim made along with the viral image to be False. The image is digitally altered. BYJM supporter did not write the name of the film "The Kashmir Files" on the gate of Delhi CM Kejriwal's residence.

Title:Image of Kejriwal's residence gate with the text "The Kashmir Files" is Edited
Fact Check By: Drabanti Ghosh
Result: False