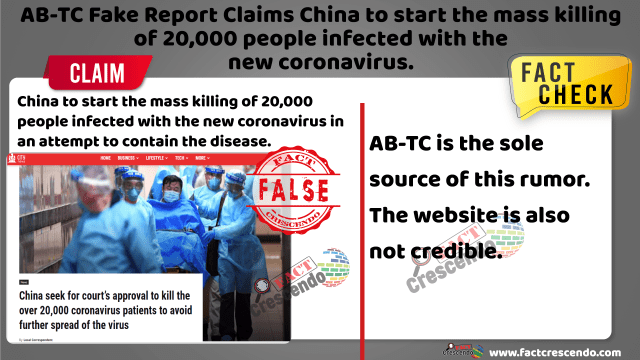 The World Health Organisation (WHO) has declared Novel Coronavirus a Public Health Emergency of International Concern. Scientists have mapped the genomic sequence of the virus but are still researching the source of the virus.
In light of the health emergency, social media is filled is with several false narratives claiming to have found the source and cure to destroy coronavirus, which are creating panic among the citizens of different countries.
On 5th February 2020, the website AB-TC (aka City News) published an article that claimed Chinese officials were seeking approval from the Supreme People's Court to start the mass killing of 20,000 people infected with the new coronavirus in an attempt to contain the disease.
The report reads as "The highest level of court in China [sic], Supreme People's Court, is expected to give an approval on Friday for the mass killing of coronavirus patients in China as sure means of controlling the spread of the deadly virus.
How genuine is the news?
This is not a genuine news report. We tried searching for a disclaimer labelling its content as fiction but we were unable to find any such disclaimer on the website. While the AB-TC website does not carry any disclaimers labelling its content as fiction, we found a number of red flags concerning the legitimacy of this outlet's reporting.
We observed that not a single AB-TC's articles mentioned the author's by-line rather every article was attributed to so-called "local correspondents"
In other words, this website does not have a reputation of genuine news reporting.
We came across several news reports published by this website which was later fact checked to be fake news.
We also came across  Singapore Government's fact-checking division which issued a clarification on 30 January 2020 regarding fake content that was published on this hoax website with the headline: 'BREAKING NEWS: Singapore records six more coronavirus case, total of 16 now."
We took a screenshot of the logo present on the website and ran a Google and Yandex reverse image search and found that the same logo in different background colours have been used in different websites such as Dailybn and Todaykos. All these websites have extremely questionable contact pages and details.

Archive Link | Archive Link | Archive Link

We looked up the above websites on who.is and found that the registration of ab-tc website is (.cn). We looked up on Google and found this registration to be from Guangdong, China.
No credible news outlets have published reports containing this claim.
Next, we searched ab-tc.com on DomainBigData, domain name investigation tools. The website is registered to Alim Zaidi from Muscat. The email id associated with the domain is [email protected].
According to The New York Times a senior official in China ordered the authorities in the city of Wuhan to immediately round up all residents who have been infected with the coronavirus and place them in isolation, quarantine or designated hospitals." That report, of course, made no mention of "mass killings."
There is also no mention of this supposed court case in the The Supreme People's Court of the People's Republic of China website.
Conclusion- Fact Crescendo has found this report to be False. AB-TC is the sole source of this rumor. However, this website provides no evidence to support its claim. This website also has a history of spreading misinformation. 

Title:AB-TC Fake Report Claims China to start the mass killing of 20,000 people infected with the new coronavirus.
Fact Check By: Aavya Ray
Result: False