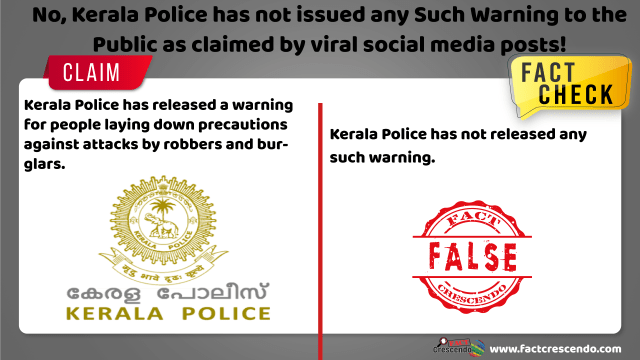 Narrative on social media
The following Facebook pages Youth Icon Media, SouthViral Health , ആരോഗ്യം, Love Media, PrimeReel Media, Youth Icon Media, Latest Home Designs, ആരോഗ്യം Life Plus, രുചിക്കൂട്ട്, have been spreading posts that claim that Kerala police has issued a warning to people of Kerala against robbers who attack homes at night. Such posts are getting viral on social media as these posts have been reposted 44 times and have been shared over 20000 times. These posts contain a 10-point instruction set in Malayalam, supposedly issued by Kerala police that warn people from opening doors at night, opening doors to strangers, hawkers, suspected persons, etc.

Has Kerala police issued such a warning to the notice of people of Kerala? This question arises because usually Kerala police communicates with public via their official Facebook page. Therefore, news of such kind of warning by Kerala Police seems very unlikely. Let's find out whether this warning indeed, has been released by Kerala Police or is it a fake post being spread in the name of Kerala police.
Our Fact check
We searched online for any news related to warning issued by Kerala Police in the interest of the public. However, we can only find a number of Facebook posts and some Malayalam websites who have published news articles based on this warning supposedly issued by Kerala Police. We inspected the official Facebook page of Kerala Police, but we could not find any such warning there.
Due to the absence of such a warning advisory on Kerala Police's official website and official Facebook page, we contacted Kerala Police's media cell director Mr. Pramod Kumar. Mr. Pramod Kumar told us that he has seen this post on social media but this post is not associated with Kerala Police in any way. The full quote of Mr. Pramod Kumar is as follows:
"We normally communicate with public by means of our Facebook page, which is managed by Kerala Police's cyber cell, or by handing over press release pertaining to issues of internal security to media or by posting on our website. Even though the precautions suggested in the post are quite relevant in today's age but Kerala police has no association such a post. We are not associated with this post."
Also, Kerala Police have posted on their official Facebook page warning people about fake advisories being shared on social media in the name of Kerala Police. Kerala Police has posted the following on their Facebook page:
Archived FB post kerala police
So, it has been proved in our investigation that this post is being circulated on social media in the name of Kerala Police have no association whatsoever with Kerala Police.
Conclusion
Kerala Police has not issues any such warning for the public in which they have laid down precautions against attack by robbers and burglars.

Title:Fact Check: No, Kerala Police has not issued any Such Warning to the Public as claimed by viral social media posts!
Fact Check By: Harish Nair
Result: False