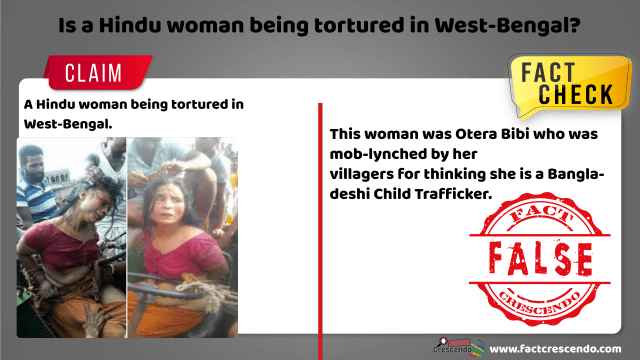 A Facebook user named 'Chowkidar Sujit Sau' shared a post on 3 June 2019. The post as translated from Bangla quoted "What is happening to Hindu people in West-Bengal? Where is Mamata Banerjee?" As per this post's claim, the woman shown in the post is a Hindu woman being tortured in West-Bengal. Let us see what the facts are!  
NARRATIVE ON SOCIAL MEDIA:
FACT CHECK:
We began our search with the Photograph in the post using 'Google Revers Image Search'. What we got in the search is below: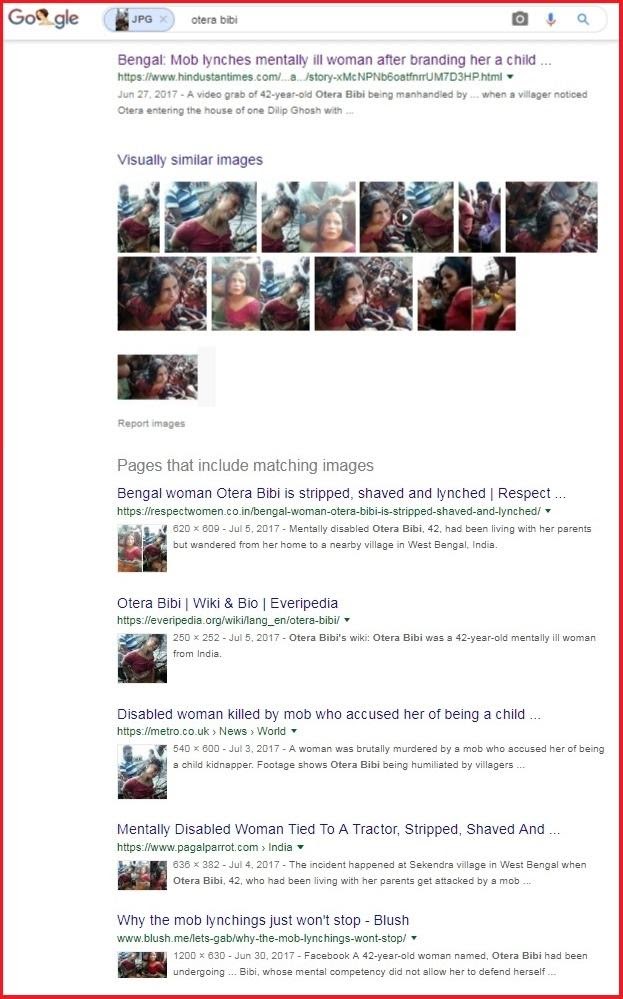 'HindustanTimes' published a news dated 27 June 2017 bearing the same photographs as the post. According to this news, this photograph is of a 42 year old mentally challenged woman named Otara Bibi from Murshidabad District. The villagers fell for a rumour that she is a Bangladeshi child trafficker. They ripped her clothes, shaved her head and then tied her to a tractor followed by constantly beating her for 3 hours. By the time the police arrived and took her to Jangipur sub-divisional Hospital, she died of all the injuries sustained. To read the entire article, please click on the link given below.
HindustanTimesPost | ArchivedLink
Apart from this, we also found the same news published by different news websites like 'Tori.ng' and 'News.com.au'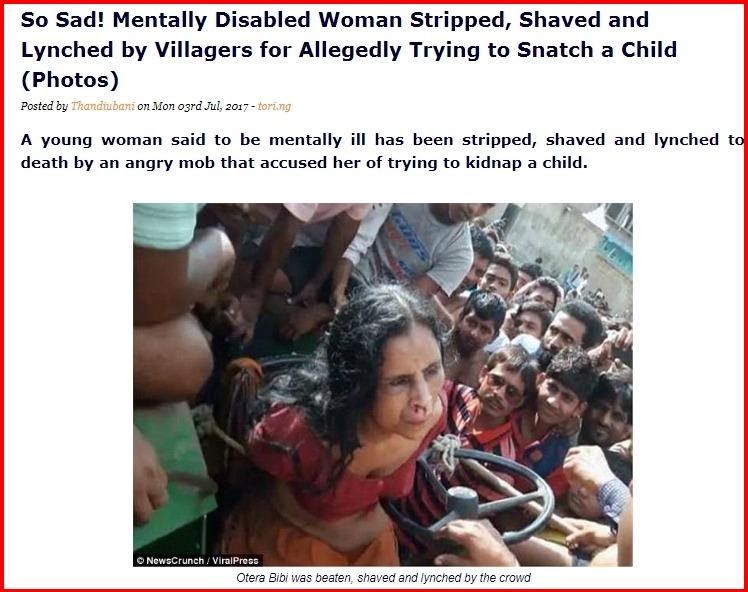 3 July 2017 : ToriPost | ArchivedLink

4 July 2017 : News.com.auPost | ArchivedLink
As per the police, they had detained the villagers for interrogation and said that they will apprehend those involved in the lynching and the ones who spread the rumours originally.
3 July 2017 : ToriPost | ArchivedLink
These days, the flood of posts of alleged atrocities against the Hindu community and Muslim community in Bengal on social media has come. Most of them used are old photographs and videos, which do not have any relation with communalism. This post also falls in the same category. The picture was old, and due to the rumor of child trafficking, the incident happened because of a group's fury.
Based on the evidences we can confirm that neither this woman is Hindu, nor is this a recent event that has happened.
IN CONCLUSION:
Fact Crescendo has fact checked and confirms that the photograph is being share in the post with a wrong narrative. We categorise the story as FALSE.
FactCrescendo advises its readers to refrain from sharing such misleading and communally biased photographs and do a self-check on the true narrative of such incidents before believing them.

Title:Is a Hindu woman being tortured in West-Bengal? Fact Check!
Fact Check By: Nita Rao
Result: False