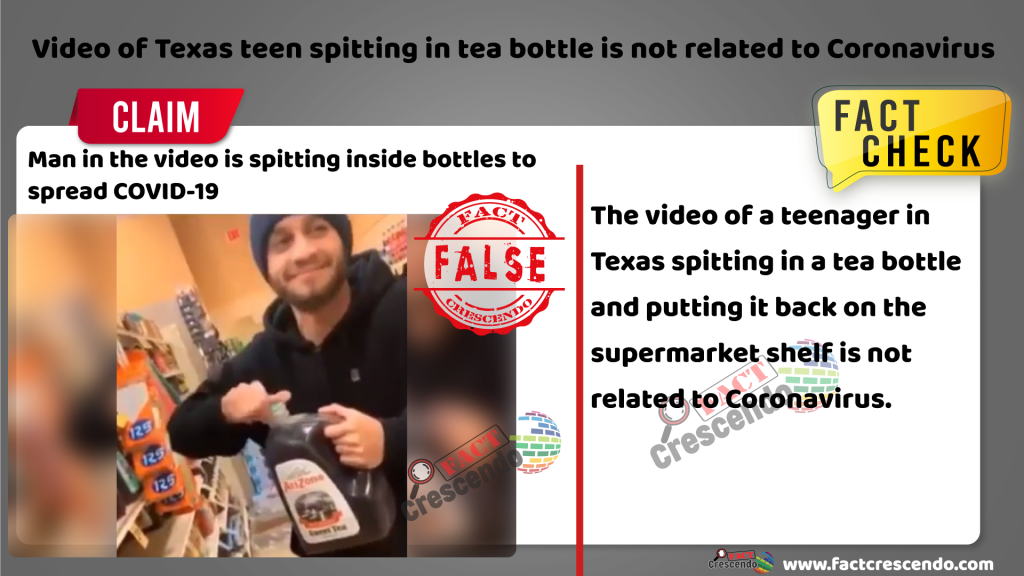 Social media users have flooded the internet by sharing misleading videos of how people are spreading the infection during the COVID-19 outbreak. Amidst this we received a WhatsApp message for Fact Check on our WhatsApp number 9049053770 claiming that the man in the video is spitting into bottles to spread COVID-19. The video shows a man spitting into a bottle of tea and placing it back on a supermarket rack which has now gone viral that this was an attempt to spread the coronavirus infection.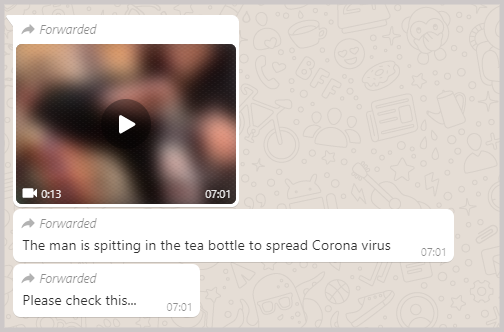 Fact Check-
We started our investigation by running a simple keyword search "man spits in bottle" on Google which led us to a news published by India Today on 10th July 2019. The headline of the news reads "Man unseals beverage bottle, spits in it. Furious Internet wants him arrested after viral video."
This video was uploaded by a YouTube user on 8th July 2019 with the headline "Man Spits In Arizona Tea & Puts It Back On The Shelf."
On a further search we came across a news report by Fox News on 19 July 2019. The headline of the news reads , "Texas teen spits into Arizona Iced Tea bottle and puts it back on shelf, gets charged with felony". According to the report, a teen in Texas was arrested earlier this week after allegedly spitting into an Arizona Iced Tea bottle at an Albertsons market in Odessa and then putting it back on the shelf.
According to KOSA, police says the 15-year-old had also admitted as much to an employee, after he was spotted on surveillance video. He told cops he thought the drink was "gross" after taking a sip, which is why he put it back.

Conclusion- Fact Crescendo found the above-mentioned post to be False. The video of a teenager in Texas spitting in a tea bottle and putting it back on the supermarket shelf is not related to Coronavirus. The video is almost a year old and the man in the video is not spreading Coronavirus.

Title:Video of Texas teen spitting in tea bottle is not related to Coronavirus
Fact Check By: Aavya Ray
Result: False