The woman seen without burqa in viral images is not Muskan Khan, the girl who confronted anti-hijab protestors in a college in Mandya. Fact Crescendo spoke to JD (S) Najma Nazeer whose images are being shared widely as Muskan Khan.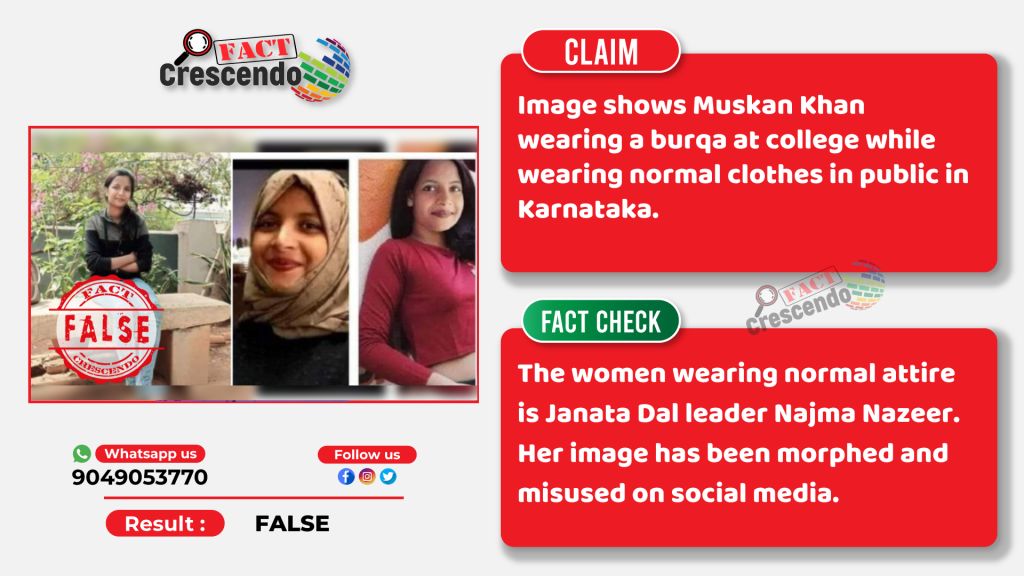 Over the last few days, Karnataka has witnessed several protests across the state over the controversy surrounding prohibition of Hijab in college campuses. This matter is currently sub judice in Karnataka High Court.
Institutes in Karnataka had banned female students from wearing their hijab to college on the grounds of implementing a strict dress code. This led to female students in Hijab protesting against the ban. Matters got worst when other students came out against the protestors and started their own counter-protest by wearing a saffron shawls and supported the ban on Hijab. This led to confrontations between the two groups that occasionally turned violent. Videos of such confrontations have been all over social media platforms.
Video of one such incident that took place in PES college in Mandya, Karnataka where a burqa cladded woman named Muskan Khan shouted slogans of 'Allah-hu-Akbar' in response to the chanting of ''Jai Shri Ram' by a group of boys wearing saffron shawls grabbed a lot of attention. This video can be viewed here.
Many commended the girl for refusing to cow down to the group and defending her rights. However, some users claimed that her name is Najma Nazeer who usually does not wear a Hijab but wore it to college specifically to add fuel in the ongoing controversy.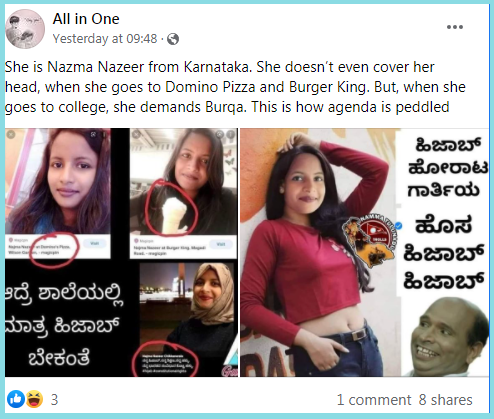 Did Nazma Nazeer seen in the photos without Burqa was the one who intentionally wore burqa to college to stir further the controversy? Or is the truth something else? Let's find out.
Fact Check-
We did a keyword search on Google whose results showed that the images in circulation are not of the girl who confronted the group of students shouting 'Jai Shree Ram' in PES college. Let's check out the real identity of the girl in burqa.
Who is the girl who shouted 'Allah Hu Akbar'?
The girl who shouted 'Allah Hu Akbar' is Bibi Muskan Khan, who is a student at Mandya College in Karnataka. She entered the campus wearing burqa to submit her assignment when students wearing saffron stoles confronted her. As the boys shouted slogans of Jai Shree Ram, Muskan Khan shouted 'Allah Hu Akbar'. Speaking with the media, she clearly mentioned that she is a B.com second year student who used to wear her burqa and come to college and removed it after she entered the campus premises. The principal and the college was supportive in this regard. In her interview, she states that she had shouted 'Allah Hu Akbar' slogans in response to the boys wearing saffron stoles chanting 'Jai Shree Ram' and asking her to remove the burqa.
It is important to know that the viral image showing the burqa cladded girl is Muskan Khan.
Who is Najma Nazeer, the girl whose photos are getting viral?
Najma Nazeer Chikkanarale is the member of Janta Dal (Secular) Karnataka and she is not a college student. The viral image showing a girl wearing hijab is her Facebook profile picture. The girl wearing a pink saree in the viral claim is also her image that she had posted in 2018. The image was the hijab used as her profile picture was posted in 2020.
Fact Crescendo contacted Najma Nazeer who told us "I'm not the girl in Hijab who was heckled by saffron gang in PES College, Mandya. My name is Najma Nazeer, I'm an activist and currently a committee observer at Janta Dal Secular in Karnataka. Earlier I have participated in many protests like anti-CAA or anti-NRC. I took part in the Hijab-Row incident this time too. People are using my photos without my acknowledgement to defame my image and destroy my political career. All the social media claims are false"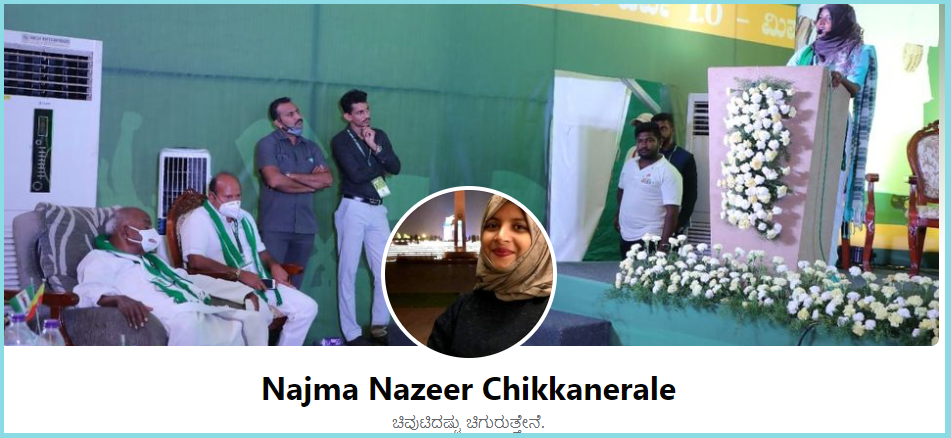 Who is girl in the red and black top?
The image showing a girl sitting on a bench wearing a black top is Najma Nazeer. She uploaded that image on her Facebook profile in 2018.
We found that the image showing the girl in a red top is not of Najma Nazeer. The image is of another girl whose face was replaced by Najma's. Originally, the image is of an Instagram user named Tanya Jena who is a social media influencer. She had uploaded the original image on her profile in 2019. Below you can see a comparison image between both the images.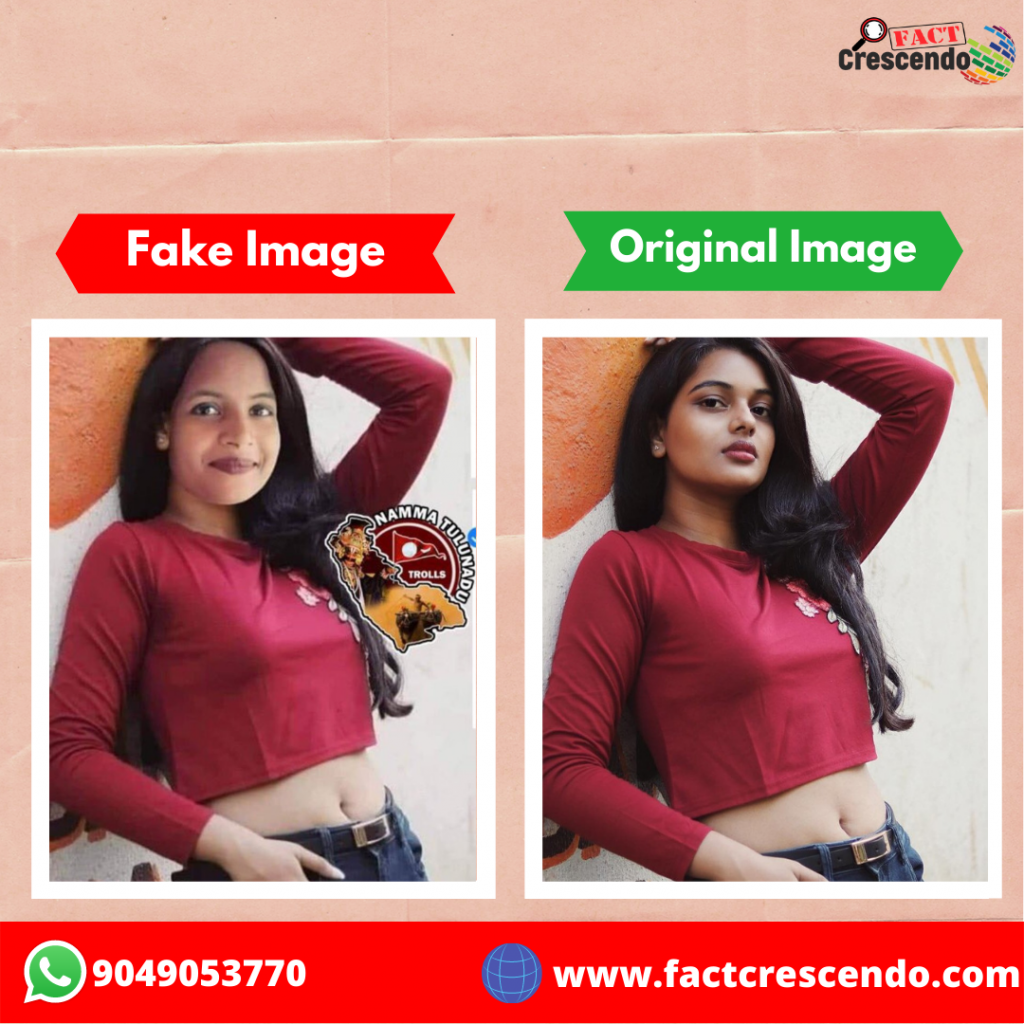 Conclusion-
Fact Crescendo found the claim made along with the viral image on social media to be False. The women without the burqa is Janata Dal (Secular) leader Najma Nazeer from Karnataka. Also one of the images used are morphed by using Nazma's face without her consent. The burqa cladded women is Muskan Khan who had raised 'Allah Hu Akbar' slogans in response to a group of boys chanting 'Jai Shree Ram' in PES college, Mandya.
(If you also have any suspicious messages, posts, photos, videos or news, send them to our WhatsApp Fact line Number (9049053770) for Fact Check. Follow Fact Crescendo on Facebook, Instagram and Twitter to read the latest Fact Check.)

Title:Karnataka Hijab Row: Images of JD(S) leader Najma Nazeer falsely shared as burqa cladded Muskan Khan raising 'Allah Hu Akbar' slogans.
Fact Check By: Aavya Ray
Result: False