This is not Lata Mangeshkars's last video. This is a 5 year old live video posted by her on Facebook.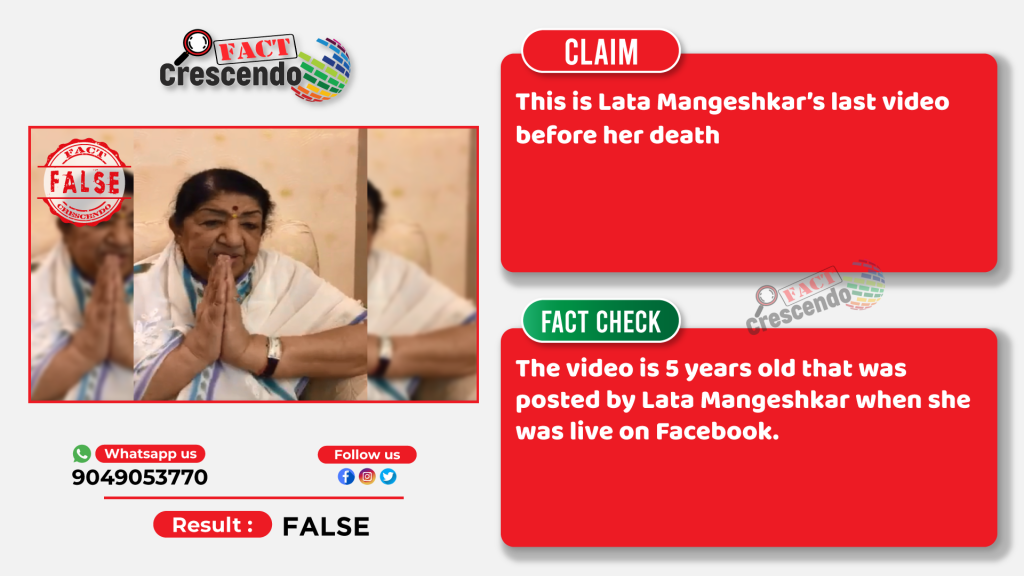 On Sunday, 6 February, India lost one of its most cherished singer Bharat Ratna Lata Mangeshkar. Her death sent shockwaves globally and tears poured in from all parts of the world for their beloved nightingale whose voice mesmerized generations for more than 7 decades. A video circulating on social media claiming to be Lata Mangeshkar's last video.In the 1:24-minute video, she can be seen saluting her Facebook and Twitter fans and later moves on to talk about Madan Bhaiya. At the end of the video, we can hear a voice over that announces the death of Lata Mangeshkar.
The caption of the Facebook post mentions "Lata Mangeshkar last moment before death | Try not to cry | Lata mangeshkar death news"
Fact Check-
We started our investigation by searching news reports that corroborated the claim showing Lata Mangeshkar's last video. However, we were unable to find any relevant news reports for the same.
Next, we ran a keyword search on social media platforms to find the viral video. The results led us to the same video posted by the verified Facebook handle of Lata Mangeshkar herself 5 years ago. We found that this video was recorded live and posted by her on 4 January 2017. This video is 16 minute long where Lata Mangeshkar can be heard speaking about her fans and her work.
Thus, it is very clear that the viral video is not Lata Mangeshkar's last video. This video is 5 years old that was posted by her on her Facebook profile. She has posted several other live videos on her Facebook profile in the past 5 years that can be viewed here.
Conclusion-
Fact Crescendo found the viral video on social media to be False. The video is 5 years old and is not Lata Mangeshkar's last video.
(If you also have any suspicious messages, posts, photos, videos or news, send them to our WhatsApp Fact line Number (9049053770) for Fact Check. Follow Fact Crescendo on Facebook, Instagram and Twitter to read the latest Fact Check.)

Title:5 year old video goes viral as Lata Mangeshkar's last video
Fact Check By: Aavya Ray
Result: False